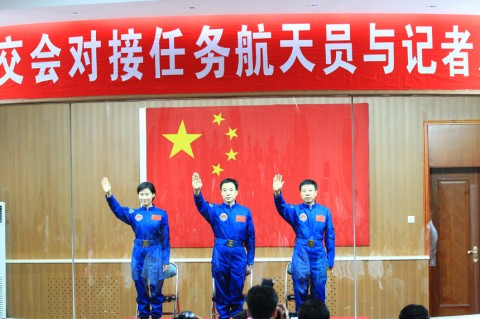 Editor's note: The crew of the Shenzhou 9 manned spacecraft meet the press at a news conference at 5:30 pm, July 16. Following an introduction of the crew, the astronauts take questions from the attending press corps. China.org.cn provides a live webcast and minute-by-minute live blogging coverage of the event.

—————————————————————————————————————————————-
You need to reload page manually.
[17:50:14] That's it for the live blog. Thanks for following along with us.
[17:50:01] Host said: Because time is limited and astronauts have to get prepared for tomorrow's flying. The meeting concluded now. Wish the first manned space docking a complete success. With the crew return safe and sound.
[17:49:56]  He added that we are confident that we can fulfill this task successfully after arduous preparation and support of all the Chinese people. We are looking forward to seeing you in Beijing after we come back. Through trainings and working together, the three of us have established much cohesion with one another and can understand one another by just a look, a facial expression and a gesture.
[17:49:41] Jing Haipeng: The manual docking by astronauts is like threading a needle within a rather long distance. The whole processing is a hard test on the astronauts' judgment of the spatial positions, hand-eye coordination abilities, as well as their psychological qualifications. To fly in a weightless condition for more than ten consecutive days is also a great challenge faced by the astronauts.
[17:49:29] Wenweipo: Mr Jing Haipeng, it is said that among China's manned spaceflight mission, this flight will take the longest time. Together, you will complete several experiments including the manual docking test. What preparations do you make? Are you sure that the task will succeed? By the way, welcome to Hong Kong after your spaceflight.
[17:49:08] I hope it will be of help to subsequent missions. I would like to thank all of my military comrades for your thoughts and support. We will definitely not let you down, and we will successfully complete this mission and bring honor to our flag, she added.
[17:49:01] She continued: I will document my feelings and experiences to bring back and share with everyone.
[17:48:51] Liu Yang answered: As pilots, we fly in the sky. As astronauts, we fly into space. This mission will take us higher and further. The mission has arranged a large number of scientific experiences. Aside from completing the mission, I also want to experience as much as possible the fantastic weightless environment and enjoy the view of our beautiful earth and our beautiful home.
[17:48:25] PLA Daily: As a female astronaut, what do you expect of your upcoming space life?
[17:48:00]  Liu Wang said:To accomplish our mission, we have conducted the mannual docking operations for more than 1,500 times in the training simmulator, and we are now skillful in the operation. I am confident to make the mannual docking successfully.
[17:47:51]  CNR: An important goal of this task is to conduct the manual docking test. What technical preparations do you make in order to achieve the goal? How sure are you that the task will succeed?
[17:47:04]  Jing Haipeng: I would like to extend my thanks to the media for your concerns. I was selected as a candidate for Shenzhou 6 crew members 7 years ago. That allowed me to walk into the module for the first time, and I felt very excited, as I was longing for and expecting that I can fly into the space one day in the near future. Later, I was again selected as a candidate for the Shenzhou 7 crew.
[17:46:10]  People's Daily: Nice to meet you, Mr. Jing Haipeng. We know that it's the third time that you came here to present the press conference. You were a backup for Shenzhou 6, and joined Shenzhou 7 flight, and now, you will be aboard Shenzhou 9, making yourself the first astranaut to go into space twice in China's space flight history. How do you feel now?
[17:45:56]  She continued: We also must receive strict testings of our abilities that allow zero margins or error.We can say that every training was a trial. My many qualities as women, such as my focus, attention to detail, toughness and aptitude, have helped me overcome all kinds of obstacles and given me confidence and strength.
[17:45:23]  Liu Yang said: Despite gender differences, we all face the same great challenge as astronauts. Space will not lower its bar just because you are a woman, or give you any special treatment. During the two years training as astronauts, we have been studying many materials as well as enduring rigorious physical trainings to adapt to space environment.
[17:45:01]  CCTV: Liu Yang,congruations. What is your feeling now? As a female astronaut, what were the biggest challenges you confronted during your training? How did you conque them?
[17:44:10]  Liu Wang said: Through 14 years, the efforts of our studies and trainings have always been to prepare to venture into space at a moment's notice and bring honor to our country. At this very moment, my biggest emotion is our sense of duty, and we are confident we have the ability to successfully complete this flight mission.
[17:42:11]  (From Sina Weibo )On June 15, local villagers made a Shenzhou 9 model with more than 1,000 steamed buns at Dongyangjiazhuo Village, Yuncheng City of Shanxi Province, the hometown of Jing Haipeng, one of the three-person crew aboard the real Shenzhou 9 manned spacecraft, to wish the upcoming launch a full success, according to Chinanews.com.
[17:40:31] Guangming Daily asked: "Nice to meet you, Liu Wang. Would you like to share your feelings with us?"
[17:38:01]  The second question comes from Guangming Daily.
[17:37:51]  In accordance to the purpose of this mission, the flight crew mixes veteran with newcomers, males and female, in order to utilize our flight sensivity and experiences to complement and support each other and maximize our efficiency, Jing Haipeng replied.
[17:37:51] Xinhua's question is: This is the first time that China includes male and female astranauts in the crew for its manned spacecraft flights. What are the advantages of this gender structure? And what tasks are assigned to them respectively? Thanks.
[17:36:58]  Jing Haipeng said to the press, "Thank you everyone for your support. To be able to represent our country to venture into space is a great honor for the three of us."
[17:36:11]  Chen Shanguang, director of China's Astronaut Research and Training Center and  the Chief Commander of China's Manned Space Engineering Astronaut System, is the host.
[17:35:51]  The first question comes from Xinhua News Agency.
[17:33:50]  Three astronauts take questions from the journalists.
[17:33:47]  Liu Yang is a Chinese pilot who was selected on June 15, 2012, as the only female astronaut among the three-person crew on the Shenzhou 9 spacecraft.
Born in Henan Province in central China in 1978, Liu is an only child. In 1997, she enrolled at the Changchun Air Force Aviation College and became one of the first female air force pilots from Henan Province since the founding of the People's Republic of China. In 2001, she was assigned to an air force aviation division in the Guangzhou Military Region, which is known as the "Cradle of female Pilots."
[17:31:59]  Liu Wang is a Chinese astronaut who was selected to be a member of the three-person crew on the Shenzhou 9 spacecraft.
Born in Pingyao County of China's northern Shanxi Province in March 1969, Liu joined the People's Liberation Army (PLA) in 1988. That same year he joined the Communist Party of China (CPC). Liu once served as a squadron leader in an air force division and became a second grade pilot after accumulating 1,000 safe flying hours.
Liu was selected to be a member of China's first astronaut team in January 1998. Holding a master's degree, he is now a senior colonel and second grade astronaut of the PLA astronaut brigade.
[17:31:53]  Jing Haipeng, a colonel pilot in the air force of the Chinese People's Liberation Army (PLA), is to become China's first two-time astronaut in the country's manned spaceflight mission.
During his previous Shenzhou 7 mission in 2008, he served as a reentry module monitor while his partner Zhai Zhigang launched the country's first space walk. On June 15, 2012, Jing was again selected as one of the three taikonauts , including Liu Yang, China's first female astronaut and Liu Wang, for the country's fourth human space flight—Shenzhou 9, which is scheduled to take off on June 16, 2012.
Born in Shanxi, Oct. 24, 1966, Jing had applied two times for the candidacy of national pilot schools, and was eventually admitted to the Aviation University of Air Force in 1985. In the ensuing years upon his graduation, he served as a pilot and was finally chosen to be an astronaut in 1998. With 1,200 hours of flying logged, he was one of the trainees for Shenzhou 6.
[17:31:30]  Astronauts Jing Haipeng, Liu Yang and Liu Wang, wearing blue uniforms, arrive at the press conference room and are introduced to the press.
[17:30:16]  News conference begins.
[16:56:21]  Three astronauts of Shenzhou 9 spacecraft will show up at the press conference scheduled at 5:30 pm.

[16:20:11]  "As a female, I'm looking forward to the performance of China's first female astronaut's space flight," Wu said.
[16:17:56]  "The Chinese female astronaut's participation in the manned space mission will accelerate research and development of female astronaut-related products, training and selection.It could also showcase Chinese women's good image and further promote social influence of the country's manned space program, " said Wu.
[16:16:39]  All countries that have completed manned space missions attached great significance to their respective first female astronaut's maiden space flight, Wu said, citing the former Soviet Union's first female astronaut Valentina Tereshkova and Sally Ride, the first American woman in space.
[16:13:59]  More than 50 female astronauts from seven countries have to date served in space missions. The longest space flight by a female astronaut lasted 188 days. She added that a manned space program without the participation of women would be incomplete.
[16:13:46]   "Generally speaking, female astronauts have better durability, psychological stability and ability to deal with loneliness," Wu Ping said.
[16:12:31]  China's first female astronaut, Liu Yang, is expected to improve the Shenzhou-9 mission crew's working efficiency, Wu said.
[16:11:26]  But Wu also noted that despite all these measures, the astronauts are likely to suffer orthostatic intolerance after their long weightless flight, and they will still need time to readapt to Earth's gravity.
[16:09:13]  Meanwhile, the female astronaut will receive particular protections in medical examinations and exercises, and both space program design and onboard care arrangements have taken into full consideration of the female physical condition, Wu added.
[16:08:50]  They will include an on-orbit examination of the astronauts' hearts, lungs and biochemistry conditions, as well as providing more medicine and medical security measures and carrying out hygienic processing in the cabin, to ensure a timely check on the astronauts' health and effective prevention against space motion sickness.
Equipment like a bicycle ergometer, chest developer and neuromuscular electrical stimulation have been prepared on board to protect the astronauts against weightlessness and maintain their cardiac and muscular functions, the spokeswoman said.
[16:06:38]  More medical examinations and protection measures will be conducted in space aboard the spacecraft Shenzhou-9, compared with the country's previous manned missions, according to Wu.
[16:05:53]  The measures are designed to combat the negative influence of the gravity-free environment of space and ensure the astronauts' health, as the mission will last for 13 days.
[16:04:23]  China has taken "full measures" to protect the health of the country's three astronauts, including one spacewoman, who are to participate in a manual space docking mission, Wu said.
[15:48:23]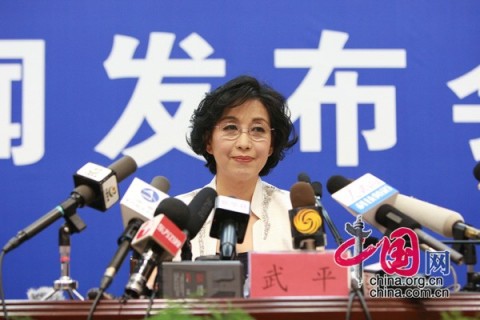 [15:46:19]  Fueling of the upgraded Long March-2F carrier rocket will start Friday afternoon. The launch platform and all control systems are ready. Astronauts are in good and stable condition and preparing for their space journey, according to China's manned space docking program headquarters, she said.
[15:45:27]  It has since completed tasks such as orbit maintenance, equipment inspection and toxic gas detection, and carried out related scientific experiments, she said.
[15:44:30]  The Tiangong 1 lab module is orbiting 343 km above the Earth. The control systems that stabilize the module and keep its solar panels pointing toward the sun, are functioning normally, she said.
[15:43:25]  The docking equipment is working normally and the environmental monitoring is being performed properly. The space lab has sufficient propellants to support the docking.
[15:42:44]  Latest inspection shows the Tiangong 1 lab module is ready for China's first manned space docking mission, she said.
[15:40:16]  The mission is meant to prepare for a space station around 2020 based on the space rendezvous and docking technology that is currently being tested. Several components will be sent into space separately before being assembled into a space station through a variety of docking procedures.
[15:39:50]  The upgraded Long March-2F carrier rocket is expected to be fueled beginning 5:30 p.m. Friday.
[15:38:23]  The Tiangong1 has been lowered to the docking orbit 343 km above Earth and is operating normally, the spokeswoman said.
[15:37:00]  After the docking, astronauts will live in Tiangong-1 and carry on experiments, tests and exercises, but dine in the spacecraft, she said.
[15:36:16]  The manual docking will take place several days after the automatic one, she added.
[15:33:46]  spacecraft will separate from the carrier rocket 585 seconds after the launch and stay on an oval orbit with a perigee altitude of 200 kilometers and an apogee altitude of 330 kilometers for the automatic docking with the Tiangong 1 lab module.
[15:32:56]  The mission will further test the functions of spacecraft, carrier rocket and orbiting module as well as the coordination of different systems.
[15:32:11]  She said: "We will fully examine whether Tiangong 1 can meet the needs of the astronauts."
[15:31:27]  It will be China's first attempt to ship supplies and personnel from Earth to the orbiting module, she said.
[15:30:35] The major task is to conduct a manual docking test between the spacecraft and the orbiting space lab module Tiangong-1 for the first time in addition to another automatic docking test, Wu said.
[15:29:43]  Wu Ping, the program's spokeswoman, briefs journalists on the launching event at a press conference at the Jiuquan Satellite Launch Center.
—————————————————————————————————————————————-