Editor's note:
The fifth China-Africa Youth Festival kicked off in Beijing on Oct. 26, 2020. 
All time is Beijing Time (GMT+0800).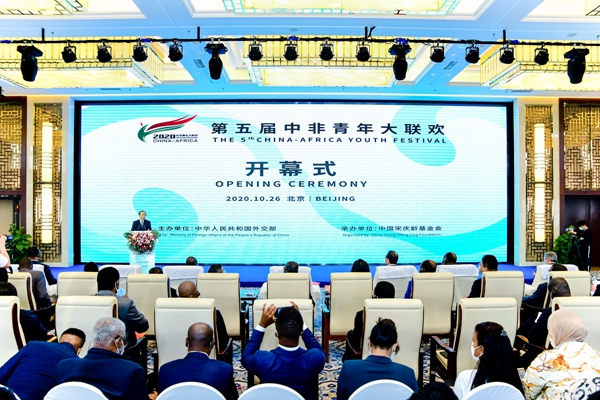 [09:00] The fifth China-Africa Youth Festival kicked off in Beijing on Oct. 26, 2020.
[09:05] Forty-two African youth representatives have been invited to participate in a series of cultural exchange activities such as roundtable talks, cultural activities, and sightseeing during the seven-day festival in China's capital of Beijing and Jiangxi province.
[09:15]The opening ceremony was attended by 200 people, including 34 African envoys and delegates to China, representatives of African students studying in China, and Chinese youth representatives.
[09:25]This year marks the 20th anniversary of the establishment of the Forum on China-Africa Cooperation (FOCAC), Wang Jiarui, chairman of China Soong Ching Ling Foundation (CSCLF), said at the opening ceremony that the China-Africa Youth Festival, as a sideline event, has provided an important platform for Chinese and African youth to exchange and learn from each other.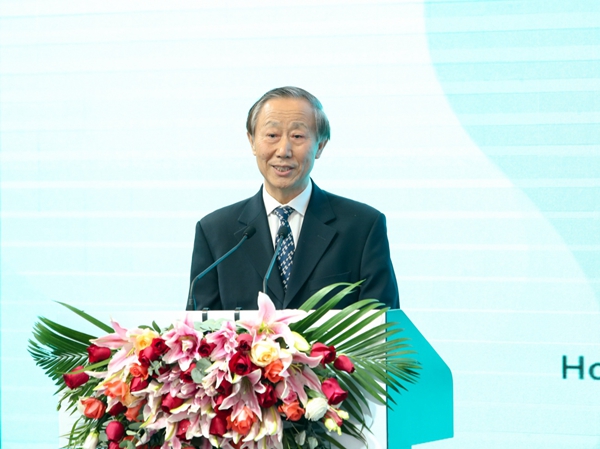 [09:30]Deng Li, assistant foreign minister, said that since the establishment of the FOCAC 20 years ago, the comprehensive strategic and cooperative partnership between China and Africa has been raised to a higher level, with deepening political mutual trust, pragmatic cooperation, and people-to-people cultural exchange.
[09:43]Young people are the participants and contributors of China-Africa cooperation, Deng stressed, saying that the youth of China and Africa should continue to unite and cooperate to better build the FOCAC and improve China-Africa relations.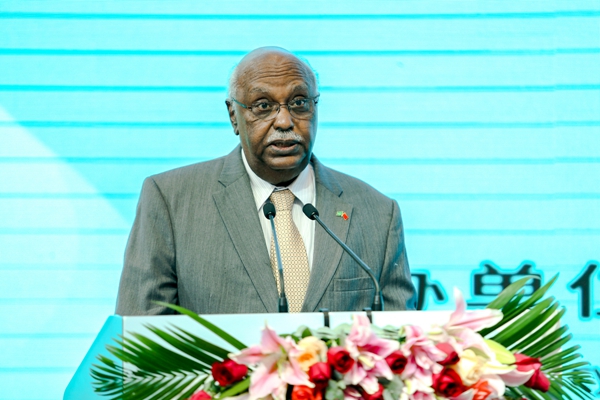 [09:54]Rahamtalla Mohamed Osman, the permanent representative of the African Union (AU) to China, said in his opening remarks that China, as a consistent partner of the AU and its member states, has played a key role in supporting the empowerment of youth in Africa through promotion of knowledge, culture, and shared experience between young people from the two sides and this festival is just one of the achievements of this partnership.
[10:14]"Africa's population is currently 1.2 billion and it is expected to more than double by 2050. Sixty percent of the continent's population is currently under 25 years of age," he said, adding, "as we prepare to hold next year's FOCAC, we must not forget that young people should continue to occupy a prominent place in our partnership and the implementation of the AU Agenda 2063 and to achieve the UN's Sustainable Development Goals."
[10:25]African youth representative Mauritian Hosany Sumayyah, a surgeon from Mauritius, shared her story of working as an anti-epidemic volunteer in China's Zhejiang province in February, and called for African youth to promote China-Africa relations.
[10:38]"As African youths living in China, now is our chance to promote unity, to work for a common goal. We are each a link binding China and Africa, and having seen the best of both our respective countries, we should focus on finding what unites us, what helps us to grow stronger roots, and how we can build a brighter future," Sumayyah said.
[10:47]On the opening day, close to one hundred Chinese and African youths also participated in roundtable talks on the themes of "China-Africa cooperation in fighting against COVID-19" and "China-Africa poverty reduction experience." In addition, they learned and experienced Chinese traditional culture in the forms of Peking Opera, a tea ceremony, craft dyeing, needlework, and Chinese traditional musical instruments.
[10:55]During the seven-day festival, in addition to Beijing, African youths will also travel to Jiangxi province, visiting working sites of the National Committee of the Chinese People's Political Consultative Conference, Chinese enterprises, and high-tech parks, as well as discovering China's natural landscapes.
[11:05]Other participants will travel to Beijing and Chengdu, the capital of southwest China's Sichuan province, visiting high-tech parks as well as scenic and historical sites, and attend symposiums held at ministries, commissions, universities, and local communities.
[11:10]The festival this year is jointly held by the Ministry of Foreign Affairs, the China Soong Ching Ling Foundation, and the Jiangxi Provincial Government.