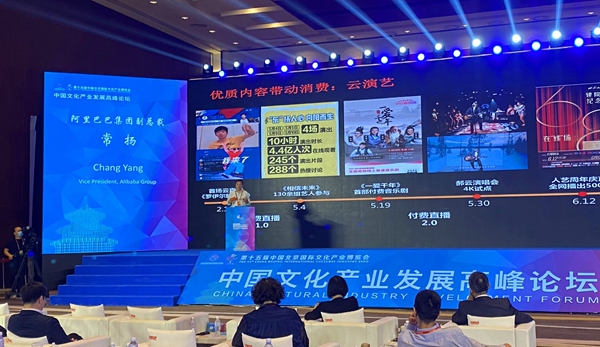 Editor's Note:
A summit forum was held to exchange ideas and visions for the cultural development in China during the ongoing 2020 China International Fair for Trade in Services (CIFTIS) held in Beijing.
All time is Beijing Time (GMT+0800).
[09:00] Since the beginning of this year, the sudden COVID-19 outbreak has brought profound changes and far-reaching effects on domestic economic and social development and on the international situation and landscape, according to Fu Hua, deputy head of the Central Committee Publicity Department of the Communist Party of China (CPC).
[09:10]Standing at the intersection of history, people in the cultural industry must seriously think about and plan the road to high-quality development of the cultural industry, said Fu, speaking at the Summit Forum on China Cultural Industry Development with the theme of "Cultural Symbiosis, Industrial Integration and Benefit Sharing — High-quality Development of China's Cultural Industry in the Post-Epidemic Era."
[09:17]Fu went on: "It is necessary to adapt to the new development pattern and strive to create new opportunities amid crisis, focus on high-quality supply and continuously deepen supply-side structural reforms, meet new public expectations, and strive to expand and guide cultural consumption."
[09:30]Regarding the high-quality development of the cultural industry in the future, Du Feijin, head of the publicity department of the Beijing Municipal Committee of the CPC, said it was necessary to focus on building consensus and telling Chinese stories in a thoroughgoing way.
[09:50]This required focusing on breaking through cycles and promoting the entire industrial chain of cultural empowerment; focusing on upgrading services and creating a cultural industry ecology of high-quality development; focusing on optimizing supply and opening up a new pattern of cultural consumption where supply creates demand, he said.
[10:02]At the summit forum, Agapito Mba Mokuy, chairperson of the UNESCO Executive Board, said the organization should become an important ally of all countries in adopting policies and strategies conducive to the development of cultural and creative industries.
[10:13]In this regard China has set an excellent example not only because of its close ties with UNESCO, but also because it has adopted corresponding policies and strategies in safeguarding culture and promoting an innovative economy, thereby promoting comprehensive social and economic development.
[10:24]Liu Hua, director of the China Office of the World Intellectual Property Organization, reported that global cultural and creative products created an output value of $2.25 trillion, and the number of cultural and creative employees currently stood at 29.5 million, or 1% of the world's total population.
[10:36]China has become the world's largest single exporter and importer, and its export growth rate of creative products was twice the world average. In recent years, China's ranking in the "Global Innovation Index" has been rising.
[10:41]In the report just released on Sept. 2, China ranked first in the world in a number of indicators, such as patents, trademarks, and high-tech exports. Among them, China's indicator of export of creative products ranked first in the world, Liu noted.
[10:52]Zhang Bin, president of the China Cultural Industry Association, said the COVID-19 pandemic in 2020 has rapidly swept the world, with great impact on the global economic and social order, but also bringing opportunities to accelerate the transformation of all walks of life in society, changing the way and content of people's cultural consumptions.
[11:06]Zhang said, the scale of client-oriented digital cultural industry users has increased significantly, particularly in the areas of social media, social platforms, digital reading, digital audio, digital games, and online education. The digital cultural industry, covering mobile terminals, car-mounted terminals and home large-screen terminals, has bucked the slowdown trend.
[11:13]"The new business form of the cultural industry played an important role during the epidemic, effectively ensuring the order of people's cultural life, effectively supporting the needs of home entertainment activities, promoting the transformation of traditional culture, and accelerating the trend of online and offline integration, enabling high-quality development of the cultural industry," Zhang said.
[11:38]Chang Yang, vice president of Alibaba Group, believed that the development trend of entertainment was to commercialize intellectual properties and franchises, while also turning commercialization into highly recognizable brands. Among them, intellectual property commercialization referred to the extended merchandise and exploration of major franchises beyond cultural consumption to further tourism consumption and education consumption.