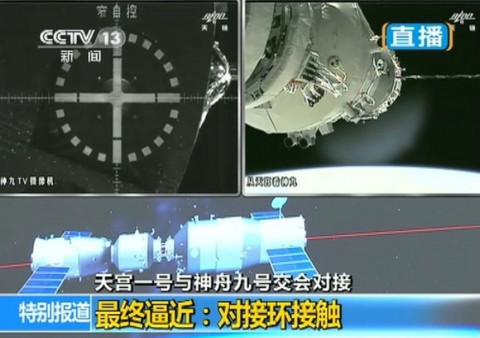 Editor's note: China's Shenzhou 9 spacecraft, launched Saturday evening, undergoes an automated docking with the Tiangong 1 space station on June 18. After the docking,  the crew members enter the space lab to perform a series of scheduled scientific experiments, technical tests and physical exercises.
Stay tuned here at China.org.cn for live coverage on this event.
Are you interested in China's space program? Tell us about it in our forum.
—————————————————————————————————————————————-
You need to reload page manually. All time is Beijing Time (GMT+0800).
[18:11:45] 

Astronauts will conduct historic manual docking on June 24. China.org.cn will provide minute-by-minute live coverage on the event.
[18:10:54] That's it for the live blog. Thanks for following along with us.
[18:10:11]

@Anjingxu from Sina Weibo said:
Somebody reminded me today that if this docking mission fails, the astronauts will never make it back to earth. That realization left me at a loss for words; I was baffled. People seem to be paying so much attention to these kind of space heroes that they tend to overlook the cost these astronauts may have to pay for being heroes.They might not only stand the risk of losing their lives, but might also have to face the fear of not (ever) being able to return home.
[18:09:23] How to distinguish between up and down in Tiangong 1?
There is no "up" or "down" in the weightless environment of Tiangong 1. The working staff depend on color to distinguish both directions. White, the color of the sky, symbolizes "up"; whereas yellow, the color of the earth, represents "down". It's said to help distinguish directions during space-earth communications.
[18:08:11] A manual docking is considered as a major step forward in China's manned space program to build a space station around 2020, in time for the likely retirement of the International Space Station.
[18:09:06] China's first astronaut Yang Liwei, who traveled into space in 2003 on board of the Shenzhou 5 spacecraft, said:
These astronauts now experience a feeling of flying in Tiangong I, while they will experience no such feelings within the orbital or re-entry module. I really envy my three comrades.
[18:06:01] Zhou Jianping, chief engineer of China's manned space program, said:
The real test will be the manual docking attempt six days later. A manual docking, if successful, will demonstrate the country's grasp of essential space rendezvous and docking know-how. It will mean China is fully capable of transferring human and cargo to an orbiter in space.
[18:05:11] The 8.5-tonne Tiangong space lab module has been traveling around Earth for 263 days since it was launched in September 2011.
[18:02:01]  People's Radio Station of Shanghai:
After Liu Yang, China's first female astronaut, entered Tiangong 1, all three Chinese astronauts assembled in the space station. They work very well together. Liu Yang is like a Chinese space mermaid, floating around as if she was born to do this.
[17:51:23] 

@Langya Langya Xiaoxiaoniao from Sina Weibo said:
I think this is quite entertaining. The command center specifically told the three astronauts to face the camera and wave to people on earth. This is like the first family photo of the three astronauts in Tiangong 1.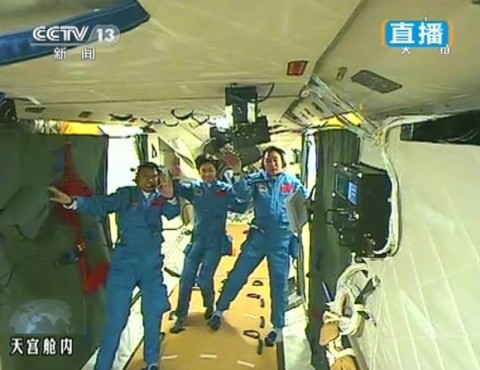 [17:43:45]  Three Chinese astronauts are the first tenants in the 15-square-meter cabin of Tiangong 1, known as "Heavenly Palace."
[17:41:11] Chinese astronauts will stay at Tiangong 1 for 6 days.
[17:37:11] 

@Xiaozui Appreciating the Life from Sina Weibo said:
When I saw the astronaut opening the Shenzhou 9 door and entering Tiangong 1, I felt tears come into my eyes. I just can't help but feel proud of this accomplishment. Long live my homeland!
[17:26:58] China's first female astronaut enters into Tiangong 1.
[17:19:02] China's first female astronaut stays in Shenzhou 9 at this moment.
[17:16:20] Jing Haipeng, commander of China's first manned space docking mission, is examining the lab module of Tiangong 1 and the environment control settings.

[17:13:02]

 
Chinese astronaut enters space orbiter for first time
[17:12:34]

@Zongyoukeneng from Sina Weibo wrote:
For Jing Haipeng, entering Tiangong 1 is merely a small step. For the  Chinese people however, it is a big one!

[17:12:13] Jing Haipeng, commander of China's first manned space docking mission onboard the Shenzhou-9 spacecraft, entered the orbiting Tiangong 1 lab module, assisted by his crew mate Liu Wang.
[17:11:56] Chinese austronaut opens Tiangong 1's gate valve.
[17:11:48] Chinese astronaut enters docking passage.
[17:11:24] Chinese astronaut reports normal pressure.
[17:08:23] Chinese astronaut reports opening of balance valve on orbital module.
[17:05:22] Jing Haipeng, commanding officer of China's first manned space rendezvous and docking mission onboard the Shenzhou-9 spacecraft, opened the balance valve on the orbital module's front door.
[17:02:54]

In their blue astronaut uniform, the crew of three astronauts onboard China's Shenzhou 9 spacecraft are ready to enter the Tiangong 1 space lab module.
[14:39:21]
That's it for our live coverage for now. Thank you very much for staying with us – we'll be back again in two hours for astronauts' entering into the Tiangong 1 space lab.
[14:35:56] The docking was completed in less than eight minutes.The rigidly connected Shenzhou-9 and Tiangong-1 orbited the Earth at 7.8 km per second.
[14:34:35] Yang Liwei said:
I conducted the interview for the second batch of astronauts in the selection process. One incident during the interviews left me a very deep impression. One of the tests was oral English. We interviewed another female pilot before Liu Yang. When Liu Yang came in for her interview, she said that she already heard about test topics from that previous pilot. So she hoped we would give her new topics. At that moment, I thought she was honest and lovely. She thought that her competition with her comrades was healthy, so honesty should take priority.

My first impression of her was that she was introverted. However, I was so surprised that she had so much energy and optimism. Then I knew that she played host for parties and performances in the air force and participated in speaking contests. After that, when I went to her home, I was very astonished that her family was also full of energy, because most of the pilots' home are very simple. So I thought that she loves life.

She is a very bright and cheerful girl. Although she had less training time than the two male astronauts, she worked very hard and her learning ability was very strong.
[14:32:22] As Shenzhou 9 and Tiangong 1 successfully docks, Liu Yang breaks out with a heartfelt smile.
[14:31:00] Liu Wang is about to open the door between the return module and the orbiting module,according to the ground control in Beijing.
[14:28:22] Automated docking of Tiangong 1 had completed without problem, said the Beijing Aerospace Control Center.
[14:27:07]

The orbiting module door is to be opened in less than 3 hours.
[14:26:19] The assembly of Shenzhou 9 and Tiangong 1 is flying in normal motion.
[14:20:11] The three astronauts appear to be in good condition inside the Shenzhou 9 capsule as docking completes.
[14:19:21] Ground control applauds the successful docking of the two spacecrafts.
[14:17:22] From inside the Shenzhou 9 capsule, astronaut Liu Yang is holding a camera to record scenes as the spacecraft docks with Tiangong 1.
[14:15:55]

China's first manned space automated docking succeeds.
[14:14:17] The docking ring of the manned Shenzhou-9 spaceship touches the Tiangong-1 space lab module, and the spaceship is gently pushed to join Tiangong-1 by an engine ignition.
[14:13:36] The docking ring is locked.
[14:12:11]
@yyh-yongxin 2012 from Sina Weibo said:
I'm watching the docking of Shenzhou 9 and Tiangong 1. This is the most mysterious "kiss", with which the two will embrace each other in deep love.
[14:10:01] The docking ring is locking.
[14:08:11] The docking ring  pulled space lab module Tiangong 1 to itself.
[14:07:23]

Shenzhou 9 started to dock with Tiangong 1.
[14:05:01] Shenzhou 9 spacecraft moves slowly, at 0.2 meter per second, toward the Tiangong-1 space lab module, and their distance is shortening.
[13:53:27]  Spacecraft Shenzhou 9 is 30m away from the orbiting space lab module Tiangong 1.
[13:54:11]  Shenzhou 9's docking apparatus is gradually extending out from the spacecraft
[13:53:27] Spacecraft Shenzhou 9 is 200m away from the orbiting space lab module Tiangong 1.
[13:47:11] Latest information: Shenzhou 9 spacecraft to dock with Tiangong 1 around 2 pm Monday afternoon
[13:30:01] Latest information: All systems including the ground communication system are working well and ready to support the docking and accommodation of astronauts
[13:28:23] Latest information: The lab module is ready for the docking and receiving astronauts.
[13:27:50] Latest information: The crew are in good physiological and working condition.
[13:03:22] China National Philatelic Corporation issues a commemorative stamp "Ode to Tiangong 1" on June 17 to mark Shenzhen 9's docking with Tiangong 1.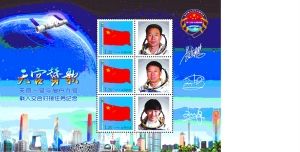 [13:01:01] An UFO enthusiast has captured an image during the launch of Shenzhou 9, showing off two peculiar looking light spots close to the spacecraft. Wang Sichao, a researcher with the Zijinshan Observatory in Nanjing, said he has filed this image in his "UFO archive".
[12:52:10] Latest information: Spacecraft Shenzhou 9 is 52 km away from the orbiting space lab module Tiangong 1 at Monday noon, after four orbiting changes since its launch on Saturday, according to the Beijing Aerospace Flight Control Center.
[12:47:11]

Latest information:
China's astronauts will enter the orbiting Tiangong 1 lab module at 5:22 p.m. Monday, after the automatic docking of Shenzhou 9 spacecraft and Tiangong-1, announced the manned space program spokesperson.
[12:26:33]

@Yidiandingzhi from Sina Weibo said:
I paid special attention to the launch of Shenzhou 9. I have sincere admiration for the three astronauts at that moment, especially our first female astronaut Liu Yang. Of course, all staff who worked hard for the space industry were very great too. Now the question I want to ask the most is:" Three space heroes: How are you in the space? We really miss you on earth!"
[12:14:56] Pang Zhihao said,
"The astronauts have practiced for a long time on Earth on opening and closing the door. They should be very careful not to hit any of the connective parts between the two spacecrafts in order to avoid any damages after opening the door. It would be even worse if the door can't be closed, because they can't come back. That situation has also happened during other countries' space missions."
[12:10:24] To open the door, it not only requires that the door's mechanical functions have no problems, but also that pressure is equal on both sides of the door. Astronauts will monitor the cabin pressure before they open the door in order to achieve this pressure balance. However, in the process of walking through the cabin, the tightness of the docking mechanism is very important for the safety of the astronauts. No leak could be allowed.
[12:10:11]  The air locked door of Tiangong 1 will open for the first time after a successful docking. Pang Zhihao, a researcher with the China Academy of Space Technology, said that the astronauts should take caution not to run into problems opening the space station's door, which has been a problem for other country's space programs.
[12:09:55] Two crew members will enter Tiangong 1 space module lab and conduct docking manually with module. One of the three Shenzhou 9 crew members will not board the Tiangong 1 space module lab, but will remain inside the spacecraft as a precautionary measure.
[12:01:04]  Senior UN official praises development of China's space program
[11:41:22]

@Nanjing Xiaoxiaosheng 999 from Sina Weibo said:
Shenzhou 9 has been successfully launched. Dear Shenzhou 9, if you see something beautiful or interesting up there in space, please remember to send us a video or an e-mail. Are you now bothered by dust or other environmental pollution in space? I really want to know!!
[11:22:01] Homebound – Liu Yang's life on Earth.[More photos]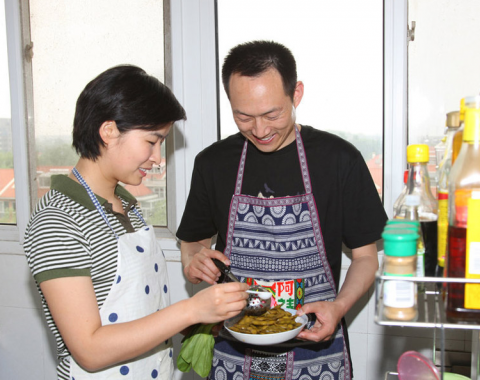 [10:54:22]
@Lier Gates from Sina Weibo said:
How China's Shenzhou 9 and Jiaolong (the manned deep-sea submersible) show the great ambition of the Chinese people! I just want to shout from deep in my heart: Long live the Chinese people for our aerospace technology!
[10:49:11] From CNTV:
For the space suits' various inconveniences on the ground, such as limiting the astronaut's movement, they are all easily solved in the weightless environment. The biggest problem, as it turns out, is the inability for wearers to scratch an itch. The astronauts must turn to their tremendous mental toughness to deal with this great trial.
[10:32:01] Chen Shanguang, general director of the astronaut system department, added,
Besides hard work, astronauts were also advised to have fun during the mission. They can use a video link to chat with the ground and their family members within each bedroom. Designers had planted many "surprises" inside the lab. Discovering unexpected items by themselves could add more fun to living in space. These treasure-hunting games will also be recorded to analyze people's ability in solving puzzles in gravity-free conditions.
[10:20:11] In contrast, Shenzhou 9's two rendezvous and docking missions will entirely take place in direct sunlight. This will pose increasing difficulties for the mission and test to the equipments and operational protocols during the rendezvous and docking.
[10:15:23] Here is information:
Last year, Shenzhou 8 and Tiangong 1 accomplished two separate rendezvous and docking – on Nov. 3 and 14. The first one happened in the shadow of the Earth; the second rendezvous procedure was mostly in the sunlight, with the last part of the mission, the docking, occuring in the shade.
[10:01:12] Chen Shanguang, general director of the astronaut system department,said:
Astronauts rely on good food to focus on work. For female astronauts, my fellow crew had introduced low-fat food and added more vegetables to the menu, which also features desserts, chocolate and food with blood-enriching effects. For this 13-day mission, the spaceship is stocked with over 50 kinds of food and different menus will rotate every four days. I also believes the food for China's space program should take full advantage of the country's traditional cooking.
[9:54:11] 

@Cijin Guanyin from Sina Weibo said:
Since the space traveling is so boring, I recommend that they play poker in the module to kill time.
[9:44:36]

Latest devolopment:
According to an official source,Shenzhou 9 is expected to go into autopilot at about 11 a.m., and perform automatic docking with Tiangong 1. This will be the first docking operation between a crewed spacecraft and a space station for China.
[9:43:11] Shenzhou 9 astronauts to spend Duanwu Festival in space.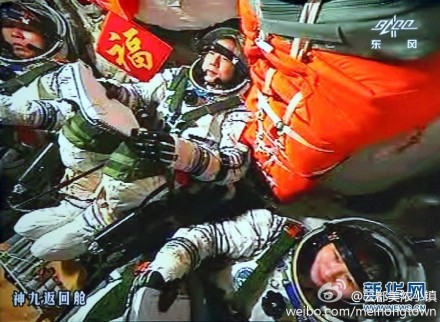 [9:34:15] The female crew member, Liu Yang, did not appear to be discomfortable. However, all three astronauts' faces seemed to swell to some extent. On camera, Liu Yang and Liu Wang appeared puffier than Jing Haipeng.
[9:33:12] During Sunday's space voyage, the three astronauts all reported good physical condition.