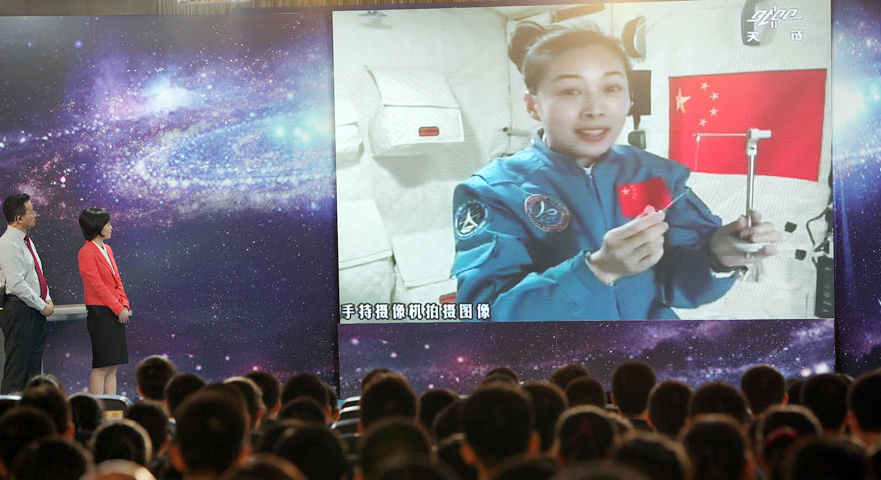 Editor's note: Wang Yaping, the only female astronaut on board the Shenzhou 10 spacecraft, taught Chinese primary and middle school students about Earth physics phenomena on the morning of June 20, 2013. She also demonstrated the discussed theory while lecturing in orbit and interacted with the students and teachers on Earth. Stay tuned with China.org.cn for live coverage on the event.
No need to reload page, content updates automatically every two minutes. All time is Beijing Time (GMT+0800).
Pictures recommended: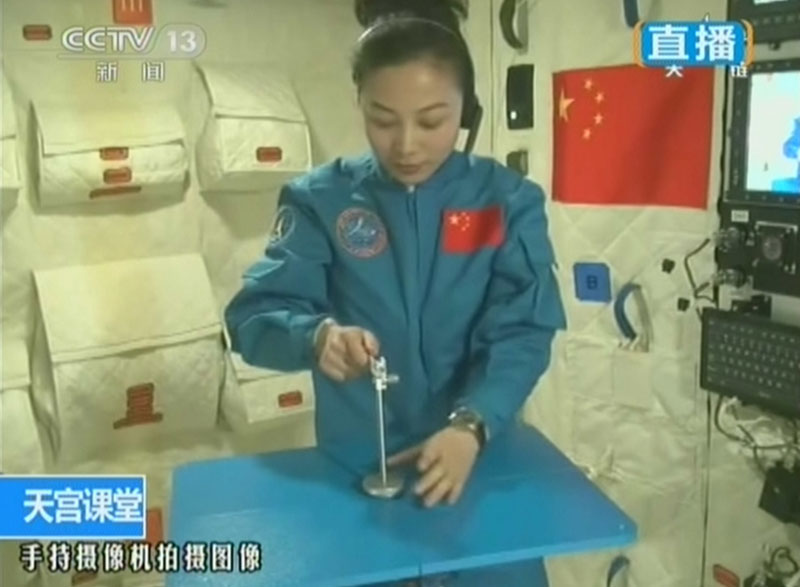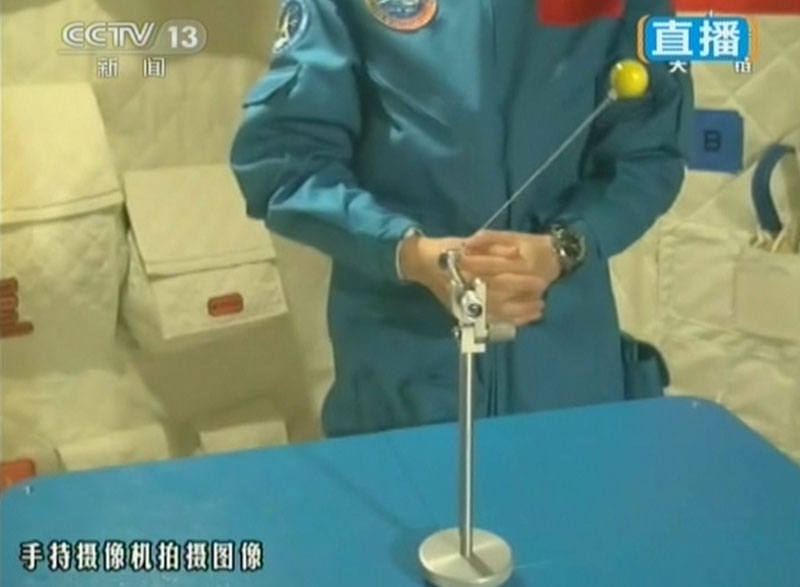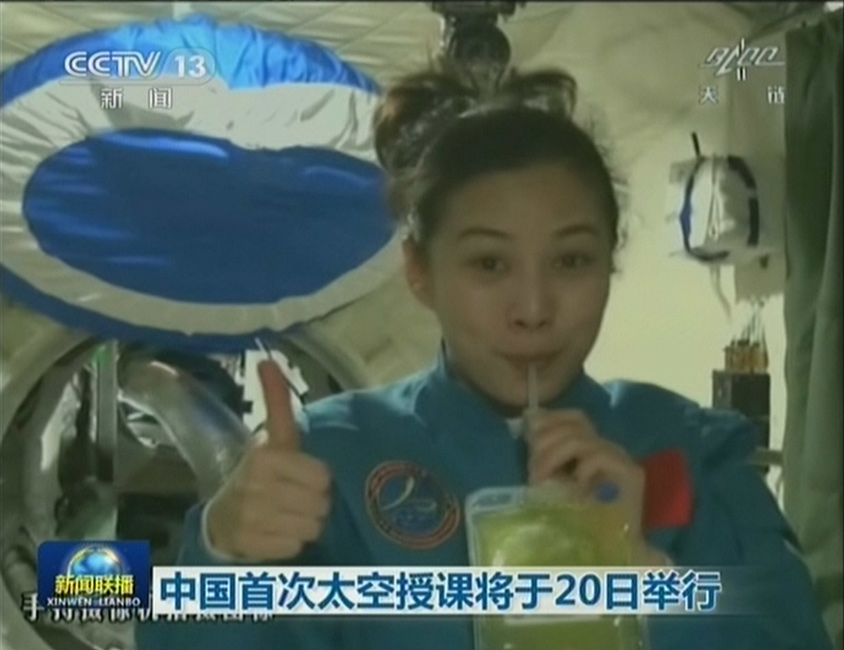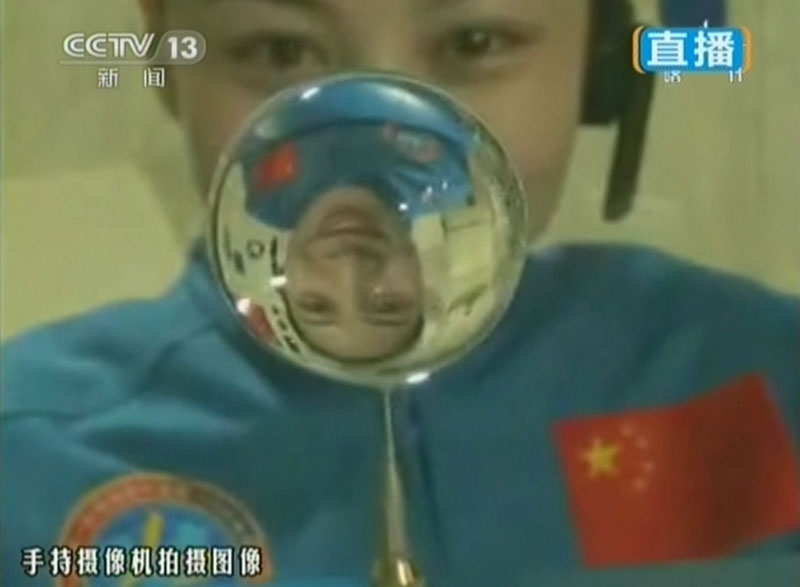 [10:56]That's all for today's live report on China's first space lecture. Thank you for staying with us.
[10:55]
@From Sina Weibo:
The experiments conducted in outer space are really impressive. We've seen quite a few fantastic phenomena.
[10:52]The lecture concludes.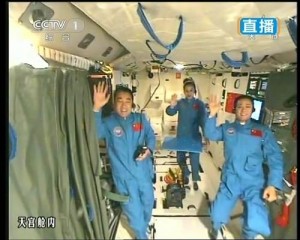 [10:51]The three astronauts express their best wishes for the students-"study hard!"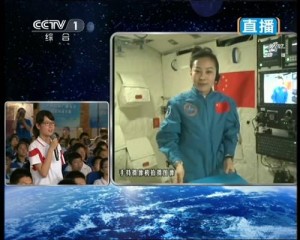 [10:50]The professors inside the classroom wrap up the lecture.
[10:49]
@Guilin Life from Sina Weibo:
In the film "Inception," Leonardo used a spinning top to distinguish reality from dream. There is a spinning top inside the Tiangong 1 as well, but it is used to explain Newton's Laws.
[10:48]A third student asks about the negative influence of being in outer space on the human body.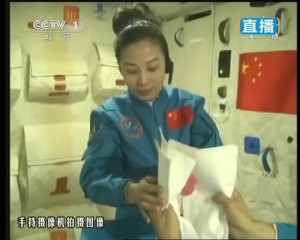 [10:47]A student asks how to deal with garbage in space.
[10:45]Astronaunt Nie Haisheng explains the water came from Earth but they will apply advanced technology for the re-use of this water in space.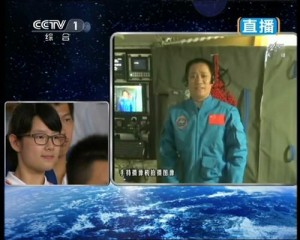 [10:43]A student asks if the water she used in the experiment came from Earth or from within Tiangong 1.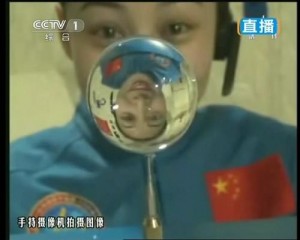 [10:36]
@Quxue.com from Sina Weibo:
The physics experiments in  space are of great importance to mankind's exploration of outer space.
[10:35]When adding water to the water film, a small water ball forms.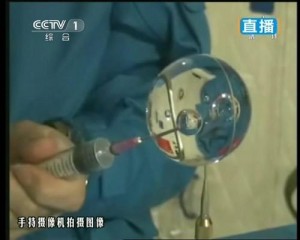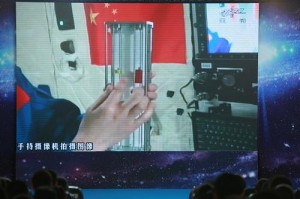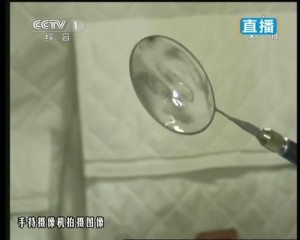 [10:32]Wang Yaping shows how a water film forms by using a magnifying glass.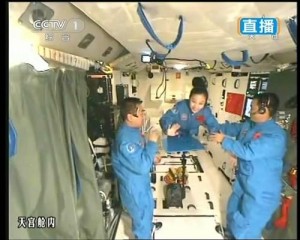 [10:29]Wang Yaping demonstrates the movement of water in space.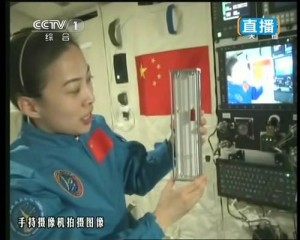 [10:28]Wang Yaping demonstrates movement in a zero gravity environment by using a spinning top.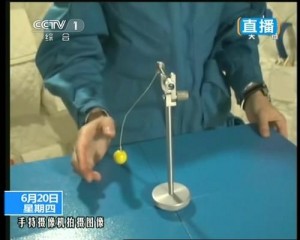 [10:25]The student asks how to tell the difference between up and down in space.
[10:24]Students are asking more questions.
[10:22]Wang Yaping demonstrates the concept of zero gravity with a wire and a small yellow ball.
[10:20]She shows the students another way to measure weight in space.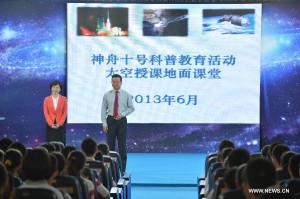 [10:19]Wang Yaping explains according to which theories the equipment on board Shenzhou 10 is made.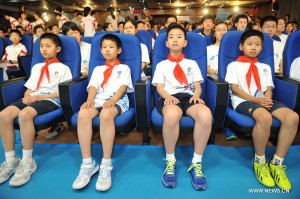 [10:18]Wang Yaping explains how to tell if you have gained or lost weight in space.
[10:16]The first student asks how gravity actually works.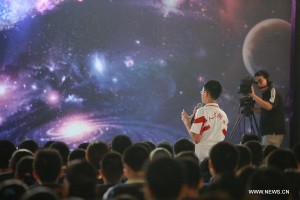 [10:15]A student asks the first question.
[10:14]Wang Yaping explains the concept of zero gravity.
[10:11]The astronauts introduce Shenzhou 10.
[10:10]The astronauts "meet" their students.
[10:07]The professors are explaining the concept of gravity to the students.
[10:06] Two teachers are lecturing the Tiangong 1.
[10:04]The lecture starts.
[9:58]Under zero-gravity conditions, once water is spilled, the orbs will float inside the spacecraft instead of dropping down to the ground. They may choke the astronauts or damage the delicate devices. However, it is impossible to prevent water from spilling when astronauts drink, bath or conduct experiments. How to collect the spilled water orbs? You will find the answer in Wang Yaping's lecture.
[9:48]
@Shao Yingxin from Sina Weibo:
What do China's pupils hope to learn from the "outer space classes?" Students in Beijing wonder how to take a shower or sleep in outer space. Students in Taipei wonder whether people can apply make up in outer space. Students in Lhasa wonder if there is radiation in outer space. Students in Nanchang hope to know whether tears can fall down from their eyes.
[9:43]
@Modern Express Kuai Tuan from Sina Weibo:
This is indeed a rare opportunity to learn more about the principles of physics directly from outer space. Knowledge is power!
[9:42]
@Han Qin Education from Sina Weibo:
Shenzhou 10 hasalready docked with Tiangong 1, another "kiss" in outer space, signifying Chinahas achieved new success in space technology. The dream of establishing aChinese space station could become a reality soon.
[9:40] Bicycle is expected to be used in the lecture that astronaut Wang Yaping will give in space. Under zero-gravity conditions, keeping fit is crucial to astronauts. Last year, the astronauts of Shenzhou 9 mission assembled a bike in Tiangong 1 space lab module. How will it be used in the space lecture? Let's wait and see.
The lecture, from 10:04 a.m. to 10:55 a.m., will focus on:
Motion in a microgravity environment
Surface tension of liquid
Concepts of weight and mass
Newton's Laws
Wang Yaping will interact with more than 330 students who will gather at a classroom of the High School Affiliated to Renmin University of China in Beijing, according to the space program.
Invited by the Ministry of Education, the group of students includes children of ethnic groups and migrant workers, and student representatives from Hong Kong, Macao and Taiwan.
The aim of the lecture:
Making space more popular
Inspiring enthusiasm for the universe and science
A letter to Wang from the first astronaut teacher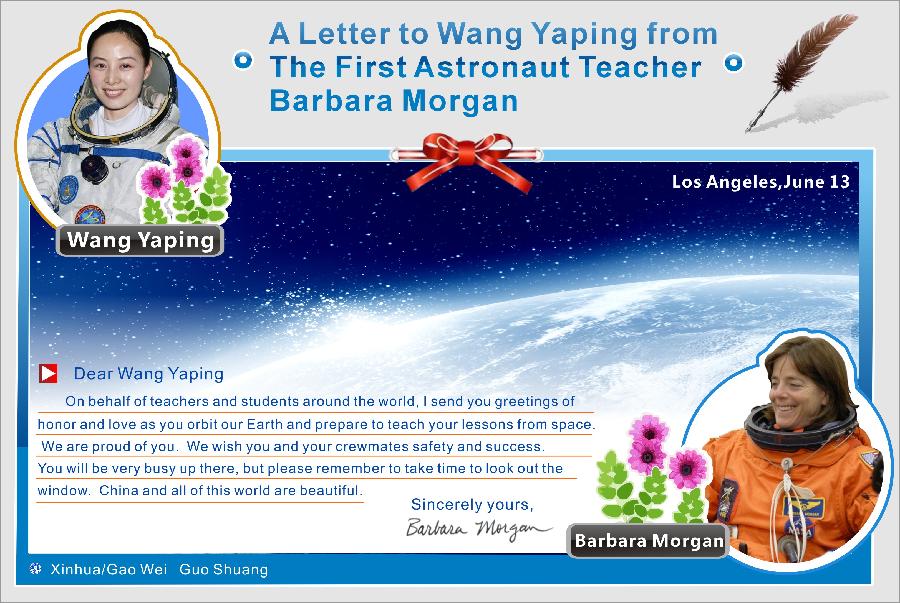 Wang Yaping's space exploration: a pictorial review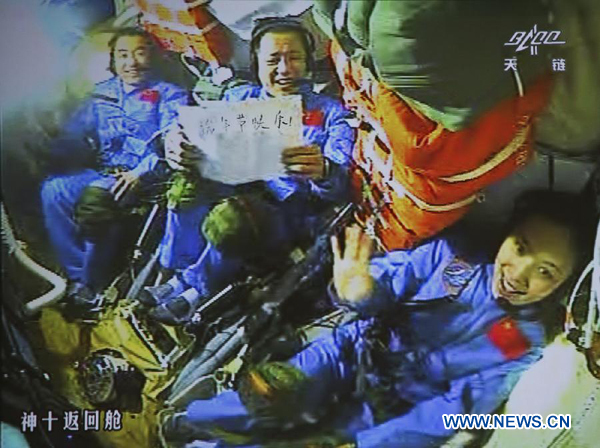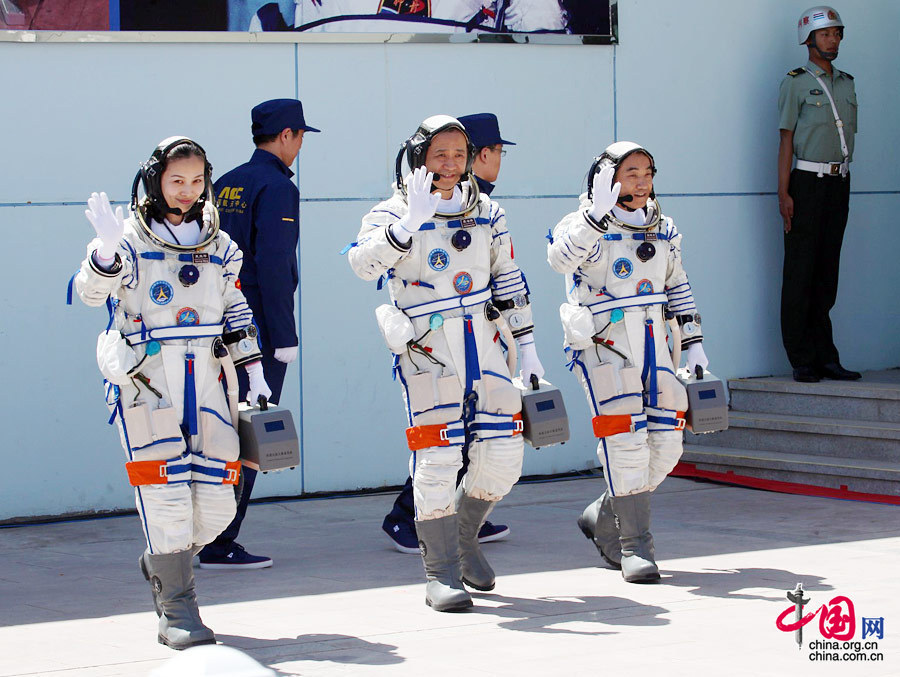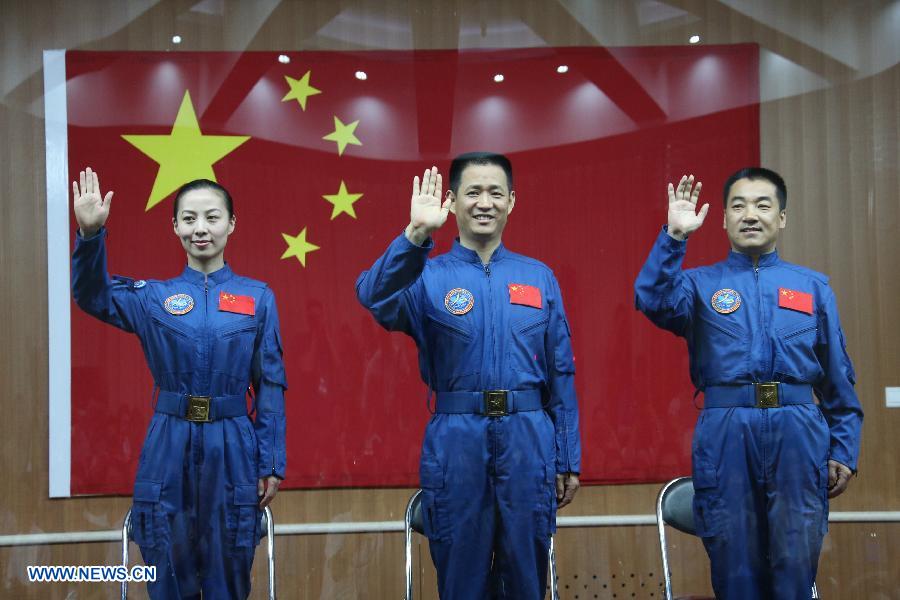 Wang Yaping said ahead of the launch of Shenzhou 10 spacecraft:
We are all students in facing the vast universe. We are looking forward to joining our young friends to learn and explore the mystical and beautiful universe.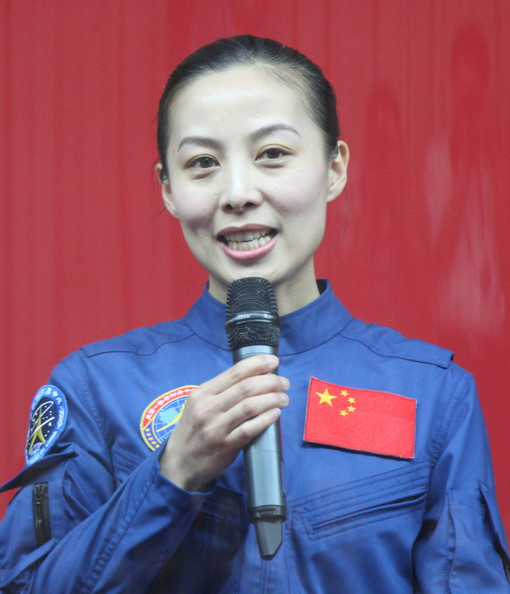 About Wang Yaping
Wang Yaping, a former air force pilot, joins a crew of three on Shenzhou 10 on June 11, 2013 and becomes only the second woman astronaut in space after Liu Yang who was on board the Shenzhou 9 mission in 2012.
Wang was one of the two candidates to become China's first female astronaut in space on the Shenzhou 9 spacecraft. But she lost to Liu Yang, the other candidate to be in the three-member crew.
Wang was born in Jan., 1980, in east China's Shandong Province. She is the eldest of two daughters. In 1997, she enrolled at the Changchun Air Force Aviation College. Wang Yaping first took to the air in 1998 and subsequently racked up more than 800 flying hours during the next nine years. In 2001, now holding a bachelor's degree in military science, Wang was assigned as a military air transport pilot in Wuhan. Since then, she has carried out many important tasks including military exercises, disaster relief operations following the Wenchuan Earthquake and rain cloud dispersal operations during the Beijing Olympics.
As one of the 7th batch of Chinese female pilots, Wang is trained to pilot four types of aircraft. Her husband is also a pilot.
What are the plants brought into space by Shenzhou 10?
Ginseng seeds: The Ginseng seeds cultivated by the key traditional Chinese medicine laboratory of the Macau University of Science and Technology, a major research university, will be cultivated after they are brought back from space.
Fujiantea: A tea science research instituted in the city of Wuyishan, FujianProvince, will put the famous local tea Dahongpao on Shenzhou 10 for space breeding.
Fruits and vegetables seeds: A total of 27 fruit and vegetable seeds bred in Heilongjiang Province are aboard Shenzhou 10; this batch of seeds includes four types of eggplants, six types of tomatoes, two types of cucumbers, nine types of watermelon and six types of muskmelons. The cargo weighs 103 grams.