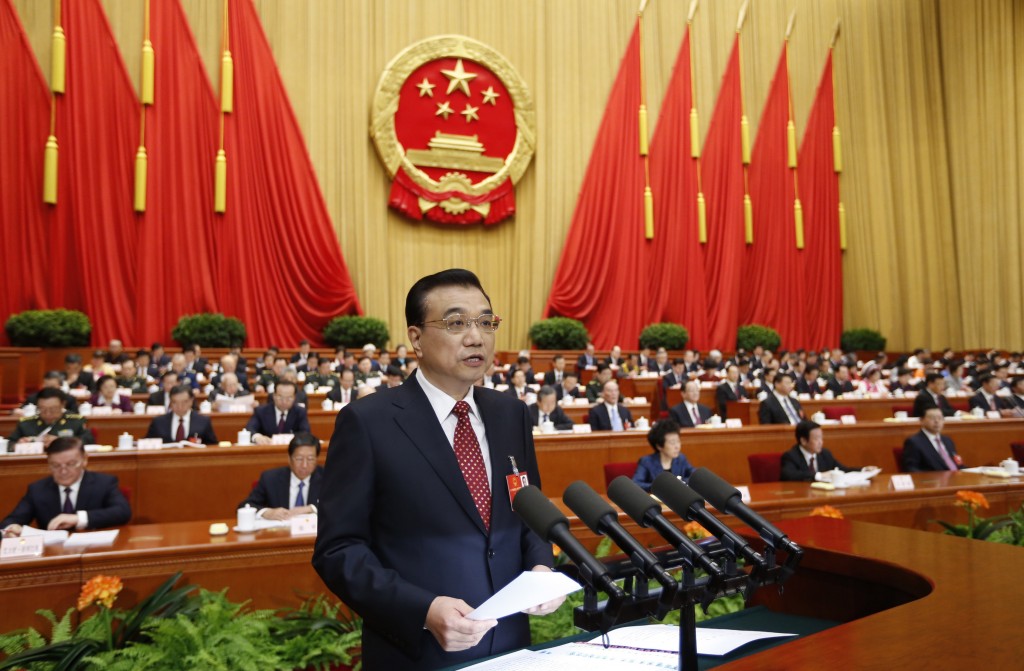 Editor's note:
China.org.cn presents live coverage of the opening ceremony of the fourth session of China's 12th National People's Congress (NPC) at 9:00 am on March 5, 2016. Chinese Premier Li Keqiang delivers the government work report at the meeting.
——————————————————————
No need to reload page, content updates automatically every two minutes. All time is Beijing Time (GMT+0800).
China.org.cn will present you with a live coverage of the press conference held by Chinese Premier Li Keqiang on March 16, 2016, immediately after this year's NPC session concludes.
Please stay tuned for our live updates on this event.
Goals, missions of China's new five-year plan
Growth
— Keep medium-high growth to double China's GDP and per capita income by 2020 from the 2010 level.
— Promote innovative, coordinated, green, open, and shared development.
Innovation-driven development 
— Make breakthroughs in core technologies including information communication, new energy, new materials, aviation, biological medicine and intelligent manufacturing.
— Advance scientific research on universe evolution, material structure, origin of life, as well as brain and cognition.
— Vigorously initiate international major science projects.
— Ease the criteria for foreign talents' applying for permanent residence.
— Improve the quality and efficiency of supply and stimulate real demand to strengthen new growth momentum.
— Foster new competitive advantages of foreign trade by exporting more high-end equipment and cutting-edge products with high added value.
Modern industries
— Further implement "Made in China 2025" strategy and focus on manufacturing innovation and the integration of information and manufacturing technologies.
— Support strategic emerging sector and improve its share in GDP to 15 percent.
— Boost information technology, new energy vehicles, biological technology and low-carbon industries, as well as high-end equipment and materials.
— Nurture the growth of high-tech sectors involving semiconductors, robots and intelligent systems.
Internet 
— Speed up building a new generation of information infrastructure.
— Advance 5G telecom technology and comprehensively upgrade to IPv6.
— Implement "Internet Plus" and promote Internet technologies to revolutionize production and organization modes.
— Promote big data strategy to facilitate industrial upgrade and social governance innovation.
— Push forward the establishment of a multilateral, democratic and transparent international Internet governance system.
Energy revolution 
— Deepen energy revolution by establishing a modern energy system that is clean, low-carbon and efficient.
— Build a coordinated and integrated energy network.
Urbanization 
— Accelerate urbanizing rural migrants.
— Build world-class city clusters in Beijing-Tianjin-Hebei region, Yangtze River Delta and Pearl River Delta.
Maritime power 
— Strengthen maritime law enforcement, safeguard maritime interests and maintain free navigation and maritime passage safety at seawaters under China's jurisdiction.
— Improve sea-related dialogue and cooperation mechanisms with neighboring countries and boost pragmatic maritime cooperation.
Environment 
— Keep annual energy consumption within five billion tonnes of standard coal.
— Implement the strictest environmental protection system by gathering efforts from government, enterprises and the public to realize environmental improvement.
— Control carbon emissions, honor climate commitments and deeply participate into global climate governance.
Opening up 
— Expand international production capacity cooperation in sectors including steel, railway, telecommunications, machinery and aviation.
— Increase service trade's share in total foreign trade to 16 percent.
— Relax restrictions in service sector for foreign capital, widen market access in banking and securities, encourage foreign investment to flow into advanced manufacturing, high-tech industries and energy saving.
— Improve business environment to facilitate win-win cooperation.
— Realize the convertibility of Chinese currency the yuan and promote its global use.
— Enhance two-way opening up of capital market, including securities and bond markets.
— Strive to sign high-standard bilateral investment agreements with more countries.
Belt and road 
— Quicken Belt and Road construction and expand win-win cooperation to form a new comprehensive opening-up landscape.
— Strengthen cooperation with international financial institutions, push forward the Asian Infrastructure Investment Bank and the BRICS New Development Bank, and properly operate the Silk Road Fund.
— Build China-Mongolia-Russia, China-Central Asia-West Asia, China-Indochina Peninsula, China-Pakistan and Bangladesh-China-India-Myanmar economic corridors, as well as the new Eurasian Land Bridge.
Global economic governance
— Safeguard the role of the World Trade Organization and push forward multilateral trade negotiations.
— Vigorously set up free trade areas with countries along the routes of the Belt and Road.
— Step up talks with the Regional Comprehensive Economic Partnership and Gulf Cooperation Council and on free trade area of China, Japan and the Republic of Korea.
— Push forward the establishment of free trade agreements with Israel, Canada, the Eurasian Economic Union and the European Union, as well as an Asia-Pacific free trade area.
— Continue to propel investment agreement talks with the United States and Europe.
— Actively participate in the making of international rules on the Internet, deep sea, polar region and space and of international standards.
International responsibility 
— Increase assistance to developing countries in education, medicine, disaster relief, animal protection and poverty alleviation.
— Safeguard international public security and oppose any forms of terrorism.
People's well-being 
— Lift 50 million people out of poverty and build a moderately prosperous society in all aspects.
— Fully implement two-child policy, with the total population reaching 1.42 billion.
Strategy and security 
— Formulate and implement national security policies in politics, territory, economy, society, resources and the Internet.
— Reinforce anti-terrorism forces and increase international cooperation.
— Advance national defense and military modernization.
[11:00]
That's it for the live blog. Thanks for following along with us.
[10:30] 

DragonInWorld112@weibo.com: I'm looking forward to our moderately prosperous society, which will satisfy everyday people's basic needs in subsistence, housing, elderly care, education and medical care. It should be a society featuring fairness, justice and mutual respect.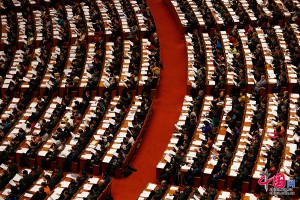 [10:00] Premier Li said that China will continue to improve the market-based mechanism for setting the RMB exchange rate to ensure it remains generally stable at an appropriate and balanced level.
[09:57] 

Aronevan@weibo.com:
The premier should stick to structural reform, although more difficulties will come. A patient will take medicine despite the bitter taste, because the medicine can cure their illness. Reform shouldn't be affected by populists or left-wingers.
[09:56] Premier Li said that China will increase the country's deficit-to-GDP ratio to 3 percent this year from 2.3 percent last year, and cut taxes across the board.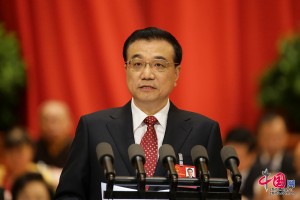 [09:55] 

Congratulations from Bu'er Zhou to Xiao Han @ Weibo.com:
We hope the two sessions will give equal attention to employment and the start-up programs for university graduates. We are expecting educational reform to arm students with valuable and authentic knowledge.
[09:54] Premier said China will pursue a more proactive fiscal policy, with government deficit for 2016 projected to be 2.18 trillion yuan (US$335 billion), an increase of 560 billion yuan over last year.
[09:53] Premier Li said China will aim to create at least 10 million new urban jobs and keep the registered urban unemployment rate within 4.5 percent this year.
[09:52] Premier Li said this year's target is aligned with China's goal of completing the construction of a moderately prosperous society in all respects, and takes into consideration the need to advance structural reform.
[09:49] Premier Li said that China will target an economic growth rate of 6.5 to 7 percent in 2016.
[09:48] Now Premier Li is outlining work plan for the year ahead.
[09:43] 
 Infographic: Highlights of proposals for China's 13th Five-Year Plan

[09:42] 

BossQianQL@weibo.com: I'm interested in issues like environmental protection, farmers' livelihood, agriculture, countryside, supply-side reform, new energies, China's manufacturing quality and the building of a beautiful and healthy China.
[09:40] Premier said we will make persistent efforts to turn China into a beautiful country with blue sky, green land and clear water.
[09:38] China aims to lower its energy consumption per unit of GDP by 15 percent by 2020, Premier Li revealed.
[09:37]  China's population will be about 1.42 billion by the end of 2020, according to the draft outline of the country's five-year plan released Saturday.
[09:36] This is the first Five-Year Plan drafted under the current Chinese leadership, and also the first since China's economy entered what policymakers refer to as the "new normal," a phase of moderating growth based more on consumption than the previous mainstay of exports.
[09:35] China will carry out hundreds of programs and projects of scientific, economic and political significance in the next five years, according to the draft of the 13th five-year plan on economic and social development submitted to the national legislature on Saturday.
[09:32] Premier said China vowed to complete the building of a moderately prosperous society in all respects by 2020. China aims to double the 2010 GDP and per capita personal income by 2020 and expects an average annual economic growth of above 6.5 percent for the next five years.
[09:30] Premier said the draft outline of the 13th Five-Year Plan on national economy and social development has been submitted to the National People's Congress annual session for review.
[09:28] Premier said the country has successfully fulfilled all the main tasks and targets set out in an economic and social development road-map for the 2011-2015 period.
-Stable and rapid economic growth. China's GDP grew at an average annual rate of 7.8 percent in the five years between 2011 and 2015. The enviable growth made China the world's second-largest economy, and the largest trading nation in terms of goods as well as a major outbound investor.
-Marked progress in structural adjustment. Service industries grew to be the largest economic sector in the country, while consumption became a major driver of growth. Energy consumption per unit of GDP dropped by 18.2 percent, and the emissions of major pollutants were cut by over 12 percent.
-Across-the-board infrastructure improvements and major breakthroughs in scientific and technological innovations. Achievements were made in popular undertakings such as manned space flight, lunar exploration program, and deep-water explorations, as well as the less known researches on quantum communications, neutrino oscillation, and iron-based high-temperature superconductivity.
-Improved living standards and notable social developments. Urban-rural income gap kept narrowed and basic health insurance was expanded to achieve complete coverage. More than 100 million rural residents were lifted out of poverty, and over 300 million rural residents gained access to safe drinking water.
[09:20] Premier Li said, "Of particular note, the employment situation overall remained stable, with 13.12 million new urban jobs created in 2015. This surpassed the target set for 2015, becoming an economic highlight."
[09:05] In his government report, Premier Li said China's economy, which grew 6.9 percent last year, was within "an appropriate range." The growth, one of the fastest of the world's major economies, propelled China's gross domestic product to 67.7 trillion yuan (US$10.4 trillion).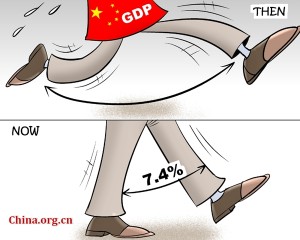 [09:04] 

GreyPebble_65980@weibo.com:
The development path Chinese people are taking is unprecedented in China's history. We need to stick to socialism and build a prosperous and strong nation. We want to become a major power in the world, but we will never pursue hegemony. We need to foster a stable social environment, promote world peace and pursue self-development. Only continuous innovation can make our country strong. Only when the country grows strong, can peace and prosperity be achieved.
[09:03]
Premier Li Keqiang is delivering the annual government work report to nearly 3,000 legislators in the Great Hall of the People.
[09:01] Zhang Dejiang announces the opening of the fourth session of China's 12th National People's Congress.
[09:00]

The annual session of China's top legislature, or the National People's Congress, opens in Beijing.
[08:48] Main goals for next five years
— Double the 2010 GDP and per capita personal income by 2020;
— Annual economic growth of at least 6.5 percent in next five years;
— Aggregate economic output exceeding 90 trillion yuan;
— Permanent urban residents accounting for 60 percent of China's population;
— Registered permanent urban residents accounting for 45 percent of China's population;
— Expansion of high-speed railways in service to 30,000 kilometers while the network linking more than 80 percent of big cities;
— Water consumption, energy consumption and carbon dioxide emissions per unit of GDP down by 23 percent, 15 percent and 18 percent respectively;
— Poverty relief of all rural residents falling below the current poverty line, and poverty alleviation in all poor counties and areas;
— 50 million new urban jobs;
— One-year increase in average life expectancy.
[08:44]  Major targets & policies for 2016
— Increase gross domestic product (GDP) by a rate between 6.5 and 7 percent;
— Keep the growth of consumer price index (CPI) at around 3 percent;
— Pursue a more proactive fiscal policy with a deficit of 2.18 trillion yuan (335.38 billion U.S. dollars), 560 billion more than that of last year and accounting for 3 percent of GDP;
— Add more than 10 million urban jobs with a registered urban unemployment rate at no more than 4.5 percent;
— Pursue a prudent monetary policy that is flexible and appropriate while the growth of the broad money supply (M2) being set at about 13 percent;
— Reduce energy intensity by at least 3.4 percent;
— Chemical oxygen demand and ammonia nitrogen emissions down by 2 percent, sulfur dioxide and nitrogen oxide emissions down by 3 percent, and the density of fine particulate matter (PM2.5) in key areas down;
— Help more than 10 million rural residents lift themselves out of poverty, including over 2 million poor residents to be relocated from inhospitable areas;
— Increase central government funds for poverty alleviation by 43.4 percent;
— Increase central government budgetary investment to 500 billion yuan.
[08:43] The following are 20 facts and figures highlighted in a government work report distributed to the media ahead of the annual session of the National People's Congress (NPC) on Saturday morning.
[08:40] Over 3,200 journalists registered to cover the 'two sessions', including over 1,000 foreign journalists.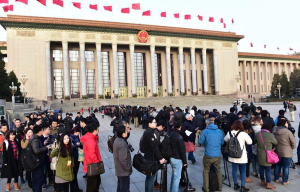 [08:29] 

DANZHIHUDIE30673@weibo.com:
The two sessions are about to open. All Chinese farmers are anticipating it. It will address their wishes. Hopefully, the premier can put farmers' wishes at the top of the government agenda. This is what we need. Thank you, premier.
[08:22] 

 Premier Li Keqiang will deliver the government work report to legislators in the Great Hall of the People.
[March 5: 08:20] The annual session of China's top legislature, or the National People's Congress, is scheduled to open at 9 a.m..
——————————————————————
[17:00]

Commuter@weibo.com:
In the past few years, I've had a strong feeling that China has grown increasingly prosperous and powerful. I can feel the significant improvement in my life and my friends' lives. I'm looking forward to the coming two sessions. I hope we can build a moderately prosperous society in all respects. I hope we can make further progress in education, environmental protection and military strength. I hope we can make new strides in the great renewal of the Chinese nation.
[15:03] Korean Peninsula issues: In response to queries about the latest resolution of the United Nations Security Council on the Democratic People's Republic of Korea (DPRK), Fu Ying said the resolution called for early resumption of the Six-Party Talks and a solution through diplomatic negotiations in a peaceful way, on which China always insists.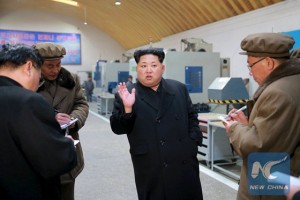 [14:17] Charity law: Another arrangement will be examining the draft charity law, the first law to regulate charity activities in China. The bill has gone through two readings at the bi-monthly sessions of the NPC Standing Committee.
[14:15] China's 13th five-year plan: According to Fu, one important event in this year's schedule will be to review the draft of the 13th five-year national development plan. It highlights the priorities of China's economic and social development from 2016 to 2020, along with the country's first centenary goal of building a moderately prosperous society in all respects.
[14:13] 

MuLYouLZhi @weibo.com:
What special proposals will be made this year? Anything related to people's livelihood? Anything funny? Can't wait to see!
[14:14] Fu Ying said at the press conference,
There will be 15 to 16 high-profile press conferences on the sidelines of the session, including the one given by Premier Li Keqiang at the end of the session and others by ministers. The press conferences will cover a rich variety of topics that the public and international community are eager to know.
[14:12] This year's session will take 11 and half days, a day longer than last year.
[14:11] About 3,000 NPC deputies will attend the annual full session of the national legislature in Beijing. Li Jianguo was elected secretary-general of the session.
[14:00] China drafting Civil Code: China is drafting a fundamental Civil Code, with the draft's general rules expected to be submitted to the top legislature in June, Fu said at the press conference.
[13:58] The law-based taxation: China will continue to push forward the implementation of law-based taxation, Fu said.
The Legislation Law revision approved last year mandates that all taxes be imposed through legislation, and the legislature has included law-based taxation into its work agenda, citing taxes of environmental protection, resources and tariff, as well as value-added tax.
[13:37] With 6.87 billion yuan (1.05 billion U.S. dollars) in ticket sales, China's box office surpassed North America (810 million U.S. dollars) for the first time ever last month, according to the State Administration of Press, Publication, Radio, Film and Television.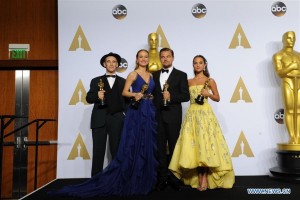 [13:35] A new bill to promote China's movie industry will provide clearer lines for filmmakers, Fu Ying said.
The bill, which had been read once by the NPC Standing Committee, is still being amended and will help build a better legal environment for China's movie industry.
[13:18] Two-child policy: China's population policy change is timely and proper as the nationwide two-child policy took effect on Jan. 1, Fu said at the press conference.
The one-child policy, which had been adopted for three decades and helped curb explosive population growth, has its distinctive significance for China. The government will address aging problems of the society.
[12:49] China's NPC supervision not formality. Fu Ying, spokeswoman for the Fourth Session of the 12th NPC, said at a press conference.
The National People's Congress (NPC) has been improving and innovating its supervision and will continue to make efforts to prompt positive changes.
[12:48] A new bill to regulate overseas non-governmental organizations (NGOs) in China, yet to be finalized, aims not at restricting them but providing a better legal environment, Fu said.
[12:44] China-Russia relations will continue healthy development and not be affected by external factors, Fu Ying said.
[12:34] 

xizige518@weibo.com:
I'm not an NPC deputy or CPPCC member, but I'm paying close attention to China's economic situation and national defense.
[12:29] Defense budget: China will raise its defense budget by around 7 to 8 percent this year, spokesperson Fu Ying said at the press conference.
The increase is in line with China's national defense need and fiscal revenue. The exact figure will be released in a budget report Saturday.
[12:21] China's anti-corruption drive: Altogether 43 national lawmakers have resigned and 27 others were dismissed in China since 2013, largely due to graft, Fu Ying said.
[12:11] 

hzghm@weibo.com:
I get excited every March, because a lot of policies beneficial to national development and the people's livelihood will be announced during the annual two sessions. We will be closer to our goals, such as the great renewal of the Chinese nation, building a harmonious society, building a moderately prosperous society in all respects and achieving the Chinese dream. I'm so excited by these thoughts, and I feel lucky and happy for living in this era.
[12:06] Charity Law: Speaking to reporters at the press conference, Fu Ying said,
The importance of charity law cannot be underestimated. China has a tradition of helping the poor and needy, Fu said, citing that the amount of donation by social entities and individuals in 2014 reached 100 billion yuan (15 billion U.S. dollars), a big rise from the 10 billion yuan seen in 2004.
[11:40] Fu Ying said that it is the United States that is militarizing the South China Sea.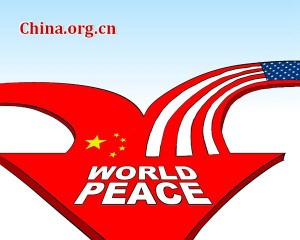 [11:25] Fu Ying answers questions from journalists.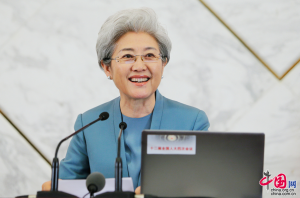 [11:20] The 12th National People's Congress (NPC), the top legislature of China, will start its fourth session at the Great Hall of the People in Beijing at 9:00 a.m on March 5, Fu Ying said.
[11:00] Fu Ying, the spokesperson for the session, introduces the agenda of the session.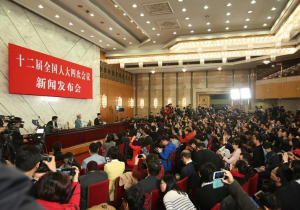 [09:25] Infographic: What you need to know about the NPC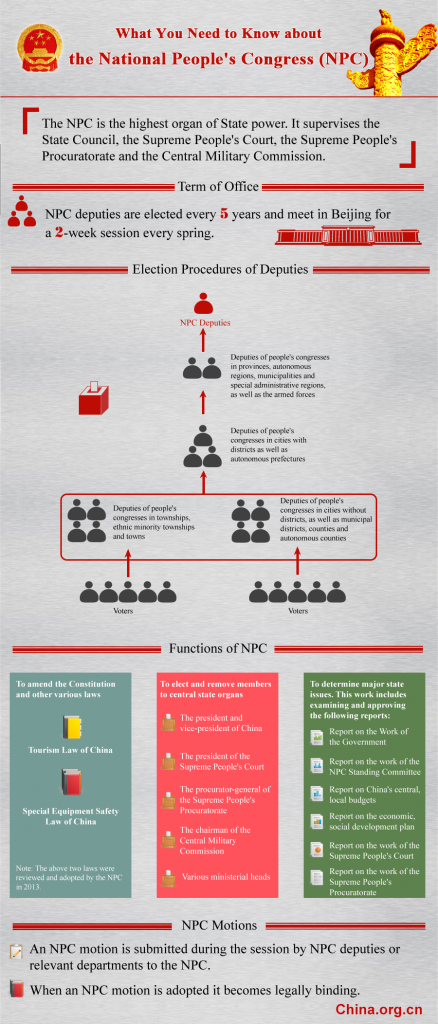 [09:08] 

WangYuyuan@weibo.com:
The two sessions will open tomorrow. This is the most important political event in China. I have firm faith in the great renewal of the Chinese nation. I hope we can avoid repeating past mistakes, and we don't need to follow the Western path. We should avoid self-inflicted setbacks and complacency. We should stick to our own pursuits. We are going to achieve even bigger successes in building socialism with Chinese characteristics.
[09:07] At 11 a.m., the spokesperson for the NPC session will give a press conference on the agenda of the session and issues related to the work of the NPC at the Great Hall of the People, ahead of the session's opening on March 5.
[09:06] A preparatory meeting for the Fourth Session of the 12th NPC will be held in the morning to elect a presidium and set the agenda of the session.