Editor's note:
China.org.cn presents you a live coverage of the opening ceremony of the 11th G20 Hangzhou Summit on the afternoon of September 4, 2016. Chinese President Xi Jinping delivers a speech.
Please stay tuned for our live updates.
——————————————————————
No need to reload page, content updates automatically every two minutes. All time is Beijing Time (GMT+0800).
[15:54] That's it for the live blog. Thanks for following along with us.
[15:53] 

BrotherYunIsMe @weibo.com
Through Hangzhou, the world will see an inclusive China.
[15:44]

The first phase of the G20 meeting starts.
[15:38] Xi: China will implement the Sustainable Development Goals (SDGs), which should lead to benefits for the entire world. The G20 should take a leadership role in world economic development. The G20 should be inclusive and carry out actual plans instead of making empty promises. G20 members should uphold partnership spirit while working through difficulties. China's preparation for the G20 has featured openness, transparency and inclusiveness.The G20 Hangzhou Summit should be a new start for world economic recovery.
[15:35] Xi: The G20 should adopt new measures to avoid protectionism.
[15:32] Xi: The world should build a macro-economic policy coordination system. To overcome challenges, we should generate new growth momentum. We should improve global economic governance in the face of challenges and strengthen global financial networks.
[15:31] Xi: The global economy faces risks and challenges. The international community pins high hopes on the G20 Summit.
[15:30] President Xi Jinping reviews the achievements of 2015 G20 summit in Antalya. Xi speaks highly of efforts taken by Turkey last year. The G20 saved the world economy eight years ago amid international financial crisis. The world economy is entering another critical time. Aging populations, trade protectionism, and lack of momentum from the science-tech sector cause difficulty for economic recovery. 
[15:29] Chinese President Xi Jinping is delivering a speech at the opening ceremony.
[15:27]

Chinese President Xi Jinping announces the opening of the G20 Hangzhou Summit.
[15:23] Chinese President Xi Jinping is to deliver a speech at the opening ceremony of the G20 summit in Hangzhou.
[15:18] 

EncounterByDanube @weibo.com
From now on, the world will know that China has more than Beijing, Shanghai and Guangzhou. Hangzhou is always here. [Love you]
[15:17] Leaders walk into the conference hall on the fourth floor after the group photo.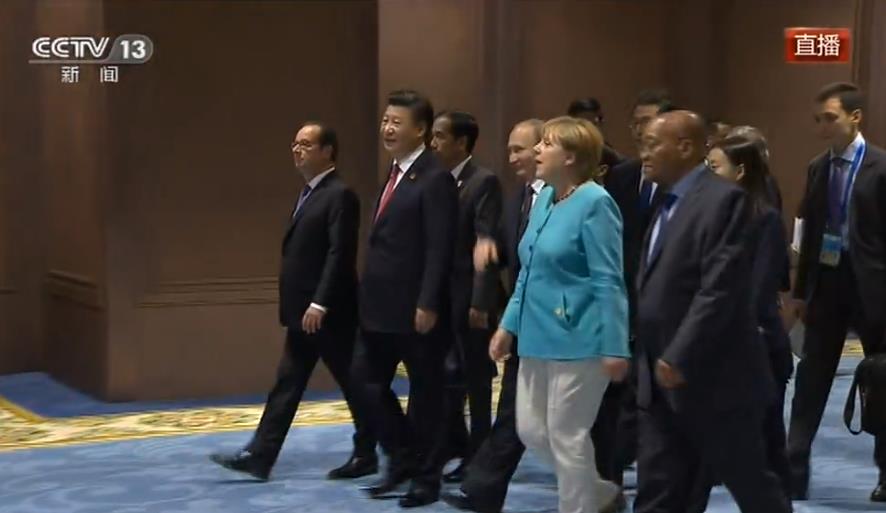 [15:16] G20 member state leaders and heads of major international organizations take a group photo before attending the opening ceremony of the G20 Hangzhou Summit.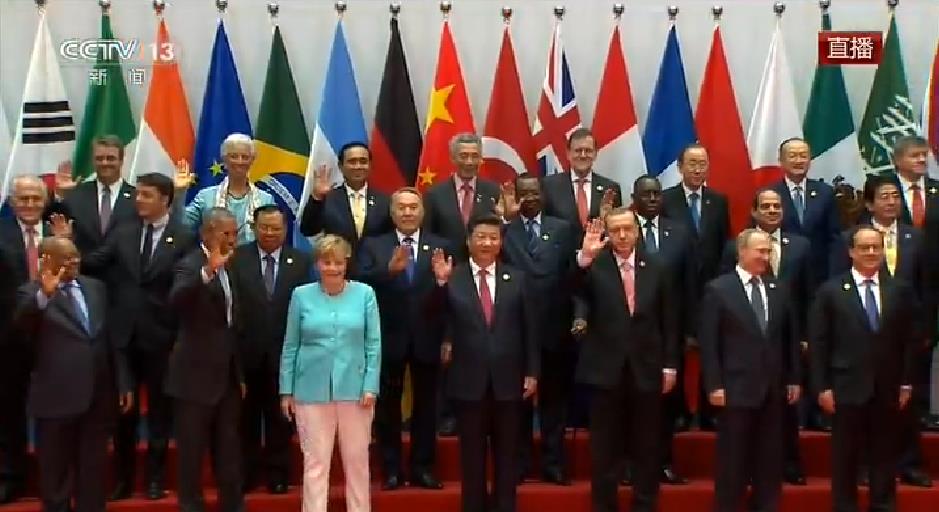 [15:06] Chinese President Xi Jinping shakes hands with leaders from G20 member states and leaders of major international agencies before a group photo is taken.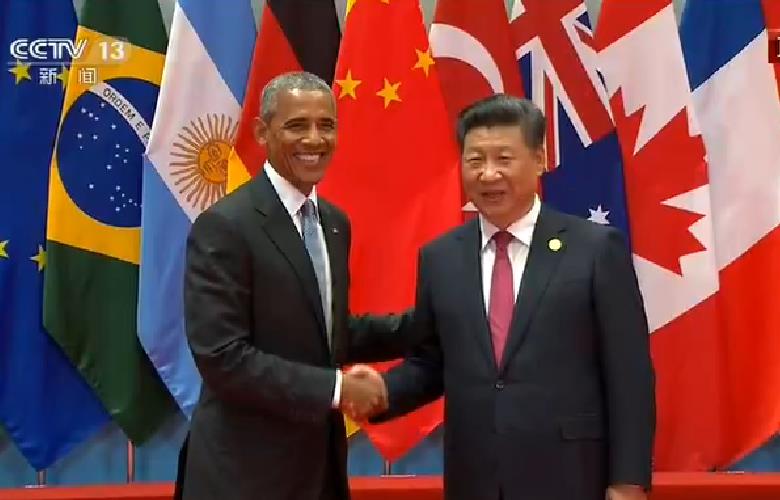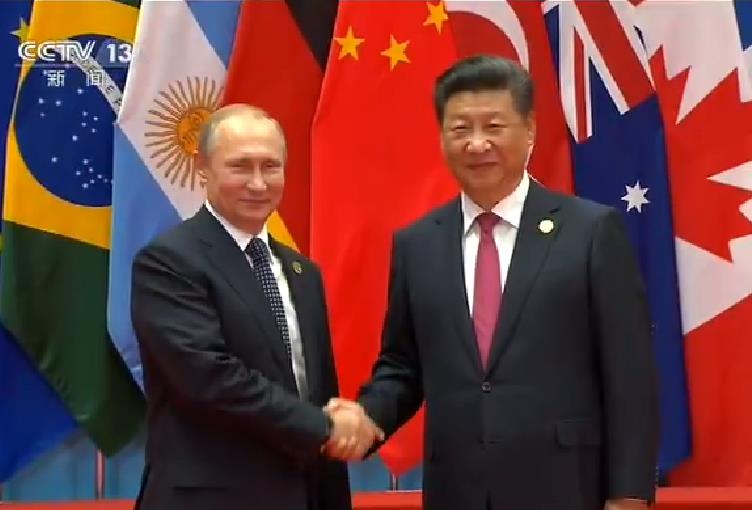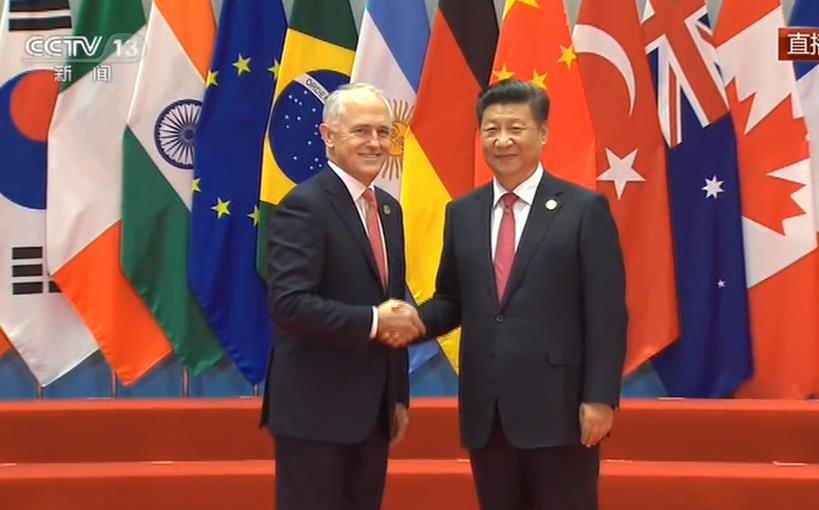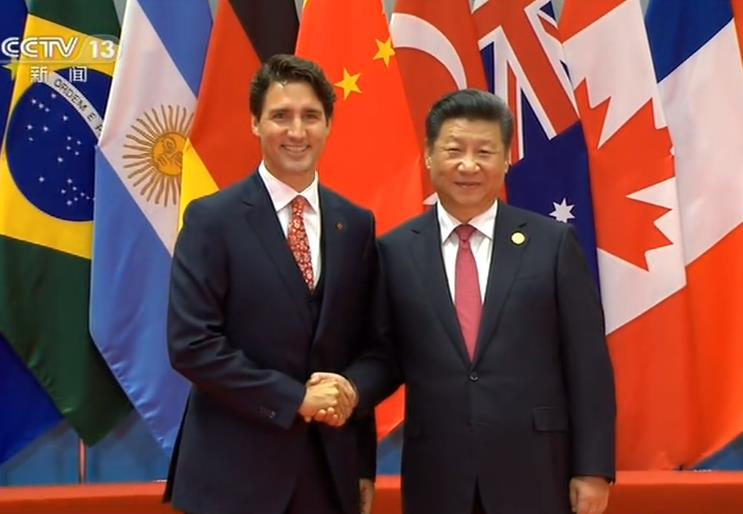 [15:04] 

 Hasan M Alnajrani, correspondent from Okaz Newspaper based in Saudi Arabia.
It is an amazing reception that China presents for the leaders of the G20. This is a good day for people around the world to listen to how their leaders deliver their speeches.
[15:02] British Prime Minister Theresa May arrives. It is her first visit to China as prime minister.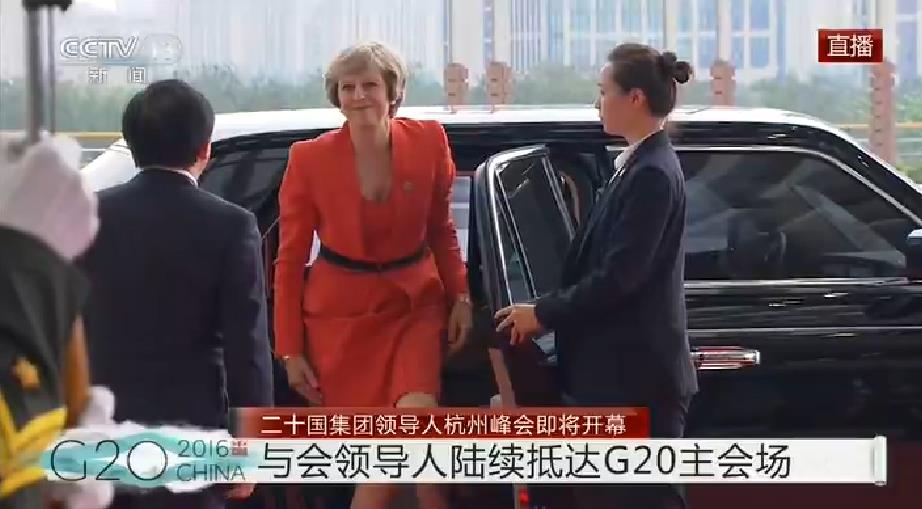 [15:00] U.S. President Barack Obama arrives at the Hangzhou International Exhibition Center to attend the opening ceremony of the G20 summit. This is Obama's third trip to China during his presidency and will be the last time he attends the G20 summit as the U.S. president.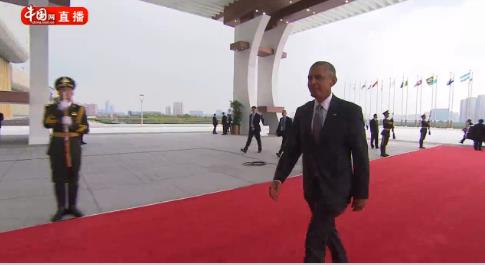 [14:58] 

 Journalists will be watching the G20 opening ceremony on a large screen at the press center.
[14:54] Turkish President Recep Tayyip Erdogan arrives. China and Turkey enjoy a stable relationship. This year's G20 summit will provide an opportunity for both countries to boost ties.
[14:53] Indian Prime Minister Narendra Modi arrives. Last May, Modi visited China to boost bilateral ties.
[14:52] South Korean President Park Geun-hye arrives at the G20 main venue.
[14:51] German Chancellor Angela Merkel arrives. Germany will host next year's G20 summit.
[14:49] French President Francois Hollande arrives.
[14:47] South African President Jacob Zuma arrives. It is his first visit to China since taking office.
[14:39] Italian Prime Minister Matteo Renzi arrives.
[14:38] Canadian Prime Minister Justin Trudeau arrives. It is his first visit to China.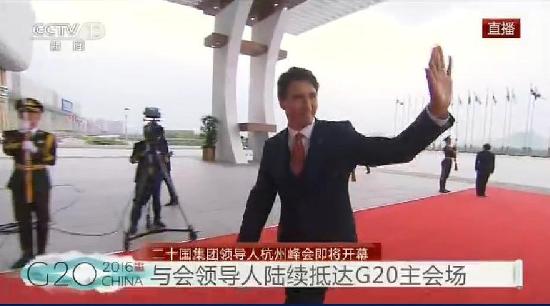 [14:35] Motorcades of G20 leaders at the Hangzhou Summit arriving at the Hangzhou International Exhibition Center, the conference's main venue.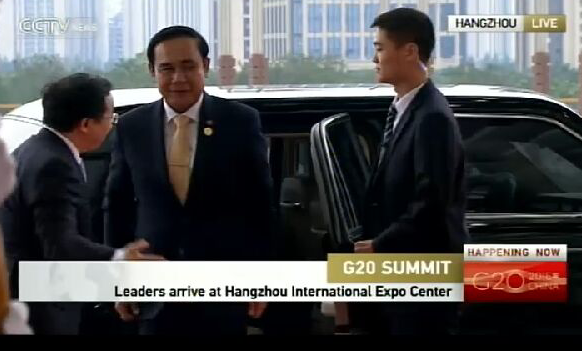 [14:13] 

EatGrapeWithoutSpittingItsSkin @weibo.com
Well, as the post says, Hangzhou is beautiful these days and its people, as relaxed as usual, are satisfied with their work and life. Hangzhou is a place you won't regret having visited. [Smile]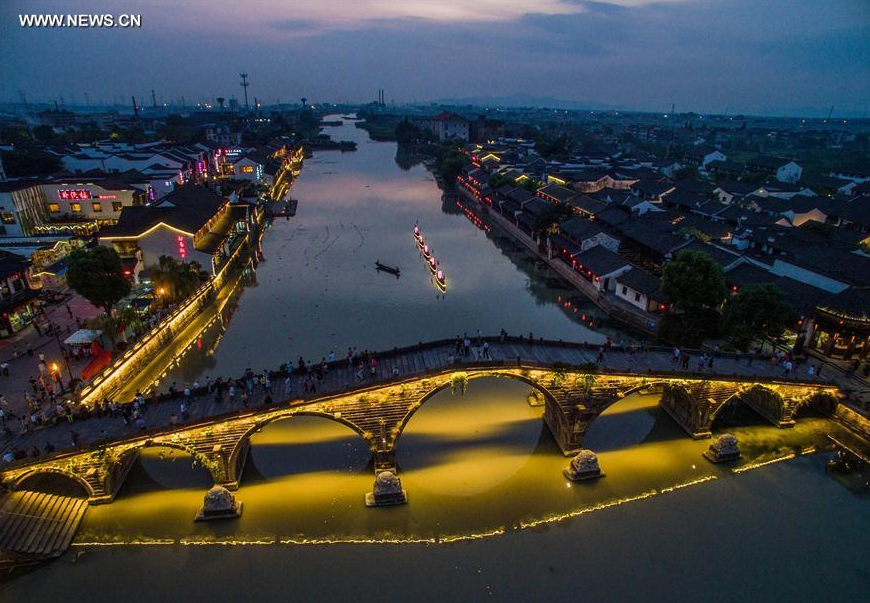 [14:07] Chinese President Xi Jinping said at the Business 20 (B20) summit,
One of the goals of China's G20 presidency is to enable the G20 to transform from a crisis response mechanism focusing on short-term policies to one of long-term governance that shapes medium- to long-term policies, and solidify its role as the premier forum for international economic governance.
[13:26] 

FolkCalligrapherLiShubin @weibo.com
Reinvigorate the economy, develop tourism, promote the circulation of goods and profit from win-win cooperation.
[13:18] Despite concerns over China's economic slowdown, Chinese President Xi Jinping said at the Business 20 (B20) summit in the eastern city of Hangzhou that China has the confidence and ability to maintain medium-high rate of growth and deliver more development opportunities to the world while ensuring its own development.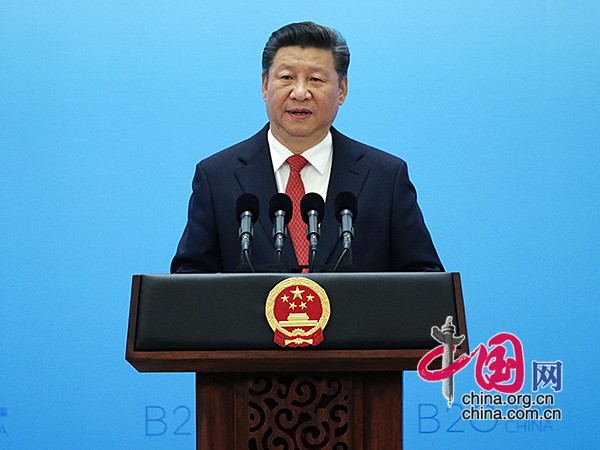 [13:14] 

 As the world is still mired in an anemic economic recovery, the G20 Hangzhou summit on Sept. 4-5 will help pave the way for world trade expansion through ratification of the WTO Trade Facilitation Agreement (TFA) from all group members by the end of this year, Chinese Vice Minister of Commerce Wang Shouwen has said.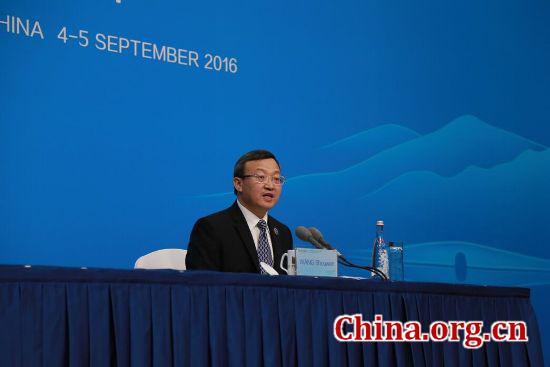 [13:05]

@YakeYorker @weibo.com
It has great significance. The G20 summit is for facilitating various economic cooperation between different countries and for connecting the economies of different countries.
[September 4, 12:40] The presidents of China and the United States met with UN Secretary-General Ban Ki-moon Saturday in Hangzhou to deliver their countries' instruments of joining the Paris climate pact.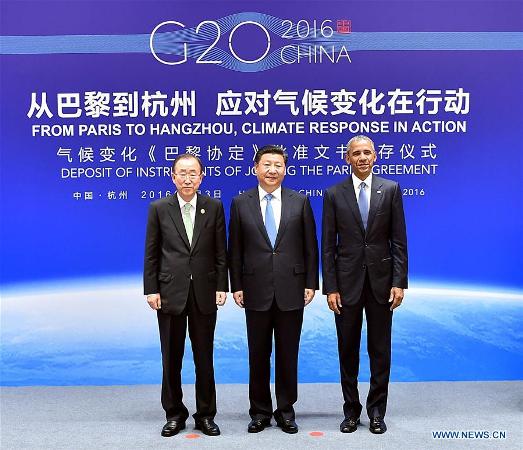 ——————————————————————
[16:01]

Professor Zheng Xinye, deputy dean of the School of Economics at Renmin University of China, told China.org.cn
Long-term problems like sluggish economic recovery, unbalanced regional growth, investment and trade protectionism, climate change and environmental degradation call for a collective effort from the world as a whole and a proper mechanism like the G20 to respond and act.

Professor Zheng Xinye, deputy dean of the School of Economics at Renmin University of China and senior researcher at Pangoal Institution, a Beijing-based public policy research think tank [Photo provided to China.org.cn]
[15:56] In Pictures: Clay figures featuring leaders at G20 summit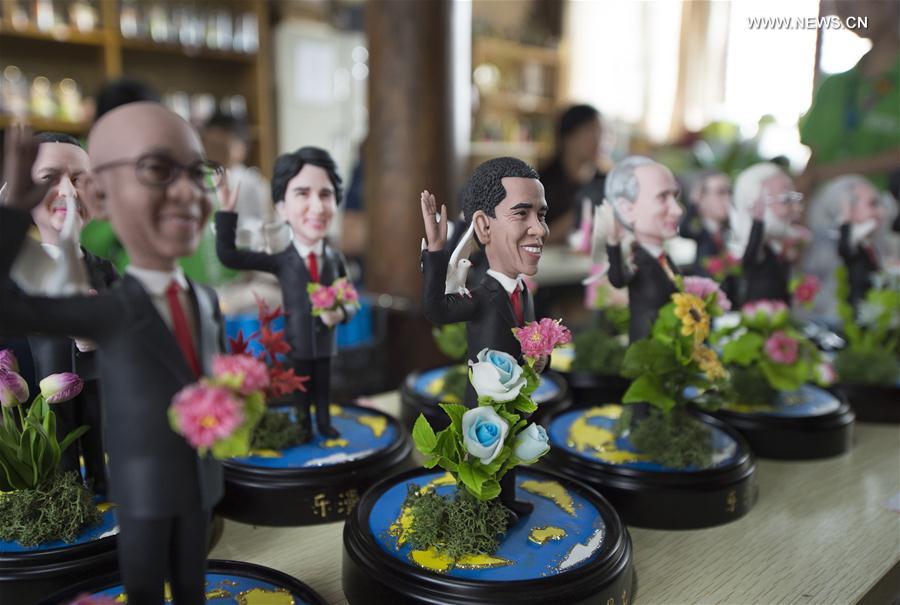 [15:46] 

 Russian journalist: China is able to bring about agreements at G20
Regarding what China can bring to the G20, I think of the governments' mechanism. The principle of consensus is in reality not so effective between countries with completely different interests," said Shchepin Konstantin, senior correspondent for several Russian media outlets – including ITAR-TASS and RIA Novost.
[15:20] An all-women patrol team has attracted the attention of tourists at the West Lake scenic spot in Hangzhou, Zhejiang Province.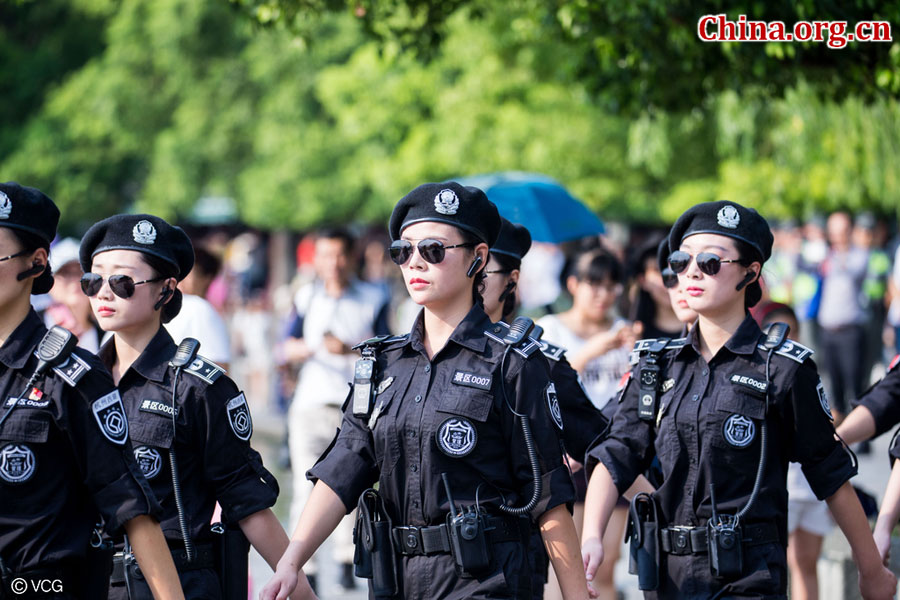 [15:00] G20 members agree with one another that they must "use all policy tools to support growth", said Yi Gang, vice-governor of People's Bank of China, in the run-up to the G20 Leaders Summit on Sunday and Monday in Hangzhou, Zhejiang Province.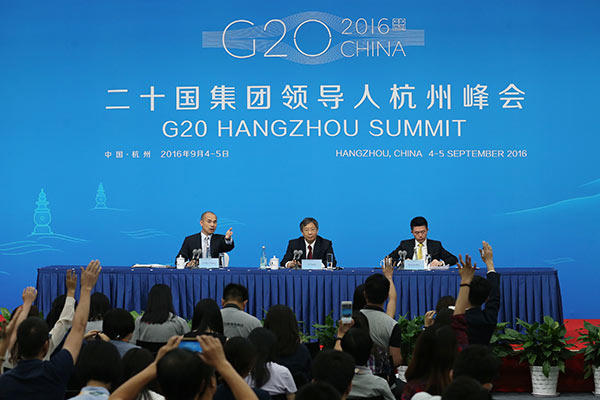 [14:49] 

 The G20 summit, which will be held in the eastern Chinese city of Hangzhou in early September amid the global stagnating economic growth and effects of a prolonged quantitative easing policies, should be a time for reflection and coordination, an economist Liang Haiming commented.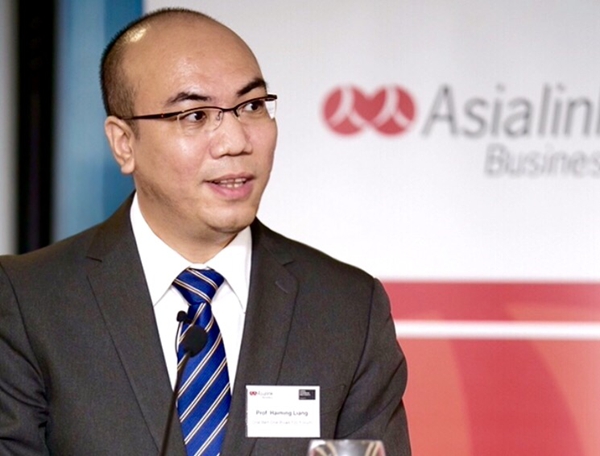 [14:35] Ni Yueju, a researcher at the Institute of World Economics and Politics, Chinese Academy of Social Sciences, told China.org.cn.
The upcoming G20 summit will boost global trade and investment to reinvigorate lackluster economic growth.

[14:03] 

 High expectations for the G20 Hangzhou summit
The Hangzhou summit is expected to lay the groundwork to facilitate the G20's shift from a crisis response mechanism to a long-term governance mechanism. The summit will also serve as a platform for the world's major economies to find common interests with China to better deal with the global challenges.
[September 3, 14:00]  The 11th G20 Summit will be held in Hangzhou, Zhejiang on September 4 and 5 under the theme of "Toward an Innovative, Invigorated, Interconnected and Inclusive World Economy". Leaders from G20 members, guest countries and international organizations will attend the Summit. Chinese President Xi Jinping will chair the Summit and attend an informal BRICS leaders meeting and other related events.