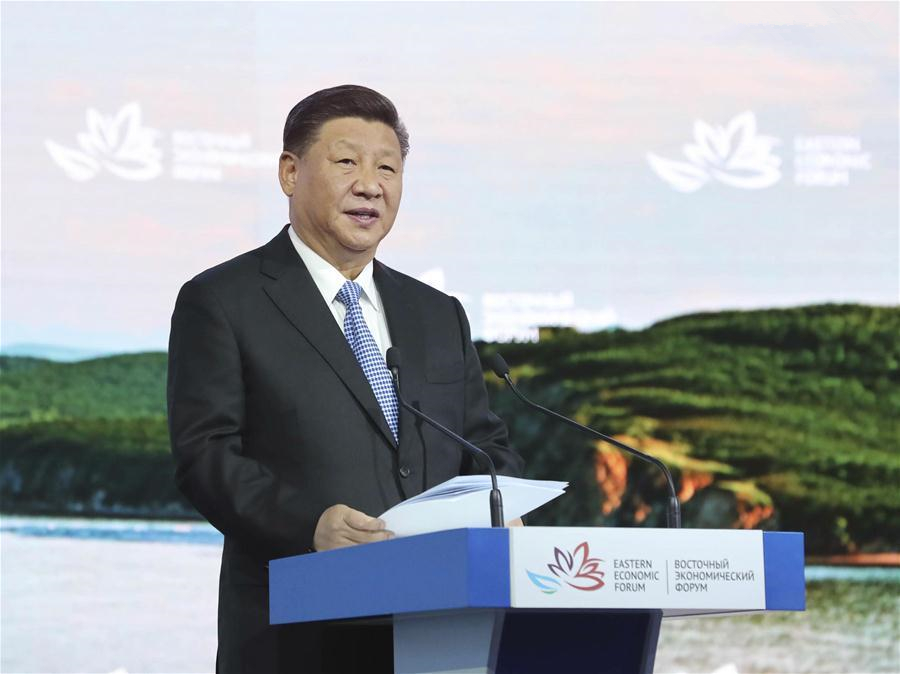 Editor's note:
China.org.cn presents you a live coverage of Chinese President Xi Jinping's participation in the 4th Eastern Economic Forum that opened on September 11, 2018.
Please stay tuned for our live updates on this event.
————————————————–
All time is Beijing Time (GMT+0800).
► President Xi Jinping returned to Beijing Wednesday evening after attending the Fourth Eastern Economic Forum held in the city of Vladivostok, Russia.
► Chinese President Xi Jinping and Russian President Vladimir Putin visited All-Russian Children's Center "Ocean" in Vladivostok, Russia on Wednesday to promote friendship between the two countries' youths.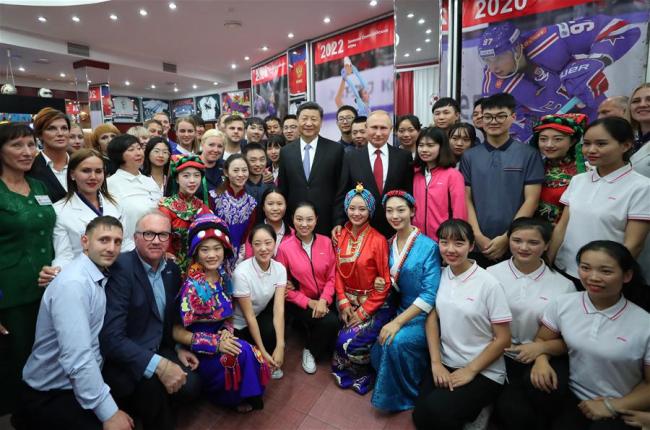 ► After the plenary session, the leaders attended an award ceremony for the first race of the SCF Far East Tall Ships Regatta 2018.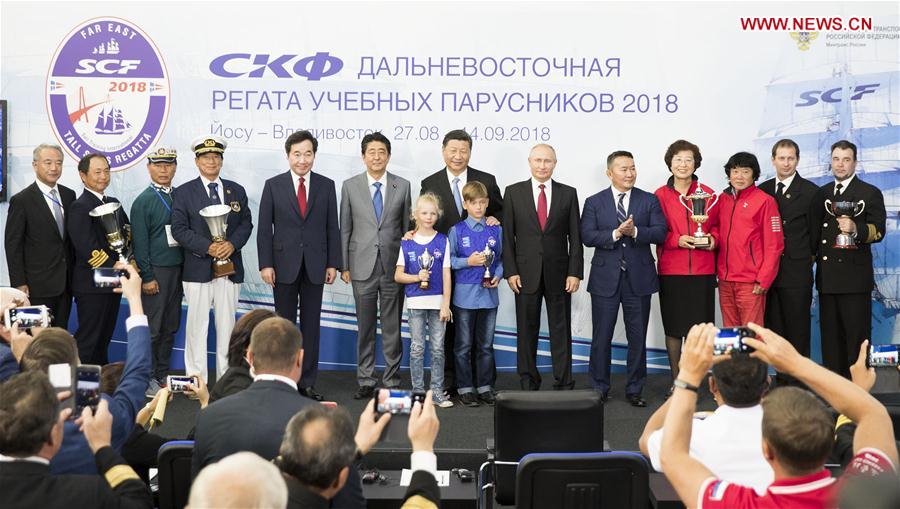 ► In his address, Xi also elaborated on the achievements China and Russia have made in their Far East cooperation over the past years.
During the question and answer session, Xi talked about the Belt and Road Initiative and the Korean Peninsula situation.
►  As a member of Northeast Asia, China has always upheld the concept of peaceful development to create a harmonious and friendly neighboring environment; participated in regional cooperation in the spirit of mutual respect and in a constructive manner; and endeavored to promote exchanges and dialogues while taking into consideration the concerns of all parties, Xi said.
"The Chinese side is willing to continue to work with all other sides to constantly consolidate unity, build up mutual trust, explore effective ways to maintain lasting peace and stability in Northeast Asia, and make unremitting efforts to achieve peace, stability and development in the region," he said.
►  "Under new circumstances, we should join hands and strengthen cooperation to promote peace, stability, development and prosperity in the region," Xi told the forum, which was also attended by Russian President Vladimir Putin, Mongolian President Khaltmaa Battulga, Japanese Prime Minister Shinzo Abe and South Korean Prime Minister Lee Nak-yon.
Xi proposed that countries in Northeast Asia should build up mutual trust to safeguard regional peace and tranquility; deepen cooperation to achieve mutually-beneficial and win-win outcomes; learn from each other to consolidate their traditional friendship; and take a long-term perspective to realize integrated and coordinated development.
"A harmonious, united and stable Northeast Asia with mutual trust conforms to the interests of all countries and the expectations of the international community, and is also significant for safeguarding multilateralism and promoting a more just and equitable international order," Xi said, noting that the international situation is now undergoing profound and complicated changes with rising power politics, unilateralism and protectionism.
► Chinese President Xi Jinping on Wednesday called on countries in Northeast Asia to seize the historical opportunity and conform to the trend of the times to strengthen cooperation in the Russian Far East and Northeast Asia for a better future of the region.
He made the remarks while addressing the plenary session of the fourth Eastern Economic Forum (EEF) in Vladivostok in Russia's Far East.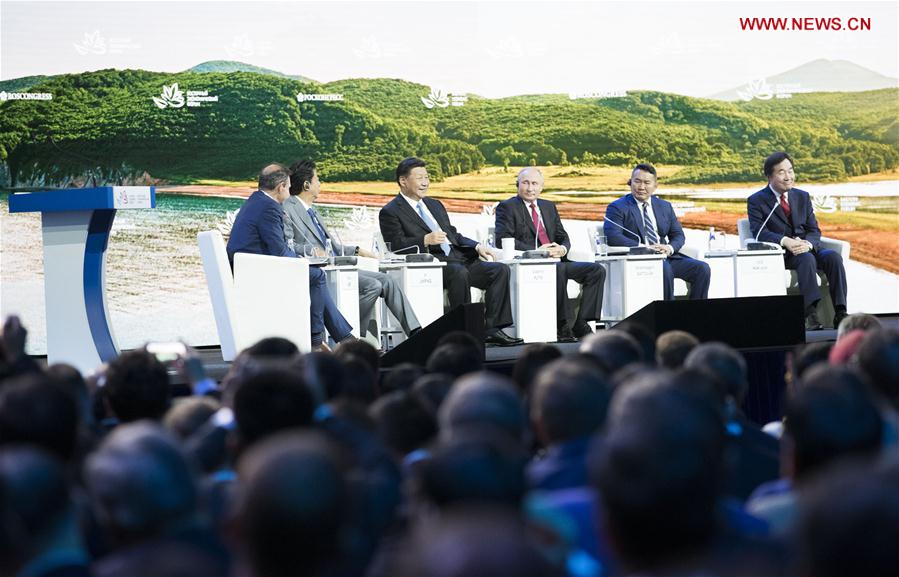 ► After attending the roundtable meeting, the two heads of state visited "The Far East Street" exhibition showcasing the rich local cultural exchanges between the two countries and investment opportunities in Russia's Far East regions.
Xi said that it is the right time for the two countries to strengthen regional cooperation as he and Putin had agreed to designate 2018 and 2019 as the years of China-Russia local cooperation and exchange.
► In addition, he called for increasing people-to-people and cultural exchanges, cementing the mainstream public opinion and social foundation for cooperation, and promoting institutionalized and regular exchanges in culture, tourism, education and media at sub-national levels.
Xi also asked local governments to give full play to their complementary advantages and their distinctive sectors, push for more precise ways of cooperation, and create highlights in cooperation.
He called for innovating the ideas for cooperation, expanding the areas for cooperation, better using the platforms and mechanisms for cooperation, and exploring new ways to advance regional cooperation.
► For future cooperation at sub-national levels, the Chinese president proposed that local governments should strengthen overall planning and coordination, optimize policies, forge more partnerships, and create a better business environment and more convenient conditions for the companies of the two countries to invest in each other's regions.
Sub-national cooperation plays an important part in bilateral relations, and cooperation plans between the two countries should rely on their local regions, be implemented in local regions and benefit local regions, Xi said, stressing that the closer the sub-national cooperation is, the more solid the foundation of the China-Russia mutually beneficial cooperation will become.
► Noting that China and Russia are each other's biggest neighboring country and most important comprehensive strategic partner of coordination with extensive common interests, Xi said it is conducive to jointly addressing external risks and challenges and boosting common development and revitalization for the two sides to strengthen cooperation and deepen the integration of their interests.
 The two heads of state made the remarks while attending a roundtable meeting on regional cooperation between the two countries on the sidelines of the fourth Eastern Economic Forum (EEF), which is running from Tuesday to Thursday in Vladivostok in Russia's Far East.
► Chinese President Xi Jinping and his Russian counterpart, Vladimir Putin, on Tuesday called for promoting sub-national cooperation to cement bilateral relations and benefit the two peoples.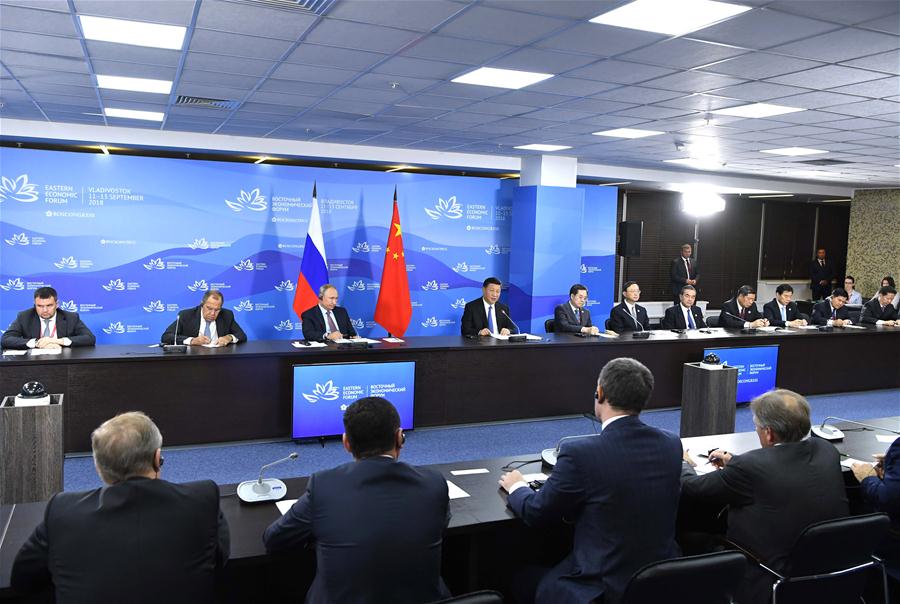 The two leaders also exchanged in-depth views on international and regional issues of common concern and witnessed the inking of multiple bilateral cooperation documents.
Regardless of the changes in the international situation, China and Russia will unswervingly promote their ties and steadfastly safeguard world peace and stability, said the two heads of state.
[September 12] Chinese President Xi Jinping and his Russian counterpart, Vladimir Putin, expressed their firm determination to promote bilateral ties and safeguard world peace and stability during their talks on Tuesday.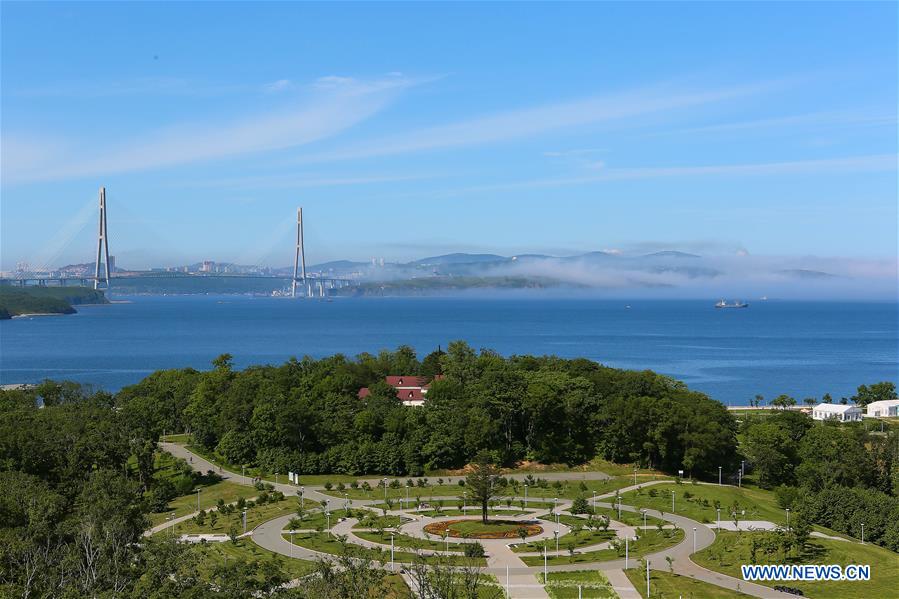 It is the first time for the Chinese head of state to attend the EEF, which was proposed by Russian President Vladimir Putin in 2015.
Chinese President Xi Jinping arrived in Vladivostok, Russia on Tuesday for the fourth Eastern Economic Forum (EEF).
► Xi's entourage includes Ding Xuexiang, member of the Political Bureau of the Communist Party of China (CPC) Central Committee, member of the Secretariat of the CPC Central Committee, and director of the General Office of the CPC Central Committee; Yang Jiechi, member of the Political Bureau of the CPC Central Committee and director of the Office of the Foreign Affairs Commission of the CPC Central Committee; State Councilor and Foreign Minister Wang Yi; and He Lifeng, vice chairman of the National Committee of the Chinese People's Political Consultative Conference and head of the National Development and Reform Commission.
► Chinese President Xi Jinping left Beijing on Tuesday morning for the fourth Eastern Economic Forum held in the city of Vladivostok, Russia, at the invitation of Russian President Vladimir Putin.
 Opinion: China and the 2018 Eastern Economic Forum
George N. Tzogopoulos is a columnist with China.org.cn.
A summit meeting in Vladivostok between Russia's Vladimir Putin and China's President Xi Jinping provides a great opportunity to promote closer economic integration affecting all of East Asia.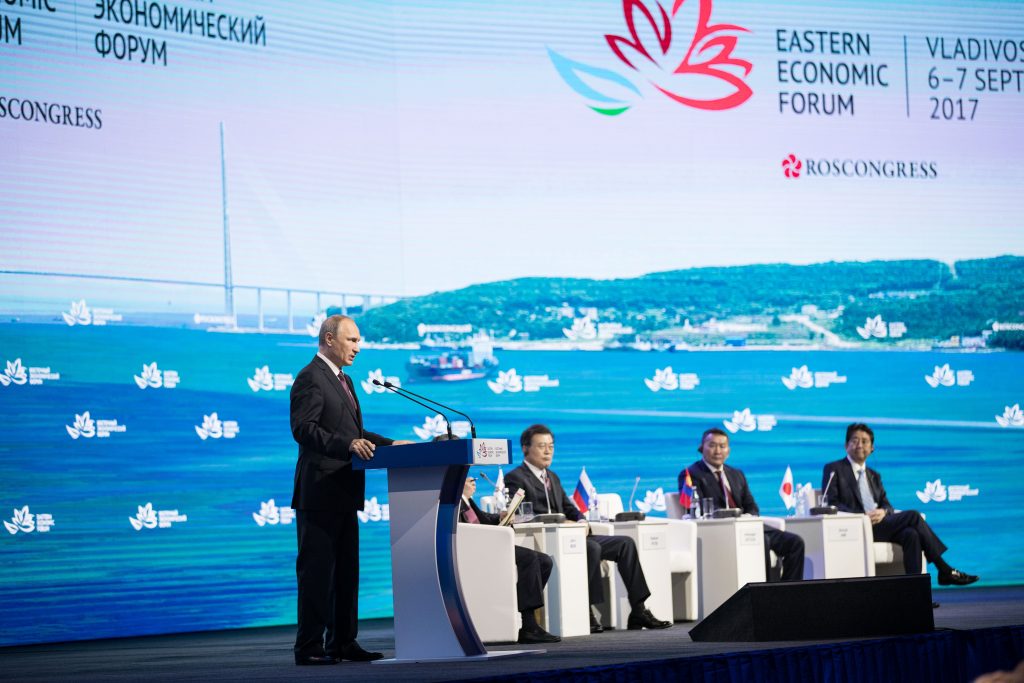 ► Founded by Putin in 2015, the annual EEF has served as an important venue for face-to-face dialogue among politicians, business executives and experts for Far Eastern development and regional cooperation.
There will be also cultural, sports and educational programs during the forum.
The participants will share their ideas around topics of international cooperation in Far Eastern development, industry priorities in the Far East, tools to support investors and measures to improve living conditions.
The three-day forum under the theme of "The Far East: Expanding the Range of Possibilities" has attracted thousands of attendees from more than 60 countries.
[September 11] World leaders and business tycoons gathered in Russia's Far Eastern port city of Vladivostok to discuss cooperation at the fourth Eastern Economic Forum (EEF) that opened Tuesday.