Editor's note: China's "Giant Panda Channel," or ipanda.com, is officially launched at the Media Center, in Beijing at 2:30 pm on August 6, 2013. Stay tuned with China.org.cn for live coverage of the event.
No need to reload page, content updates automatically every two minutes. All time is Beijing Time (GMT+0800).
[15:45] And that concludes today's launch ceremony! Thank you for joining us!
[15:44] Counting down and iPanda.com is launched!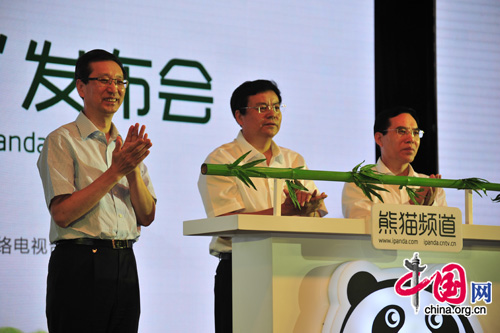 Congratulatory video messages from celebrities.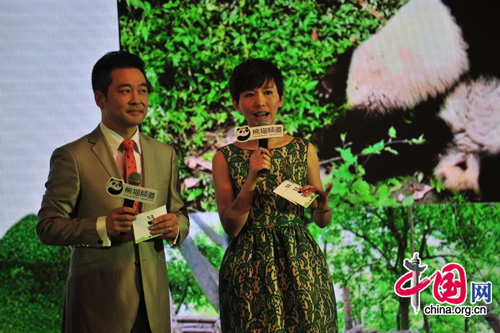 [15:42] Ouyang Xiadan: Thank you very much, President Hu. May I keep you here for a second? Now let's welcome Nie Chenxi, Deputy Director of State Administration of Press, Publication, Radio, Film and Television, and Mr Zhao Shucong, director of State Forestry Administration, to join us on the stage and launch the iPanda.com together with President Hu.
[15:39] China Central Television President Hu Zhanfan comes onto the stage to give a speech.
[15:38] Ji Xiaojun: Yundi, thank you again for your wonderful performance and sharing your thoughts. It is the duty of the media to care about and root for animal protection. Now let's welcome Mr, Hu Zhanfan, president of China Central Television, to give a speech.
[15:37] Li Yundi explains his inspiration for the composition and thoughts on the giant panda, "The colours of the panda are very pure. That's what I intended to convey through the music."
[15:36] Ouyang Xiadan: Yundi, thank you very much for your performance which enables us to picture the beautiful scenery of human life existing in harmony with nature. Would you please come onto the stage and share your thoughts on the giant panda with us?
[15:35] The composition captures both the physcial shape and character of the giant panda through music.
[15:34] Famous Chinese pianist Li Yundi takes to the stage to perform his highly anticipated "panda composition."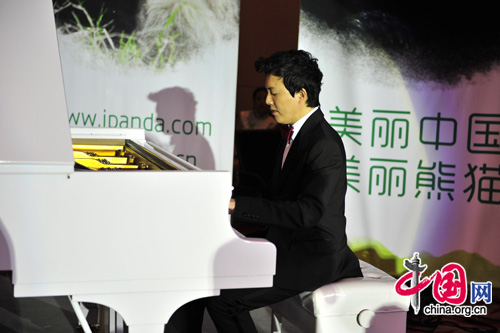 [15:33] Ji Xiaojun: Thank you, Xuanyi. This November, the high-end academic seminar Wolong Forum, which includes global top-notch scientists in the field, will take place in Chengdu, capital city of Sichuan Province. iPanda.com will cover the event.
[15:32]The video shows the elaborate task of taking care of a panda cub. Dedication and patience are key in completing this task.
[15:30] On-site correspondent Cao Xuanyi reports from the Bifengxia panda Base in Sichuan Province.
[15:29]Ji Xiaojun: 30 years ago, Mr. Hu Jinchu established the China Conservation and Research Center for the Giant Panda. The Center has focused on the protection, artificial propagation, field training and reintroduction of pandas. Releasing pandas in captivity through field training and reintroduction projects, and helping them integrate into wild panda groups will increase the number and genetic diversity of the wild giant panda. A reintroduction to nature means a lot to pandas. The conservation and research center has three bases, namely in Wolong, Du Jiangyan and Bifengxia.
[15:28] Ouyang Xiadan: From the story told by Mr. Tan, we can see that giant pandas are adored by people all over the world. In China, scientific and technological experts have made arduous efforts to help the preservation and reproduction of the giant panda. Now I will introduce to you a person who has made considerable contributions to the preservation of pandas — Mr. Hu Jinchu, a leading expert in giant panda preservation.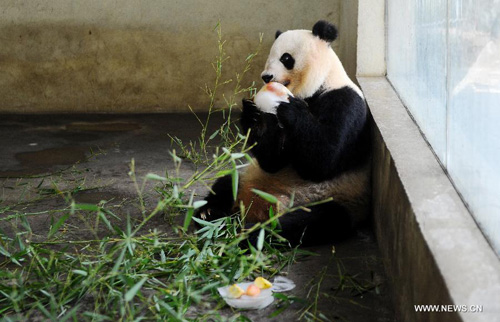 As early as 1974, Mr Hu led the Sichuan Province wildlife research team on a 45,000 kilometer-long journey to get hold of the numbers and living circumstances of pandas in Sichuan Province, the main habitat of the giant panda, for the first time in history.
In 1978, Mr Hu and his team set up the first Chinese observation station in Wolong..
In 1980, as head of the Chinese team, Hu participated in the first cooperation effort between China and the World Wide Fund for Nature (WWF), to write the first monograph on giant pandas' eco-biological characteristics. He became the first Chinese to be honored with the WWF Gold Award.
[15:25] Tan Kai: When the British were about to celebrate their victory in World War II, when the war was drawing to a close before Christmas 1944, the London zoo announced in grief the death of a giant panda named Ming. The Times then published a special article to mourn the panda and express the grief of the British. Why did the British have such strong feelings for Ming? It was because Ming had remained alive and well, and maintained his daily routine amidst the air raids Nazi Germany had inflicted upon London. Both the BBC and the U.S. military media had shot anti-Nazi videos centered on Ming. The British saw Ming as a courageous and optimistic anti-fascist warrior.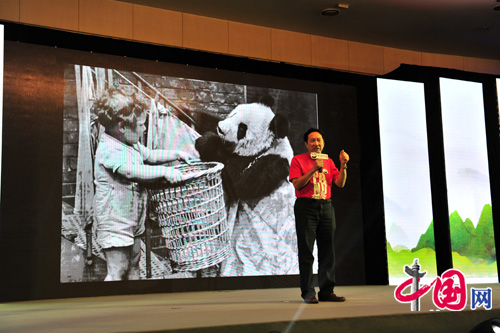 [15:24]Ouyang Xiadan: Just like human beings, giant pandas experience times of happiness and sorrow. Moreover, they are closely connected to us humans. Now let us welcome Mr. Tan Kai, executive editor of Giant Panda magazine. He will here share the moving story of one giant panda with us.
[15:23] Ji Xiaojun introduces the Madrid zoo.
[15:22] Ouyang Xiadan: First let's look at Bing Xing and Hua Zuiba at the Madrid zoo in Spain. They arrived there in September 2007. Hua Zuiba gave birth to twin babies in 2010. The video shows Queen Sofía of Spain visiting the giant pandas.
[15:21] Ouyang and Ji continue to introduce four overseas zoos where several of the "exported"Chinese giant pandas are currently living. Spain, Japan, the U.S. and Taiwan; all feature our big black 'n white furry friends.
[15:20] Ouyang Xiadan and Ji Xiaojun introduce four foreign zoos while watching the screen.
[15:19] Ouyang Xiadan: Many thanks for the introductions by the panda fan. The six giant pandas are indeed the stars here. For instance, Tai Shan, which I myself have heard before, is a famous so-called overseas returnee, which means he used to live overseas but has now returned to China. Nowadays, China is cooperating with 16 zoos from 11 countries across the world — including the U.S., the UK, France, Canada and Japan — and dozens of giant pandas are now residing in foreign countries. But we can take a look at them on the iPanda.com map. Xiaojun and I will introduce you to four of them.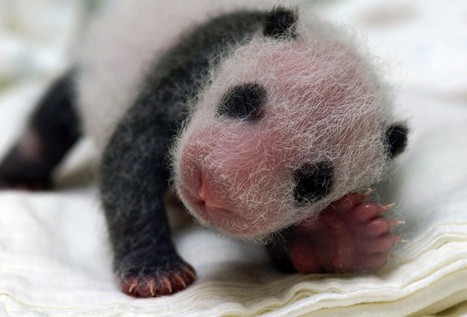 [15:17] The panda fan: I first look at their face and then the ears, some of which are bigger than others. And I also take a look at their body and the color of their fur. "Tao Tao" is wild and naughty; you can tell it's him from the look in his eyes. "Tai Shan" is a returned overseas Chinese from the National Zoo in Washington and its name was selected from many options sent in by millions of American panda fans. "Guo Guo" was rescued after the 5.12 Wenchuan Earthquake in 2008. She gave birth to twin pandas that same year. That was so difficult! "Wu Yi" weighed only 51 grams when it was born, and it magically survived. Its story is now told in a Japanese animation series. "Qi Qi" was a rising star whose image was used for the mascots of the Beijing Olympics and Beijing International Garden Expo.
[15:16] One huge panda fan named Zhang Kexin is invited to join the hosts on the stage.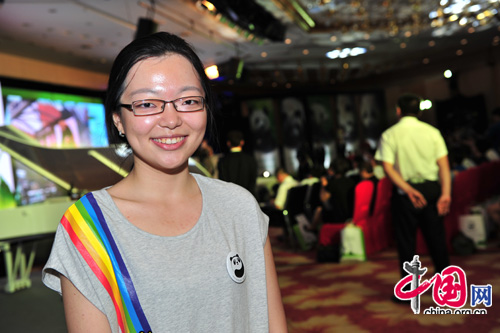 She is such a big fan, she knows how to distinguish each and every one of the giants. Whether it be by looking at their fur or into their eyes, Zhang succeeds in identifying them every time.
[15:15] Ji Xiaojun: I think most of us were deeply touched by Mr. Lan's story. Yet apart from the experts, there is a group of panda fans who are very familiar with these giant pandas. Some of them can actually name them by merely glancing at their picture.
[15:11] Lan Jingchao: On April 17, 2012, we came across a dying giant panda at the Longxi-Hongkou National Natural Reserve in Dujiangyan. It was unconscious and barely breathing. It was bony under its unpolished fur beneath which laid the flat vascular veins and a hydrops fetalis [ed. note, an abnormal accumulation of fluid] in the abdominal cavity. We carefully carried it out and rushed it to emergency.
For a total of six whole days, we had been locked in with the giant panda which had been put in quarantine to prevent contamination. We gasped when we saw its heart stop pumping twice, but eventually rescued it from dying. When I saw it getting up and grasping bamboo shoots again, I was very excited.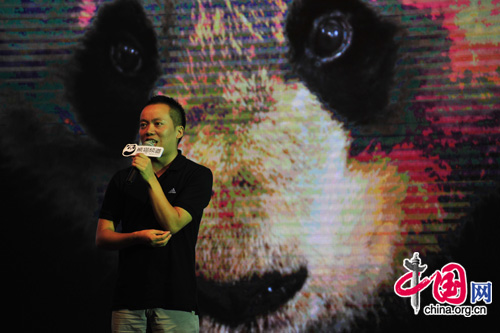 [15:10] Mr. Lan Jingchao, head of the veterinary hospital at the Base, comes onto the stage to tell of his experiences with the giant pandas.
He tells an anecdote of April 2012, when the team came across a dying panda at the Longxi-Hongkou Nature Reserve in Dujiangyan.
[15:08] Ji Xiaojun: Mr. Lan is here today. Let's invite him to tell us a few anecdotes on the assistance and aid of the giant pandas.
[15:07] Ouyang Xiadan: Sure, the channel is a social networking website. Many experts on giant pandas have already registered on the website to publish the latest news on the animal. I heard that Lan Jingchao, head of the veterinary hospital with the Chengdu Research Base for Giant Panda Breeding, is very popular on the website among panda fans. He has many touching stories about the relationship between him and the pandas.
[15:06] Tang Xiaoliang, product manager with iPanda.com, introduces and explains the site's features to the audience.
The site's video applications allow viewers to get acquainted with the different pandas and their information.
Updates 24/7 and a mobile app ensure no panda lover has to miss one of these giant creatures' moves!
[15:05] Ouyang Xiadan: Mr. Zhang's remark can be summed up in four words — a Giant Panda Show. The live display of the giant pandas and their close ties with mankind can be conveyed via the iPanda.com platform.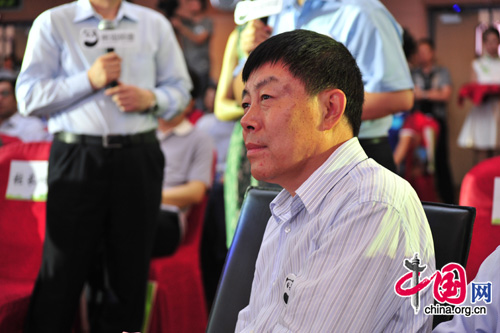 [15:04] Zhang expresses his appreciation for the profound attention iPanda.com is receiving today and believes the site will form an important platform for the promotion of the giant panda and their protection.
[15:03] Zhang Changming, vice chairman of the Hanyastar Corporation, gives his view on iPAnda.com via live broadcast.
[15:02] Ouyang Xiadan:I would like to introduce two more guests who are the promoters of iPanda.com, a site that  broadcasts the giant pandas' live appearance. Let's first invite Mr. Zhang Changming, vice chairman of the Hanyastar Corporation, to give us a brief introduction on how the idea of IPanda.com came up.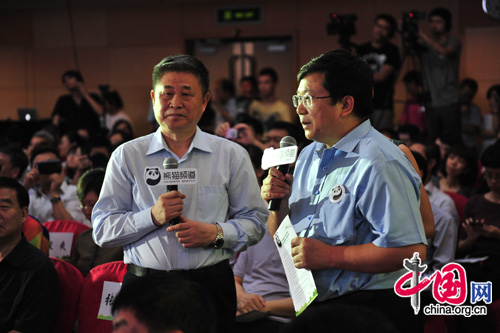 [15:01] Zhang Hemin: I'm glad to see that iPanda.com provides people from all over the world with a platform to watch the pandas living and breathing.
[15:00] Zhang Hemin, director of the China Conservation and Research Center for the Giant Panda, talks about the protection of the giant panda.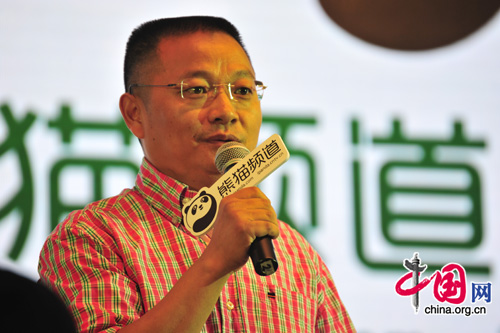 [14:59] Ji Xiaojun: There are two major giant panda research centers in Sichuan Province. Besides the one located in Chengdu, there is another one in Wolong.
[14:58] Zhang Zhihe, director of the Chengdu Research Base for Giant Panda Breeding, gives an introduction of the center.
The numbers of visitors and the variety of their geographic backgrounds show us how popular the pandas are across the world, Zhang explains.
230,000 visitors in 2012 came from foreign countries. This morning two baby pandas were born at the Base!
[14:57] Ji Xiaojun: Thanks to the remote-controlled high-definition cameras, panda fans everywhere are now able to catch a live show from the comfort of their own home.
[14:56] Introduction of the different sections featured on iPanda.com.
[14:55] Ji Xiaojun: Now we see the 28 cameras located in five major zones of the research center. This is the first live broadcast of the giant panda's life in the world. Let's see how the images caught on camera are being sent to all four corners of the world.
[14:53]Ji Xiaojun: All of us hope to give more care and help to the giant pandas. When the Chengdu Research Base for Giant Panda Breeding was founded in the 1980s, there were only six giant pandas. Thanks to the solid efforts made in the past 20 years, more than 110 giant pandas have been bred thus far. To see what these giant pandas do every day, iPanda.com set up 28 cameras in five key spots to capture their movements.
[14:52] French reporter Julien comes to us from the Chengdu Base where 28 cameras have been placed in five strategic locations.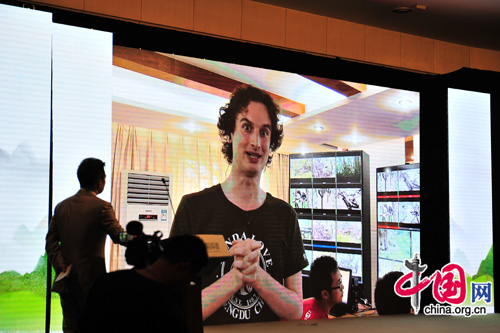 [14:50] Ji Xiaojun explains how the Chengdu Research Base for Giant Panda Breeding was founded in the 1980s. Thanks to vigorous eforts over the past two decades, more than 110 pandas have been bred thus far.
[14:48] Another video on the life of pandas and their need for protection today is screened
[14:46] The at times comical video gives a lighthearted overview of the daily lives of the pandas, their living circumstances, social interaction and eating habits.
[14:45] A video on the protection of the giant panda is screened.
[14:44] Ji Xiaojun: Thank you to all the leaders present here today and to our friends from the media. Now, CNTV and China.org.cn are both live streaming this entire press conference. With many saying the giant panda has an air of charming naivety, using the currently popular term "meng" to refer to the animal, we will now bring out today's leading stars —  the  giant pandas are right here on the big screen to sell everybody a "meng".
[14:43] Host: We also have the guests over 400 from State Forestry Administration, State Internet Information Office, the Ministry of Foreign Affairs, the State-owned Assets Supervision and Administration Commission, the State Tourism Administration, the State Council Overseas Chinese Affairs Office, foreign embassies in China including: the Embassy of Canada to China, Embassy of Mexico in China, Counsellor of Embassy of Singapore in Beijing, as well as Giant Panda experts and scholars, animal protection organizations, related organizations from Sichuan province, representatives from partner companies, and 70 newspapers and websites, welcome!
Meanwhile, CNTV is broadcasting this press conference live, with China.org.cn broadcasting in English.
[14:42] Guests include:
Nie Chenxi, Deputy Director, The State Administration of Press, Publication, Radio, Film and Television
Zhao Shucong, Director, The State Forestry Administration
Hu Zhanfan, Director, China Central Television
Tian Xueping, Head of International Affairs Office, Publicity Department of the Communist Party of China
Zhang Yanbin, Director, The 3rd Bureau of the State Council Information Office
Li Yanli, Deputy Director, Bureau for External Cultural Relations of the Ministry of Culture
Li Jiaming, Manager, China Internet Illegal Information Reporting Centre
Tong Liqiang, Manager, Beijing Web Administrator Office
Yu Chong, Director, Shandong Tourism Administration
Jiang Chu, Deputy Director, Sichuan Forestry Administration
Wu Mian, Deputy Director, Sichuan Tourism Administration
The leaders from CCTV:
Luo Ming, Editor in Chief, China Central Television
Wei Dichun, Deputy Director, China Central Television
Members of China Central Television Branch Committee of the CPC
Liang Xiaotao, Chairman/General Manager, China International Television Corporation
Zhang Ning, Deputy Chief Editor, China Central Television
[14:40] The event's hosts discuss briefly the importance of the Giant Panda as a symbol of China, popular both at home as well as abroad.
The hosts introduce today's VIP guests.
[14:37] Hosts Ouyang Xiadan and Ji Xiaojun extend a warm welcome to all those attending the iPanda.com launch.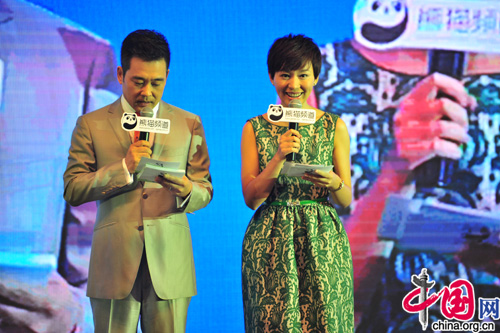 [14:35] The final guests are arriving for the iPanda.com launch.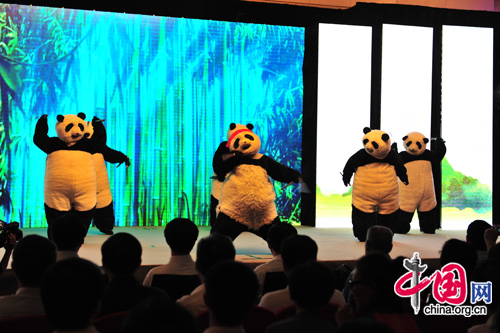 All the guests have arrived and the iPanda.com launch now kicks off with a fireworks-filled Kung Fu Panda performance!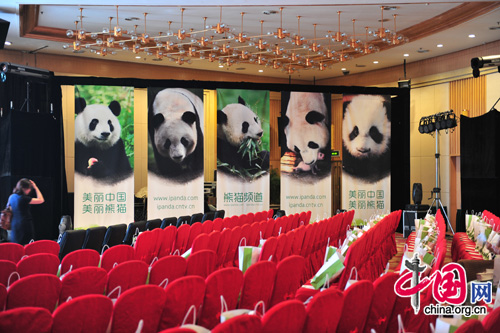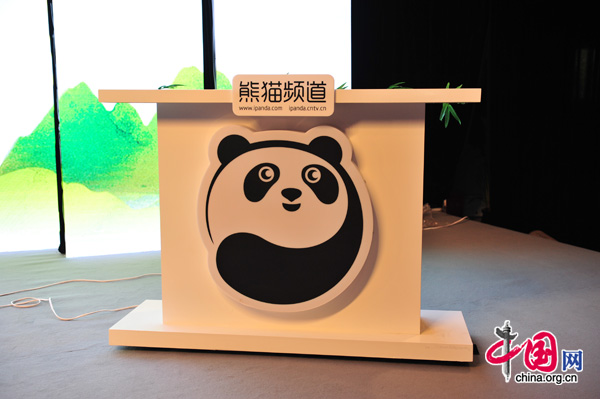 About "Giant Panda Channel"

Twenty-eight high definition video cameras have been installed in the Chengdu Research Base of Giant Panda Breeding to record the daily activities of more than 80 giant pandas living there.
Visitors to the "Giant Panda Channel," or ipanda.com, can choose from six feeds, including "garden for adult pandas," "kindergarten," "nursery for twins," "mother and child playground," "No.1 Villa" and "Featured," according to their own preference 24 hours every day.
The website started posting video clips on June 24 as a test and has since attracted nearly 15,000 Internet users to visit and leave comments.
Chengdu Research Base of Giant Panda Breeding
The Chengdu Research Base of Giant Panda Breeding (hereafter Chengdu Panda Base) is a non-profit organization engaged in wildlife research, captive breeding, conservation education, and educational tourism.
The Chengdu Panda Base was founded in 1987, with six giant pandas rescued from the wild.
The base hosts the Giant Panda Annual Technical Meeting, inviting researchers from all over the world to share information to improve captive management for the conservation of giant pandas.
The Chengdu Panda Base covers an area of 106 hectares and will be enlarged to 200 hectares during the third phase of expansion. Red pandas, golden monkeys and other wild and/or endangered species live and breed here.
China Research and Conservation Center for the Giant Panda in Wolong
Established in the early 1980s, the center has made tremendous progress in captive breeding techniques.
Most of the giant pandas in the center in Wolong stay individually in cages, which are in fact large enclosures, each consisting of an in-door room and an out-door courtyard. Those giant pandas about to be released back to the wild will be put in semi-nature enclosures for a long enough period for them to adapt to the natural environment. The semi-nature enclosures are very large wild areas, but protected by border fences. Although food has to be provided, the giant pandas will sleep there, eat there and recover their natural survival skills until they can be released back to the wild.
Giant panda facts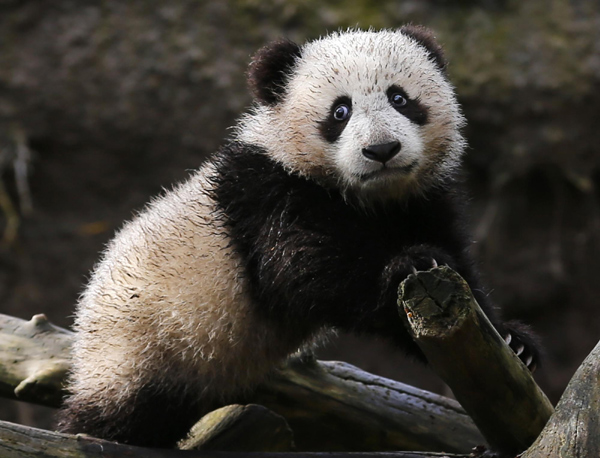 The giant panda is universally loved, but this peaceful, bamboo-eating member of the bear family faces many threats. Its population is small and isolated as its traditional forest habitat in southwest China's mountainous areas becomes fragmented. The government has set up more than 30 reserves, but habitat destruction and poaching continues to pose a threat to pandas living outside them. With rapid economic development, it is more important than ever to ensure the giant panda's survival.
Scientific Classification
(Genus and Species, Family, Order): Ailuropoda melanoleuca, Ursidae, Carnivora.
Geographic Distribution
Giant pandas live in a few mountain ranges in central China's Sichuan, Shaanxi, and Gansu provinces. They once lived in lowland areas, but farming, forest clearing, and other development now restrict giant pandas to the mountains.
Habitat
Giant pandas live in broadleaf and coniferous forests with a dense understory of bamboo, at elevations between 5,000 and 10,000 feet. Torrential rains or dense mist throughout the year characterizes these forests, often shrouded in heavy clouds.
Physical Description
A giant panda is bear-like in shape. It has black fur on ears, eye patches, muzzle, legs, and shoulders. The rest of the animal's coat is white. Although scientists do not know why these unusual bears are black and white, some speculate that the bold coloring provides effective camouflage into their shade-dappled snowy and rocky surroundings. The panda's thick, wooly coat keeps it warm in the cool forests of its habitat. Giant pandas have large molar teeth and strong jaw muscles for crushing tough bamboo. Many people find these chunky, lumbering animals to be cute, but giant pandas can be as dangerous as any other bear.
Size
About the size of an American black bear, giant pandas stand between two and three feet tall at the shoulder (on all four legs), and reach four to six feet long. Males are larger than females, weighing up to 250 pounds in the wild. Females rarely reach 220 pounds.
Status
The giant panda is listed as endangered in the World Conservation Union's (IUCN's) Red List of Threatened Animals. It is one of the most critically endangered species in the world. There are about 1,000 left in the wild. About 140 pandas live in zoos and breeding centers around the world, mostly in China.
Life Span
Scientists are not sure how long giant pandas live in the wild, but they are sure it is shorter than lifespans in zoos. Chinese scientists have reported zoo pandas as old as 35.
Diet
A wild giant panda's diet is almost exclusively (99 percent) bamboo. The balance consists of other grasses and occasional small rodents or musk deer fawns. In zoos, giant pandas eat bamboo, sugar cane, rice gruel, a special high-fiber biscuit, carrots, apples, and sweet potatoes.
Social Structure
Adult giant pandas are generally solitary, but they do communicate periodically through scent marks, calls, and occasional meetings. Offspring stay with their mothers from one and a half to three years.