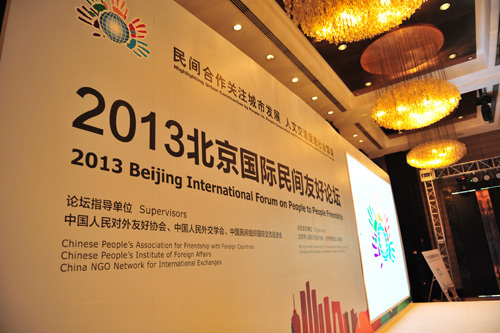 Editor's note: The 2013 Beijing International Forum on People to People Friendship kicks off in Beijing on November 14, 2013. Stay tuned with China.org.cn for live coverage of the event.
No need to reload page, content updates automatically every two minutes. All time is Beijing Time (GMT+0800).
[11:28]Thank you for joining China.org.cn this morning!
[11:26]Li Xiaoqiang announces the morning part of the forum has come to an end.
[11:23]He says:
As the scientists are opening up new horizons, so, surely, the philosophers, thinkers and political statesmen will help us to find new standards and values for a more just evolution of society and to the betterment of the quality of life.

It is the cultural gifts of music, art, literature and science, which have made us what we are, and the beings which we shall become. To know our true and worthy place on earth and our eventual way to the stars that await us – this is our destiny!

The new way of thinking seems to guides us to wisdom with Ren and Areti and action with knowledge.
[11:20]He says:
Throughout the ages, mankind has consistently sought progress and renewal. In the long history of human civilization there has been a whole series of renaissances, each one making its contribution to moral and intellectual regeneration.

Man and nature, never set problems that they cannot solve. Humanity always goes forward whatever happens.
[11:18]Mercouris says:
In the last decades the world lives in turmoil. Hostility and excessive competitiveness have bred conflict and aggravation. Religious fanaticism, nationalism and racism are spreading. The pursuit of money corrupts and changes the characters of people creating economic hardship. Unemployment is on the rise, the problems of the minorities and the immigrants are growing, nuclear threats, wars and local upheavals are on the increase and without an end in sight.

Thus, the lifestyle been created flattens every cultural creation and by so doing is doomed to wither and decline.
[11:17]Spyros Mercouris, president of the NGO "Horizons-Actions", speaks.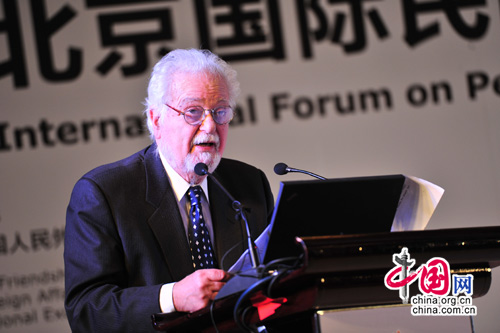 [11:13]The northern park of the Forbidden City is under construction and will feature new exhibitions and gardens, he says.
[11:10]Smoking was banned within the Forbidden City, Shan says.
[11:07]He says that the administration bureau of the Forbidden City has relocated its vendors to improve the overall environment of the palace.
[11:02]Shan talks about the Safe Forbidden City project(2013-2020).
[10:58]By 2020, the Forbidden City will see the completion of two major renovation projects, currently under construction, including a calligraphy museum.
[10:55]Not only is the location of museum of great historic importance, its cultural relics are invaluable, Shan says. Last year, on its busiest day, the Forbidden City welcomed 125,000 visitors, he adds.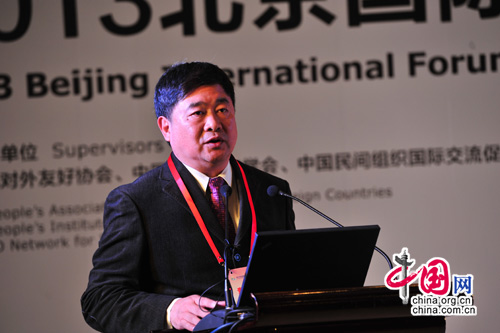 [10:53]Shan Jixiang, president of the Palace Museum, speaks. He mentions the cultural responsibility of the Forbidden City both as a museum and  tourist destination.
[10:52]Wang says:
It can be described that the international nongovernment exchange is not only the booster of pushing forward the regional development, but also the important platform bring benefit to the extensive citizens. We will provide service guarantee for the nongovernment exchange as before, expand the exchange and cooperation with sister cities and contribute to make the citizens live happier and better.

Finally, I would like to wish a complete success of this forum.Thank you.
[10:51]Wang says:
Support nongovernment organization and cultural agents of Xicheng District for "going global". We will support the financial enterprises and international financial agencies stationed in Xicheng District to conduct exchanges and cooperation, expand the financial service businesses, and absorb the international financial agencies to station in the financial street, so as to construct an internationally influential financial center. Taking the platform of series activities of "Culture of Xicheng District, Travel in Sister City", we will organize the professionals from cultural enterprises and folk cultural teams to go global for performance and exhibition, so as to make the citizens to participate in the international exchange. We will support all kinds of social organizations to learn from the good practices and experience in service management of foreign cities and provide more excellent and professional daily service for the residents.
[10:49]Wang says:
Considering Xicheng District as the capital core functional area, we have always been supportive and encouraging to foreign exchange, actively promoting foreign cooperation of all fields, creating conditions and convenience for nongovernmental exchange, thus effectively promoting the considerable development of international nongovernmental exchange.

Exchange of sister cities achieved abundant fruits. In recent years, Xicheng District has established sister city relationship with 13 cities and towns like Central District, Seoul, South Korea, Pasadena of America and Monte of Switzerland. Taking an example of Pasadena City, Ms. Lu Xiwen, former District Mayor, led the visiting group to visit Pasadena, signed the sister-city agreement formally and planted a Chinese scholar tree. In 2004, with a view to celebrating the five-year anniversary of sister-city establishment between Xicheng District and Pasadena, Xicheng District named the Street Center Park at Madian Street as Rose Garden. Mr. Bill Bogarde, the mayor of Pasadena, led the visiting group to visit China and unveiled the Rose Sculpture. An official of Pasadena specially brought roses from America to Plant in Beijing and jointly cultivated the roses with Xicheng People.
[10:47]Wang says:
Foreign nongovernment exchanges boost the friendship. During the process of nongovernment exchange, many people become good friends. We still have a lot of memories. Today, taking the opportunity of this forum, I would like to express my appreciation as a citizen in Xicheng District to Mr. Cui Changzhi, the District Mayor of Central District, Seoul South Korea. In August 2013, Beijing Xicheng District Folk-Customs Exchange Team visited the Central District, Seoul. Although this was a routine student visiting team, Mr. Cui Changzhi, as District Mayor, still granted an interview to them cordially and had photos with students one by one, which made the students feel quite honored. During their visit in South Korea, a student named Zheng Tianyang suddenly felt uncomfortably. The staff of our South Korean counterparts accompanied him to go to a hospital for close physical check-up and looked after him carefully. Moreover, they paid the whole medical treatment fees. This kind of friendship like relatives moved Zheng Tianyang and the people of Beijing Xicheng District. There have been a great number of stories like this along the process of foreign exchange of Xicheng District.
[10:45]Wang notes:
The present nongovernmental exchange takes on new features. Currently, nongovernmental exchanges have overwhelmed all over the districts and social fields in the world, even with their own brands. In 2011, the first batch of "Beijing Family" folk customs reception was hung with the brand at Shichahai area, Xicheng District. During the Beijing Olympic Games, there were about 50 "Olympic Games Families" of folk-custom reception households. They treated a large number of Chinese and foreign visitors with the "Folk House features" like Hutong and Siheyuan. After that, Beijing Municipal Tourism Bureau started to construct "Beijing Family", gearing to common tourists to develop the Hutong feature family lodge industry at Wenbao Area by referring to the mode of "Olympic Games Families". This action was favored by the people from the world.
[10:43]Wang says:
International non-governmental exchange makes Chinese people learn about the world. An Italian, Matteo Ricci, came to China to preach Catholicism during Wanli period of the Ming Dynasty. He was the first western scholar to read Chinese culture and research the Chinese Classics. Apart from spreading the Catholicism doctrines, he also made acquaintance with Chinese officials and social celebrities and spread the western science and technology knowledge like astronomy, mathematics and geography. His experience made the westerners start to learn about China truly and opened a window for China to confront the world. In 1610, Matteo Ricci died. According to the then Chinese convention, foreigners should be buried in Macao after their death. However, the Chinese religious disciples presented a memorial to the emperor in honor of him for granting a piece of land to bury him in Beijing. Currently, the graveyard of Matteo Ricci is still located in the Beijing Municipal Party Committee Party School, Fuchengmen Gate, Xicheng District, with a long history of over 400 years.
[10:39]Wang Shaofeng, district mayor of Xicheng District People's Government of Beijing City, speaks.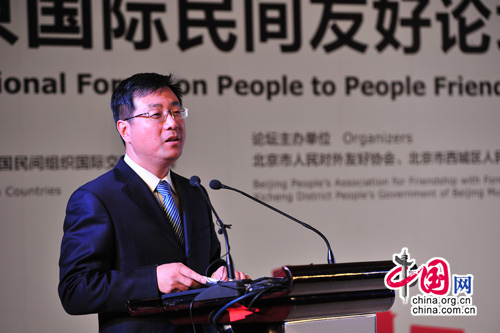 China's nongovernmental foreign exchange boasts a long history. As early as Tang Dynasty, Jianzhen, the famous eminent monk, was fearless of dangers and difficulties, sailed eastward to Japan. Under the extreme bad conditions of blindness, he preached Buddhism theory and propagated the extensive and profound Chinese culture, promoted Japanese Buddhism, medical science, architecture and sculpture. He was respected by Chinese and Japanese people and the Buddhism circle.
[10:35]Dabbaransi says in Chinese: "Zhongguo taiguo yijiaqin", meaning China and Thailand are like family.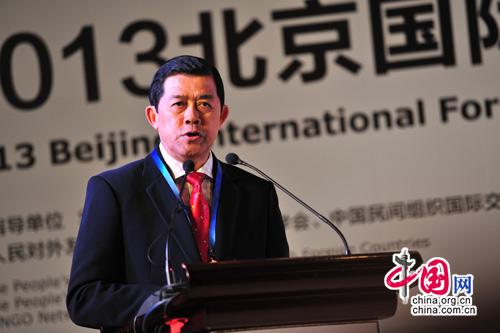 [10:33]H.E. Korn Dabbaransi, president of the Thai Chinese Friendship Association, speaks.
This magic word FRIENDSHIP, is the most efffective platform that springs up to so many other relationships in human's life. All of us here today are from many countries. All of us have never seen each other before. And yet, once we are here for FRIENDSHIP, from now onward we all can move forward to getting closer between us, and call each other a "FRIEND".
[10:15]Tea break.
[10:10]The openning ceremony is officially launched.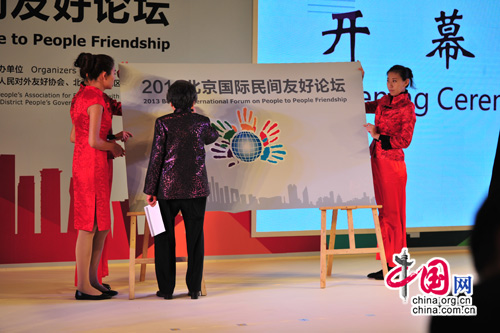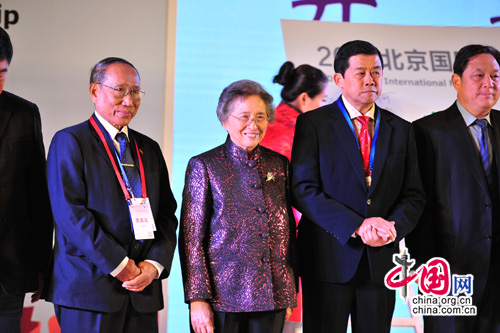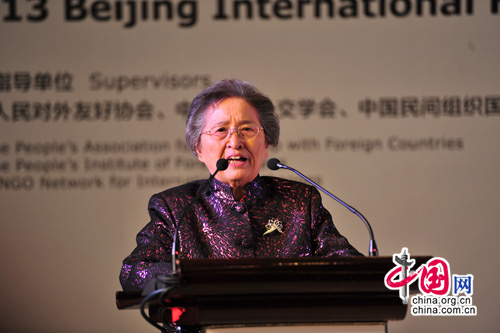 [10:07] Mao Yan says building a city needs innovation. If we merely copy the past style or just copy the West, or styles of other regions, we won't have any appeal. We must incorporate tradition, study extensively to form a new style and then mould a brand-new, distinctive and all-inclusive culture.
[10:06] In the face of globalization, we need to give particular attention to cultural distinctiveness, individual distinctiveness. Every country and every nationality should work hard to preserve their tradition and culture.
[10:05]Mo Yan points out how Japan has incorporated traditional Tang Dynasty architecture in its landscape. Mo advocates the innovation of cultures.
[10:03]Mo speaks of the beauty and potential of Beijing City and how both locals and foreigners need to communicate to contribute to its sound development.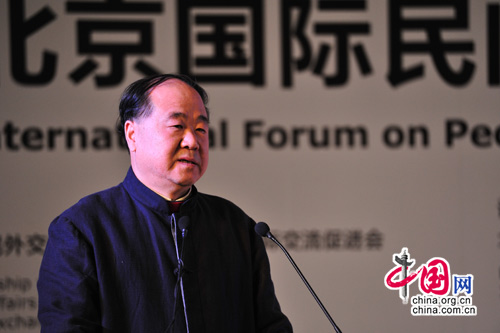 [10:00]Mo says people to people friendship forms the foundation of the relations between any two countries.
[9:58]Mo Yan speaks.
[9:55]Han Guangming, deputy secretary of the Chinese People's Association for Friendship with Foreign Countries, represents the association's President Li Xiaolin  as a guest speaker at the forum.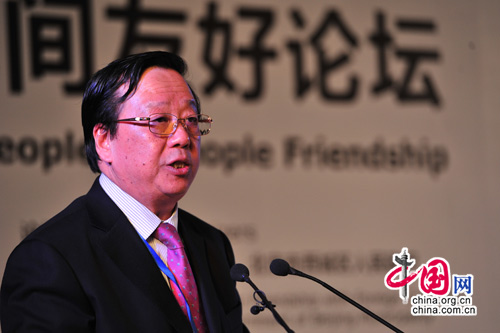 [9:51]He points out 2013 marks the China-Cambodia Friendship Year.
[9:50]SAM OL emphasizes the relationship between China and Cambodia and how both countries have been developing together in numerous fields.
[9:48]H.E.EK SAM OL, president of Cambodia-China Friendship Association, speaks.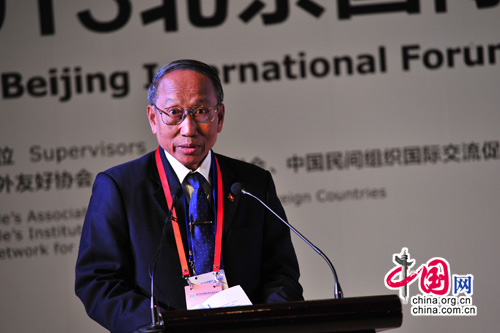 [9:46]Zhao says:
Today, in the context of "Beijing International Forum on People-to-People Friendship", on the topic of "People-to-People cooperation focuses on the city development, culture exchange promotes the social prosperity",   representatives from over 20 countries, 80 international organizations fully display the achievement of urban civilization construction, exchange the experience in urban construction and management, convey the advanced ideas of education and culture, learn from each other, discuss cooperation, seeking development together, hand in hand, actively strive for building better homeland of human beings. I believe this forum will become the new platform to deepen people-to-people practical communication and cooperation between Beijing city and all sister cities, also open a new chapter of friendly people-to-people exchange between Beijing city and all countries.
[9:45]Zhao Jiaqi, president of the Beijing People's Association for Friendship with Foreign Countries(BPAFFC), addresses the forum.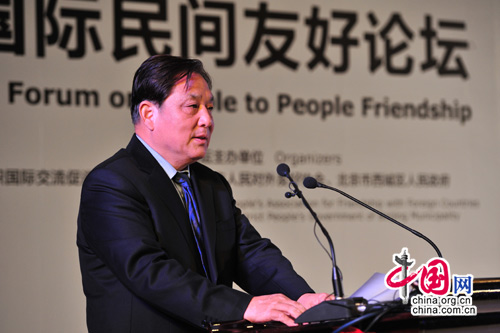 [9:39]Li introduces the guest speakers.
[9:38]Li XIaoqiang speaks.
[9:35]Li Xiaoqiang, BPAFFC executive vice president, will preside over the forum.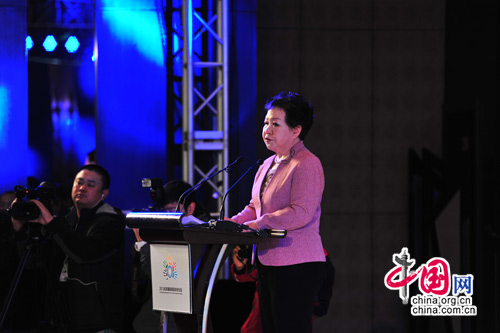 [9:31]Mo Yan, Nobel Literature Laureate, is to speak at the forum.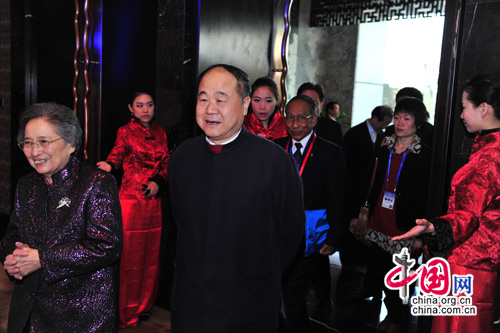 [9:30]The forum is about to kick off, stay with us for live coverage of the event.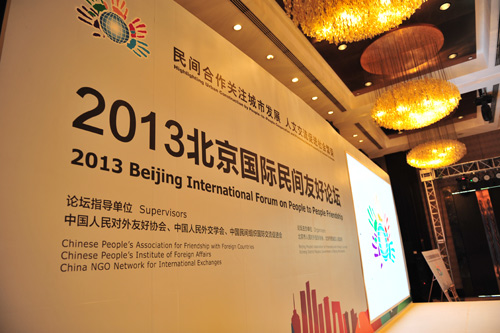 Hosts
Beijing People's Association for Friendship with Foreign Countries and Xicheng district government
Participants
Around 300 experts, officials and delegates from more than 80 institutions and some 20 countries
Focus
Promoting urban construction, management and development through non-governmental exchanges and cooperation
The forum will enhance the interactions and cooperation in economics, education and culture between Beijing and other cities in the world.
—-Li Xiaogang, the Beijing People's Association for Friendship with Foreign Countries (BPAFFC)'s executive vice president said during a press conference on Oct. 31, 2013.
About the BPAFFC
Established in 1981, the Beijing People's Association for Friendship with Foreign Countries(BPAFFC) has made connections with 160 international organizations in 54 countries. The organization has made an active effort to modernize and globalize Beijing.
About the forum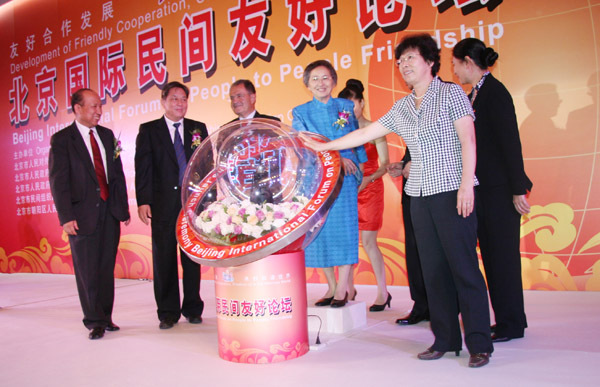 The Beijing International Forum on People to People Friendship was started in 2011, when 50 international organizations from 28 countries shared their experiences on the influence of public diplomacy on international exchanges and world city construction.
Held biennially, it aims to promote cooperation among international associations for friendship and the world's sister cities. It also serves as a platform for collecting constructive suggestions on developing Beijing into an international city.