A Malaysia Airlines flight MH370 carrying 227 passengers and 12 crew lost all contact with air traffic control shortly after leaving Malaysia's Kuala Lumpur at 00:41 a.m. on March 8, and was expected to land in Beijing at 6:30 a.m.that same day.
Search for the missing aircraft is underway.
Please stay tuned for our live updates.
——————————————————-
No need to reload page,content updates automatically every two minutes. All time is Beijing Time (GMT+0800).
——————————————————-
[20:34]

Night falls, still no sign of flight MH370.
Malaysian Transport Minister Hishamuddin Hussein says authorities can't confirm anything yet.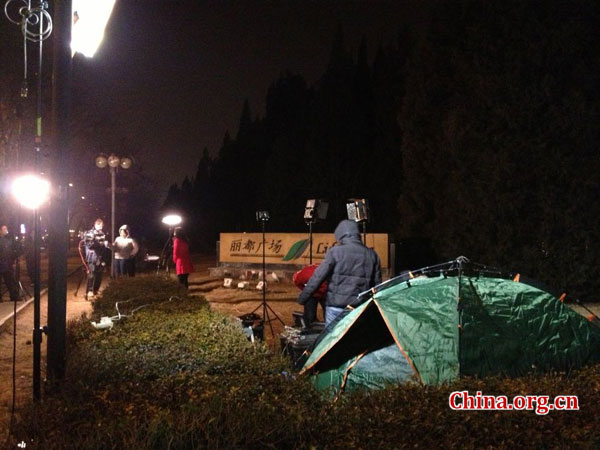 [19:55] More  than  40  hours  have  passed  since  the  missing  Malaysian  plane lost contact  with  air  traffic  controllers. Experts explain some  of  the  major  mysteries  surrounding  the  missing  plane.
How the plane suddenly lost all contact?
What happened to the plane at cruising altitude?
What is the odds for surviving?
WHY  SO  HARD  TO  LOCATE  AND  RESCUE? Read it here.

[19:33] According to Beijing Times, three relatives of the passengers on board the missing MH370 registered outside the Malaysian Embassy in Beijing tonight. They were ready to demand the embassy give them replies. Five relatives planned to register, however two did not go for unknown reasons.
[19:30] Journalists are gathering outside the grand ballroom in the Lido Hotel in Beijing for further infomation at 7:00 p.m, China.org.cn's He Shan reports.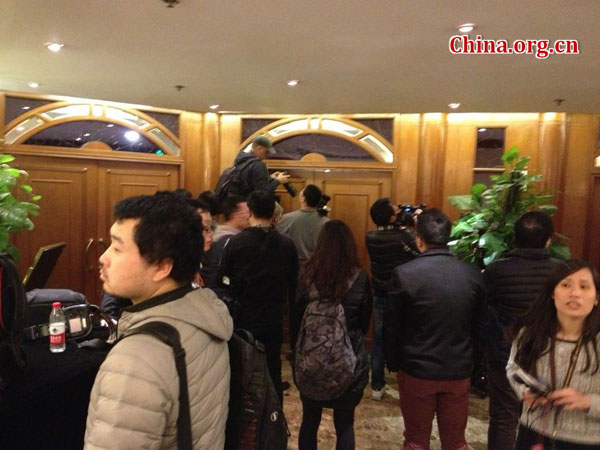 [19:24] Yahoo News Malaysia: Jacky Ly Thang, a defense cooperation official in US Embassy Hanoi, told VN Search & Rescue Center just now that US search party has confirmed that the object – seen by Singaporean search plane earlier – had nothing to do with the missing plane.
[19:20] Vietnamese media reports that suspicious object is not related to flight MH370 reports.
[19:02] BBC has confirmed that two people travelling on stolen passports on the missing ‪airliner bought their tickets at the same time. They were booked on flights from Beijing to Europe.
[18:06] Philippine military said the initial search for the missing Malaysian aircraft had been unsuccessful by Sunday afternoon.
[18:03] The Singaporean Defense Ministry told Xinhua they have not received any official reports about the discovery.
[18:00] The Vietnamese military decided to send a helicopter to the area where the suspicious floating objects were spotted for further investigation, Vietnamese official media outlets reported.
[17:24] No information has been confirmed so far to suggest terrorism is behind the loss of contact with Malaysia Airlines flight MH370, said Ong Ming Choy, representative of Malaysia Airlines, in a press conference in Beijing Sunday afternoon.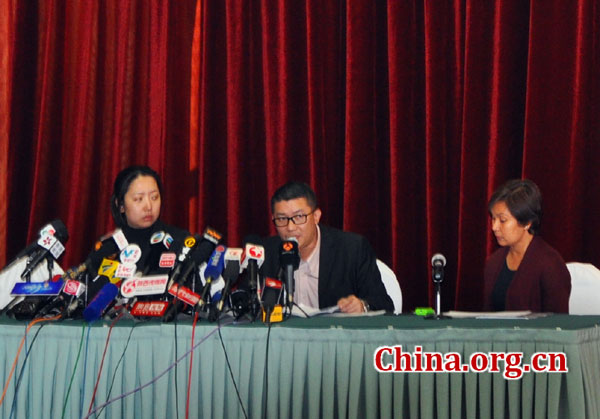 [17:06]

Xinhua: Singaporean vessels searching for the missing Malaysia Airlines passenger plane have found some suspicious floating objects, Vietnamese official media outlets reported.
The Singaporean searchers have reported the finding to their Vietnamese counterparts, who are expected to arrive at the area in less than three hours, reported the Tuoi Tre and Thanh Nien dailies in their online editions.
[16:50] 11 countries have joined hands in search of the missing Malaysia Airlines plane: China, Malaysia, Vietnam, Singapore, Thailand, the Philippines, the United States, Australia, Britain, New Zealand and Indonesia.
[16:32] According to China.org.cn reporter Zhang Rui, 19 families signed a joint statement requesting Malaysian Airlines to disclose the truth to them, and explain why they could get through to their family members' cell phones but they could not hear anything and the calls hung up. They submitted the telephone numbers to the airline, which failed to response their questions with active measures. In response, angry family members threw water bottles at the spokesman, and vowed to protest in front of the Malaysian Embassy to China if Malaysia Airlines didn't disclose the truth of the incident.
[16:16] When asked about why the phone of a passenger on board was reachable but then hung up, Ong Ming Choy, representative of Malaysia Airlines, replied that he dialed that number several times but no one answered.  Relevant departments have been informed of the matter and an investigation is under way.
[16:07] Statement by MAS GCEO, Ahmad Jauhari Yahya
Together with all those affected by the MH370 incident, we understand the need to provide regular updates on the progress of the search and rescue operations.  As the hours turn into days, we at Malaysia Airlines are similarly anxious and we appreciate the patience, support and prayers from everyone.
We however acknowledge that the most affected group in this incident is the families of those on-board. As such, our primary focus at this point in time is to care for the families. This means providing them with timely information, travel facilities, accommodation, meals and emotional support. Initial financial assistance has been given out to all families. Caregivers are already assigned to each family and they are trained staff and volunteers from Malaysia and Australia.
Family members of the MH370 passengers from Beijing who wish to travel will be flown in stages to Kuala Lumpur on the available flights.  We are also communicating with the families from other nations to similarly arrange for their travel to Kuala Lumpur.
In the event flight MH370 is located, a Response Control Centre (RCC) in the area will be activated to support the needs of families.
The airline continues to work with the authorities and we appreciate the help we are receiving from all parties during this critical and difficult time.
[15:47] Ong Ming Choy, representative of Malaysia Airlines, told China.org.cn reporter Zhang Lulu that the allegations of fake passports need to be verified by the company's headquarters in Kuala Lumpur.
[15:30] The passport number of a Fujian native surnamed Yu matches that of a passenger named Zhao Qiwei, who was reported on board the missing MH370. According to the Straits City Daily, a newspaper in Fujian Province, Yu is still in his hometown, Fuqing, Fujian Province. According to Yu, he has never lost his passport, nor has he ever used it since it was issued in 2007.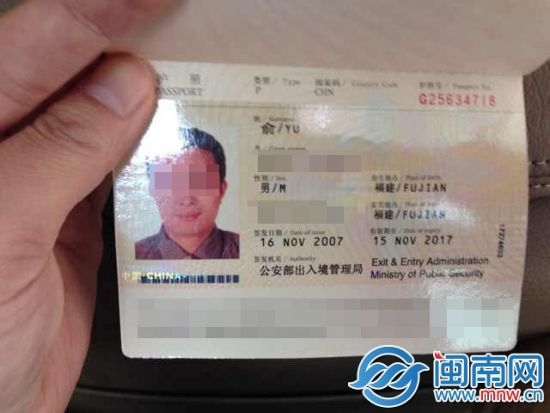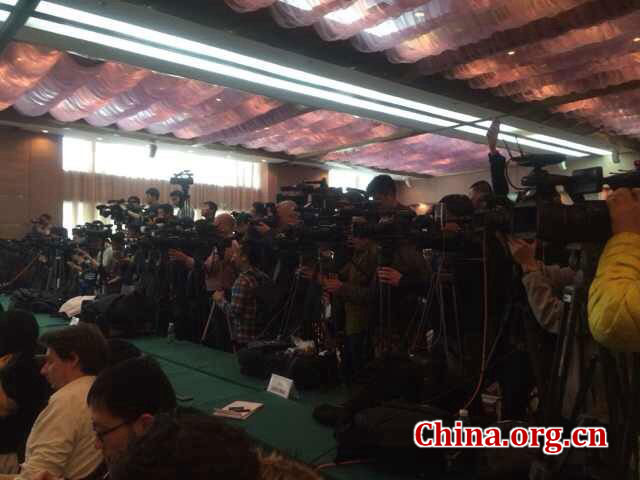 [15:05] Malaysia Airlines hold another press conference in Beijing at 3:00 p.m. Sunday afternoon.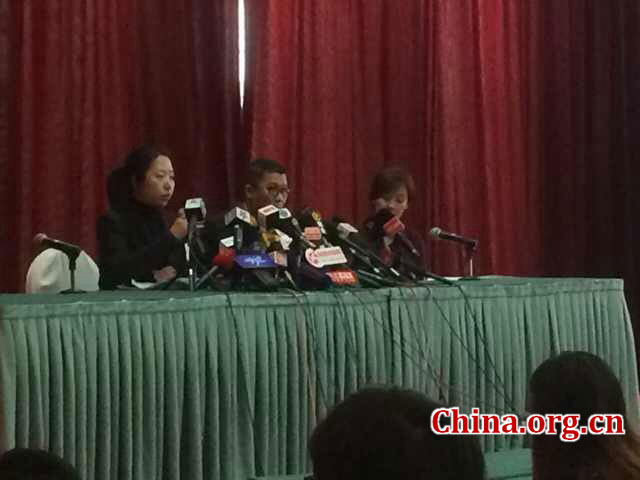 [14:50] According to the Exit-Entry Administration of Beijing Municipal Public Security Bureau, family members leaving for Malaysia just need to take their ID cards to the reception hall of the Exit-Entry Administration to apply for a passport. A hukou (household registration record) is not a prerequisite for the application. The Exit-Entry Administration has designated specific staff to receive family members. "What we do may not help that much, but we will do what we can. We hope that all those affected are safe."
[14:24]

In an interview with

China.org.cn

reporter Zhang Lulu, Commercial Director Hugh Dunleavy from Malaysia Airlines denied that the incident is related to the financial difficulty of the company (which lost 400 million dollars last year according to some reports).
Dunleavy said, "We have really very impressive and very supportive contacts with the Chinese government, to work with them to make sure they facilitate everything we need to do, including bringing my entire team into China. We're very pleased to have the support from Beijing and the Chinese government." He said the earliest time for the family members to leave China for Malaysia will be tomorrow. "Before they depart, we need to make sure they have passports and visas. The vast majority of the family members do not have passports."
[14:05] Malaysian Department of Civil Aviation has clarified that only two passengers with allegedly false passports were on board MAS flight MH370 according to the closed-circuit television (CCTV) records and not four as previously reported.
[13:52] CCTV reports Chinese maritime police vessel "Haijing 3411" has reached the sea area where the missing jet is suspected to have fallen into.
[13:43] Beijing TV has reported that a relative of one of the passengers managed to get through to a family member's cell phone, but couldn't hear anything and the call hung up. Attempts are being made to locate the phone. The relative managed to get through twice, live on the TV program.
[13:39] The National Tourist Group Services Management System has confirmed that 535 Chinese visitors from 26 tourist groups were in Kuala Lumpur at the time when the Malaysia Airlines flight MH370 lost contact with air traffic control. Fourteen tourist groups have returned from Kuala Lumpur and none of them took flight MH370. Twenty eight Chinese travelers booked tickets on the flight independently and are therefore not in the system.
[13:35] malaysiakini.com: The search for the missing MAS flight MH370 has been expanded to include the possibility that the aircraft might have attempted to turn back, says acting Transport Minister Hishammuddin Hussein.
[13:09] According to vnexpress.net, 13 planes and 29 vessels have been on a search and rescue mission in relevant areas of sea so far, including three planes and six vessels from Vietnam, six planes and six vessels from Malaysia, two planes and 14 vessels from China, one plane and three vessels from the Philippines and one plane from Singapore.
[12:53]

Four passengers on board the missing MH370 flight from Kuala Lumpur, the capital of Malaysia, have been confirmed as holding fake passports, Malaysia's Ministry of Transport announced on Sunday. Of the four passengers, two of them are holding Italian and Austrian passports and are sitting next to each other. The ministry has not ruled out the possibility that more passengers may have boarded the plane with fake passports. Intelligence agencies from Malaysia and the rest of the world are cooperating to investigate the issue.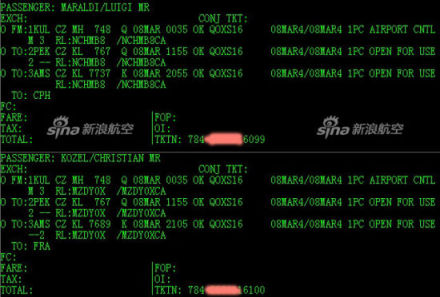 [12:45] Yan Jiacheng, from Yancheng in east China's Jiangsu Province, leaves a press briefing given by Malaysia Airlines. His son, born in 1985, was sent to Malaysia for training by his company. Yan arrived in Beijing by train immediately after learning the horrible news about the flight from his son's girlfriend. Malaysia Airlines will arrange a visit to Malaysia for Yan and his other son, reports China.org.cn's Zhang Lulu from Lido Hotel, near Beijing's Capital International Airport.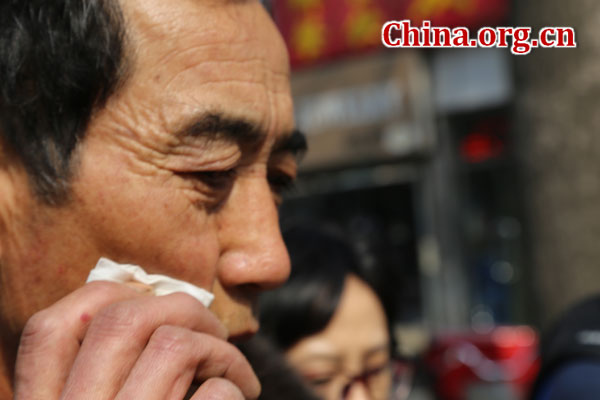 [12:10]According to a CCTV report,  Chinese maritime police vessel "Haijing 3411" is expected to reach the sea area where the missing Beijing-bound Malaysia Airlines jet is suspected to have fallen into at 1:30p.m. Sunday.
[11:00]

Rescue operations in hunt for a missing Malaysian jet have continued overnight, but nothing was able to be located so far, a Malaysian civil aviation official said in Kuala Lumpur, Malaysia Sunday morning.
[10:20] Chinese divers and salvagers sent by the Ministry of Transport are on their way to the sea area where the missing Beijing-bound Malaysia Airlines jet is suspected to have fallen into. Read more>>
[9:38] The United States officials are investigating terrorism concerns over the missing Malaysia Airlines plane after two people listed as passengers of the MH 370 flight were confirmed not on board, and their passports were reported stolen in Thailand, local media reported Saturday. Read more>>
[8:45] Malaysia Airlines hold press conference in Beijing early Sunday morning in Lido Hotel. Read more>>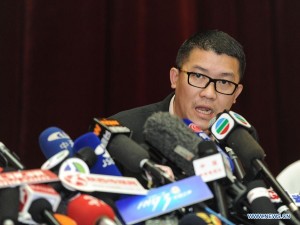 [7:20] Searchers from Malaysia, Singapore and Vietnam have still found no evidence of any plane wreckage. The sea search was to continue overnight while the air operation has been called off and start again at daylight, according to the airline's latest statement at 7:20 p. m on March 8.
Malaysia Airlines: MH370 Flight Incident – 5th Media Statement
The families of all passengers on board MH370 are being informed. The flight was carrying a total number of 239 passengers and crew – comprising 227 passengers (including 2 infants) and 12 crew members.
An international search and rescue mission was mobilized this morning. At this stage, our search and rescue teams from Malaysia, Singapore and Vietnam have failed to find evidence of any wreckage.
The sea mission will continue while the air mission will recommence at daylight.
For the passenger manifest of MH370, click here.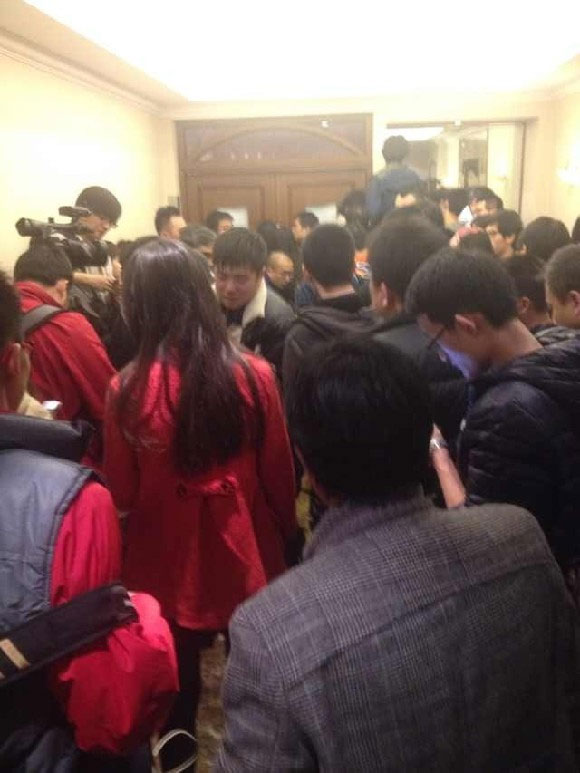 [22:30]Many families of those on board the Malaysia Airlines flight are waiting for any news or updates on their relatives at Beijing's Lido Hotel.
[21:15] Malaysia Airlines is currently in touch with the different search and rescue teams to determine the plane's location.
The flight's captain was 53-year-old Malaysian Zaharie Ahmad Shah who joined the airline in 1981 and had gathered a total of 18,365 flight hours. First officer on board was 27-year-old Malaysian Fariq Ab. Hamid who joined the airline in 2007 and had thus far gathered a total of 2,763 flight hours.
[21:10]

From our correspondent at the Malaysia Airlines press conference. Malaysian Airlines has announced that the captain of its missing Boeing 777-200, carrying 239 people on board, had been with the airline since 1981, while his first officer joined in 2007. Both the airline and emergency services are currently providing their full support and will update information according to the latest developments.
[20:43] China's air control authority said there were no storms in the area of the South China Sea where the plane was flying across. The weather was generally fine with light clouds.
A VP of the Malaysia Airlines said the plane had enough fuel to fly for seven hours, one hour more than the flight time to Beijing.
[19:52] The aircraft, a Boeing 777-200ER reportedly registered 9M-MRO, was delivered to the airline in May of 2002 and powered by Rolls-Royce Trent 800 engines.
The Boeing 777 was introduced in 1995. Since then, it has been involved in only two other major accidents and three hijackings.
The most notable accident occurred in July 2013, when an Asiana Airlines Boeing 777-200 carrying 291 passengers and 16 crew members crashed during landing in San Francisco, killing three passengers and seriously injuring 48 others. Investigators blamed the accident on a pilot error.
Malaysia Airlines is the national carrier of Malaysia and one of Asia's largest, flying nearly 37,000 passengers daily to some 80 destinations worldwide.
The airline said the public can call +60-378841234 for information about the plane.