Editor's note: The crew aboard IL-76 spotted two big floating objects with many white smaller ones scattered within a radius of several kilometers while searching for missing Malaysia Airlines Flight MH370 off Australia.
Please stay tuned for our live updates.
————————————————————–
No need to reload page,content updates automatically every one minute. All time is Beijing Time (GMT+0800).
[21:28] That's all for live blog today. Thank you for staying with us. For more international news, please visit China.org.cn world news.
[21:11] The Australian Maritime Safety Authority says today's search has concluded without any sightings.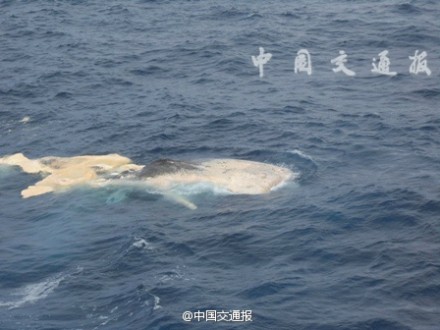 [20:56] Chinese ship "Zhonghai Shaohua" arrived in the search area based on French satellite images at 15:25 today. One of the suspicious objects was identified as a 15-meter long dead whale, China Communications News reported.
[20:03]
@AMSA: Last aircraft has departed the search scene without any further sightings.
[19:57] Malaysia's Acting Transport Minister Hishammuddin Hussein said at a regular news briefing on Monday that the objects could be retrieved by Royal Australian Navy ship HMAS Success "within the next few hours."
[18:38] HMAS Success is on scene and is attempting to locate the objects spotted by the RAAF Orion, which are separate to the objects reported by the Chinese Ilyushin IL-76 to AMSA earlier today.
[18:29] Two objects were spotted in the search about 2500 kilometres south-west of Perth by the RAAF Orion — the first a grey or green circular object and the second an orange rectangular object, the Australian Maritime Safety Authority said.
[18:13] Australian Prime Minister Tony Abbott announced Monday that MH370 searchers have spotted two new suspicious objects and they can be retrieved within hours or around early Tuesday at the latest.
[17:57]
@AMSA: Earlier today RAAF Orion spotted 2 objects near search area. HMAS Success is attempting to relocate & identify.
[16:23] A U.S. P-8 aircraft was unable to locate the suspicious objects Chinese planes spotted earlier Monday while searching for missing Malaysia Airlines Flight MH370, the Australian Maritime Safety Authorities said in a tweet.
[16:19] China's foreign ministry spokesman Hong Lei said Chinese ships are expected to start arriving on Tuesday in the search area of the southern Indian Ocean.
[16:03]
 @AMSA: Objects spotted by Chinese aircraft as heading back to Perth. Drift modelling undertaken on sighting. P8 unable to relocate objects.
[16:02]
 @AMSA: US Navy P8 Poseidon tasked to investigate reported object sightings by Chinese aircraft at 33,000ft.
[15:59] AFP: Indian Ocean search for missing Malaysia jet becomes more urgent as tropical cyclone looms to the north.
[14:08] AMSA: Ten aircraft are involved in today's search.
[14:06] More nations join MH370 search in southern Indian Ocean amid weather concerns.
Earlier, AMSA – which is co-ordinating search efforts – warned that conditions in the search area were expected to deteriorate.
[14:00] AMSA's media officer Lisa said,
"AMSA was advised about the reported objects sighted by a Chinese aircraft. The reported objects area within today's search area and attempts will be made to relocate them."
[13:51] AMSA: Today's search is split into two areas within the same proximity covering a cumulative 68,500 square kilometres.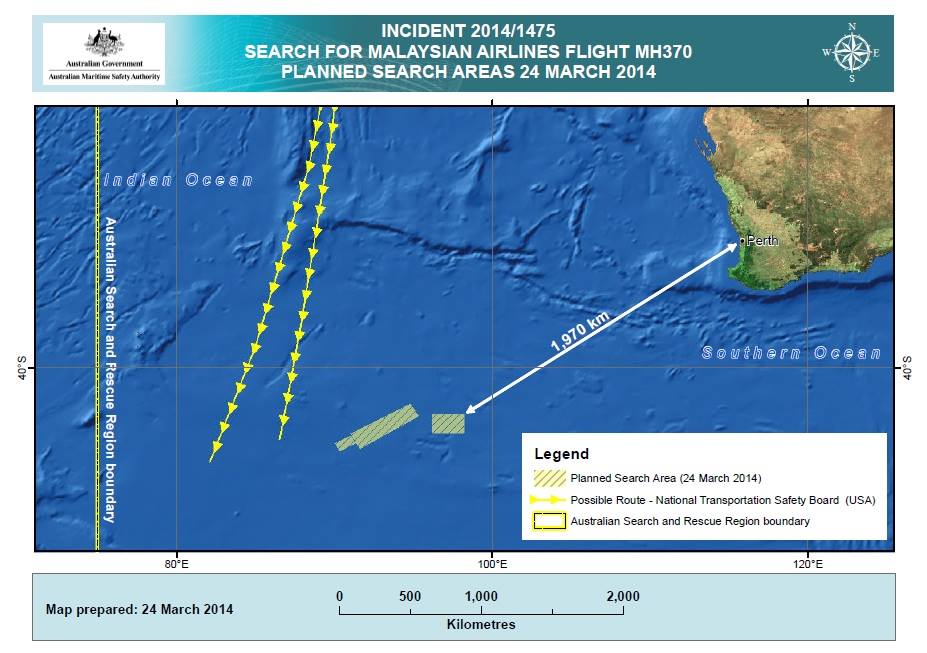 [13:41] The US Pacific Command said it was moving a black box locator to the region "as a precautionary measure in case a debris field is located".
The equipment, which has a "highly sensitive listening capability", detects pings from the black box while being towed behind a ship.
[13:39]

 Another Malaysia Airlines flight makes emergency landing in Hong Kong.
[13:36] AMSA: Search area will not be affected by Tropical Cyclone Gillian. The search area is in the southern Indian Ocean.
[13:34] To recap: A Malaysian passenger plane MH370 carrying 239 people was leaving Kuala Lumpur for Beijing when it lost contact with air traffic controllers and disappeared from radar on 8 March.
[13:30] As the two Chinese searching planes are heading back, the crew has asked the Australian side to send other planes to the area of interest for further examination.
[13:28] 
 The Chinese icebreaker Snow Dragon (Xue Long) has diverted its course and will arrive in the area where Chinese IL-76 aircraft spotted two white floating objects in the southern Indian Ocean on Mar. 25, which might be linked to Malaysia Airlines Flight MH370.
[13:27] The crew of a Chinese IL-76 plane spotted some suspicious objects in the southern Indian Ocean on Monday while searching for missing Malaysia Airlines Flight MH370 off Australia.
[13:25] Welcome to our live page on developments in the search for missing Malaysia Airlines flight MH370.