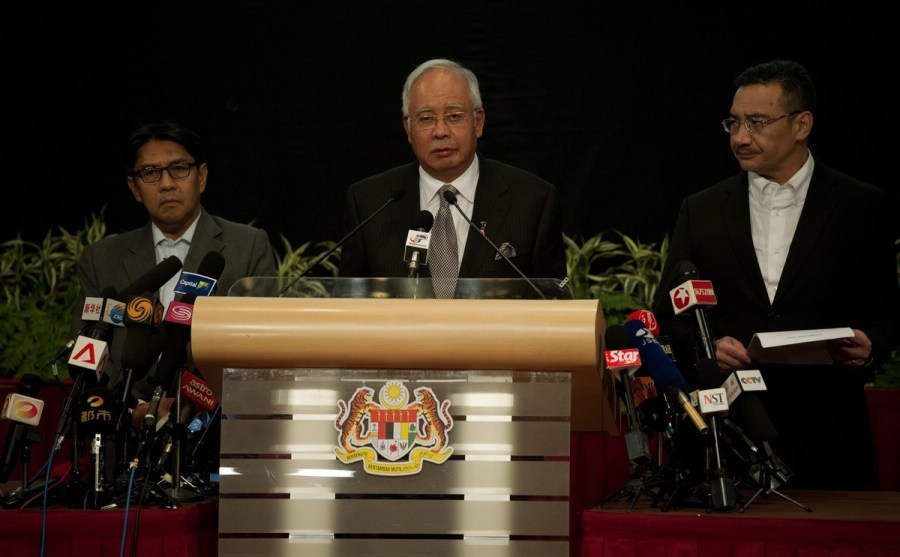 Editor's note: Malaysia's prime minister has announced on the basis of new analysis it must be concluded that missing flight MH370 ended in the southern Indian Ocean.
Please stay tuned for our live updates.
—————————————————————————————————-
No need to reload page,content updates automatically every one minute. All time is Beijing Time (GMT+0800).
Reporting: Li Xiao, Lin Liyao, He Shan
1:54 am: That concludes this live blog. Thank you for staying with us. We will renew our live coverage as new information emerges.
1:46 am:
Most of the relatives are still inside the conference room in Beijing. Where else do they have to go? #MH370
— malcolmmoore (@MalcolmMoore)
1:39 am:
According to the latest weather forecasts, the water areas where the Chinese search plane spotted the "two relatively big floating objects" will be affected by strong westerlies cyclones on Mar. 25. In order to guarantee the search safety, the Chinese icebreaker Xuelong (Snow Dragon) has reduced its speed, and will do their search work in the suspected surrounding waters first, while waiting for a favorable weather.
1:31 am: One aspect the Malaysian PM did not address was whether investigators had confirmed that the floating objects in the ocean spotted by several search crews were debris from the plane, Associated Press notes.
1:25 am:
We're saddened by today's announcement on Malaysia Flight 370. Our thoughts continue to be with the families.
— Boeing Airplanes (@BoeingAirplanes) March 24, 2014
1:14 am:
Chinese vessel "Haixun 01" is drafted in to search for the flight MH370 in waters off the west of Australia in the South Pacific Ocean. The vessel is equipped with a search instrument which could scan the location of the black box of the flight.
1:11 am: BBC reports that Inmarsat said they had their data reviewed by other scientists before handing it over to the Malaysian authorities on Sunday morning.
1:09 am: BBC reports that Inmarsat said that the plane had been flying at a cruising height above 30,000 feet. They found no evidence of fluctuations in height. They also said they cannot pinpoint the position any further.
1:08 am: Inmarsat says it traced the Flight's path by using cutting-edge modelling, which had never been tried before. Their calculations were based on the Doppler effect – better known as the theory behind why a police siren sounds different from different places.
12:57 am:
At the moment, the Lido Hotel was crowded with ambulances.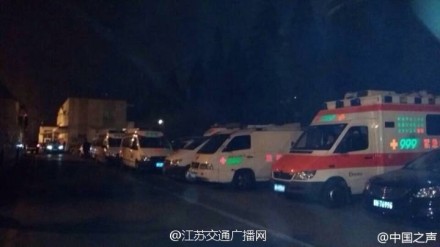 12:53 am:
Families of the passengers on board of the missing flight MH370 could not hold their anger and sorrow any more. Some of the relatives have been carried out by ambulancemen after hearing the news that none of their beloved ones had survived.
One man cried and yelled: "You are liars," and then was taken away. Another woman squatted down near the stairway, wailed sadly: "Why can't they come back?."
12:49 am: British satellite firm Inmarsat engineers spent all weekend studying previous Malaysian Airlines Boeing 777 flights, going back a few weeks. They compared the satellite data from those flights with Flight MH370 and were able to work out that it went south, BBC says.
12:48 am: China also says it hopes Malaysia and other countries will continue searching for the missing plane, Reuters says.
12:46 am: Inmarsat said the new calculation basically involved crunching far more data – things like what other aircraft were doing at the time – and it needed to be checked before it went public.
12:40 am:
Timeline: The hunt for Malaysia Airlines Flight 370 http://t.co/GKAbZ7D02k #MH370
— Fox News (@FoxNews)
12:33 am: The Chinese Foreign Ministry is demanding that Malaysia hand over all information and evidence about the missing aircraft, Reuters news agency reports.
12:11 am: Relatives are overwhelmed by grief .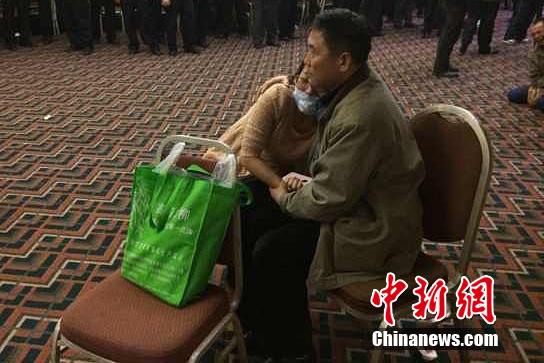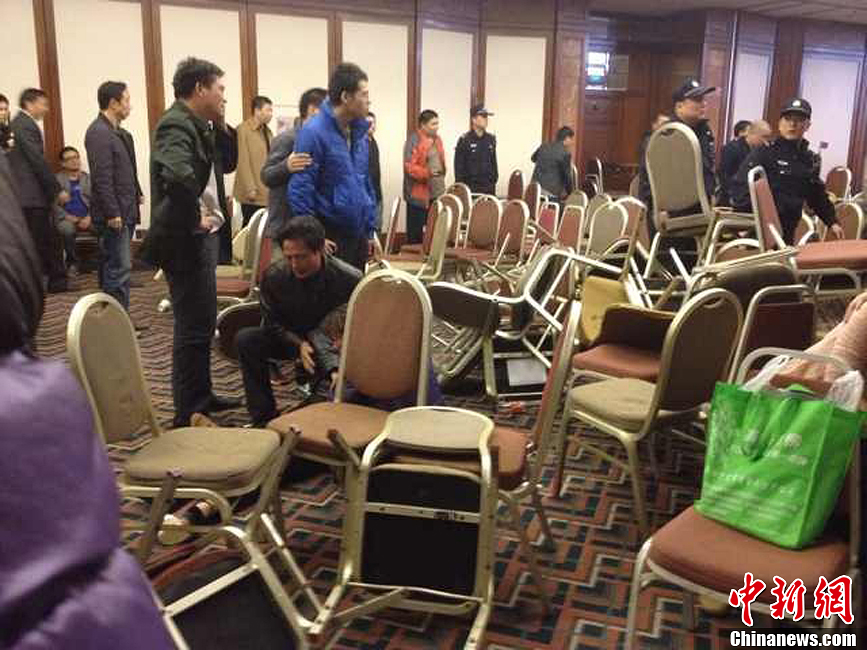 12:00 am:
The yard in the Lido Hotel has been packed with ambulances which were called in by the relatives of the passengers aboard the missing flight.
11:59 pm: A Facebook page dedicated to the only American aboard the flight, Philip Wood, said of relatives that "our collective hearts are hurting now."
"Please lift all the loved ones of MH370 with your good thoughts and prayers," a post on the page said.
11:51 pm:Here's the full text of the message given to relatives and crew of those on board just before the Malaysian prime minister's statement:
Malaysia Airlines deeply regrets that we have to assume that MH370 ended in the southern Indian Ocean. As you will hear in the next hour from Malaysia's Prime Minister, new analysis of satellite data suggests the plane went down in the Southern Indian Ocean.

On behalf of all of us at Malaysia Airlines and all Malaysians, our prayers go out to all the loved ones of the 226 passengers and of our 13 friends and colleagues at this enormously painful time.

We know there are no words that we or anyone else can say which can ease your pain. We will continue to provide assistance and support to you, as we have done since MH370 first disappeared in the early hours of 8 March, while flying from Kuala Lumpur to Beijing.

The ongoing multinational search operation will continue, as we seek answers to the questions which remain. Alongside the search for MH370, there is an intensive investigation, which we hope will also provide answers.

We would like to assure you that Malaysia Airlines will continue to give you our full support throughout the difficult weeks and months ahead.
11:45 pm:
PM asks media to respect families, will give another press conference Tuesday http://t.co/nM2LgvTOMh
— Asian Correspondent (@AsCorrespondent) March 24, 2014
11:33 pm: To recap, a reporter on board the Chinese plane for China's official Xinhua news agency said the search team saw "two relatively big floating objects with many white smaller ones scattered within a radius of several kilometers.
11:31 pm: France's BEA accident investigation service tells AFP that the "extremely vast areas involved do not make it possible at this stage to consider undersea searches" for the aircraft.
11:26 pm:
Following the latest announcement at the news conference headed by the Malaysian PM, China Maritime Search and Rescue Center is studying on further plan and will draft in more rescue vessels to the Indian Ocean to join search.
10:59 pm: The news has been a devastating blow for relatives of those on board flight MH370, most of whom are Chinese. Reporters say first aid staff members came after a female relative fainted in the hotel in Beijing where family members of the passengers aboard MH 370 are staying.
10:41 pm: The BBC's Beijing bureau says families of the relatives have been asked to gather for an emergency meeting.
10:40 pm: The following SMS message has been sent to relatives:
Malaysia Airlines deeply regrets that we have to assume beyond any reasonable doubt that MH370 has been lost and that none of those on board survived. As you will hear in the next hour from Malaysia's prime minister, we must now accept all evidence suggests the plane went down in the southern Indian Ocean.
10:23 pm: Here's the full text of that statement by Malaysian PM Najib Razak: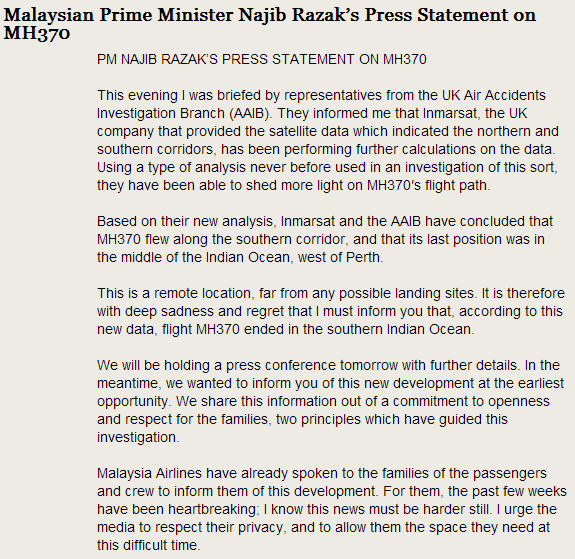 10:20 pm: Malaysia Airlines Flight 370 went down over the southern Indian Ocean, Malaysian Prime Minister Najib Razak said Monday, citing a new analysis of satellite data by a British satellite company and accident investigators.