Editor's note:
China.org.cn presents live coverage of the opening ceremony of the fifth session of China's 12th National People's Congress (NPC) on the morning of March 5, 2017. Chinese Premier Li Keqiang delivers the government work report at the meeting.
——————————————————————
No need to reload page, content updates automatically every two minutes. All time is Beijing Time (GMT+0800).
China.org.cn will present you with a live coverage of the press conference held by Chinese Premier Li Keqiang on March 15, 2017, immediately after this year's NPC session concludes. 
Please stay tuned for our live updates on this event.
[10:40]Premier Li concludes his work report. Thank you for staying with us.
[10:38]The Chinese mainland will resolutely oppose and contain separatist activities seeking "Taiwan independence," says the premier.
[10:37]The Chinese mainland will thoroughly implement the policies on work related to Taiwan, uphold the one-China principle, and safeguard the 1992 Consensus as the common political foundation, stresses the premier.
[10:36]Li says the central government will continue to implement, both to the letter and in spirit, the principle of "one country, two systems," under which the people of Hong Kong govern Hong Kong, the people of Macao govern Macao, and both regions enjoy a high degree of autonomy.
We will continue to act in strict compliance with China's Constitution and the basic laws of the Hong Kong and Macao special administrative regions, and we will ensure that the principle of 'one country, two systems' is steadfastly applied in Hong Kong and Macao without being bent or distorted.
[10:34]China will strengthen its maritime and air defense as well as border control amid efforts to safeguard its sovereignty and security, says Li.
The country will ensure the organization of important operations related to countering terrorism, safeguarding stability, international peacekeeping, and providing escort in high seas.
[10:21]China will turn more than 800,000 hectares of marginal farmland into forests or grassland this year, says Li. He adds that China will begin to pilot projects to improve the quality of forests and restore ecosystems along the Yangtze Economic Belt. Chemical oxygen demand and ammonia nitrogen emissions should both drop by two percent this year, states Li.
[10:20]All key sources of industrial pollution will be placed under round-the-clock online monitoring, Li says, noting that China will also strengthen research on the causes of smog to improve the scientific basis and precision of the steps taken.
[10:19]China will step up work on upgrading coal-fired power plants to achieve ultra-low emissions and energy conservation, Li notes, adding that upgrading should be completed this year in the eastern region, next year in the central region, and by 2020 in the western region.
[10:18]China will work harder to address pollution caused by coal burning, says Li, adding that comprehensive steps will be taken to replace the use of coal with electricity and natural gas in more than three million households.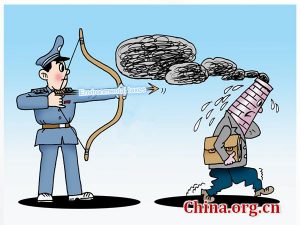 [10:17]Sulfur dioxide and nitrogen oxide emissions will be cut by 3 percent this year, as part of the efforts to make the skies blue again, says Li.
[10:14]China opposes protectionism of different forms, states Li, saying that the country will become more involved in global governance and steer economic globalization to see it more inclusive, mutually beneficial, and equitable.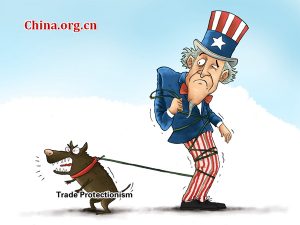 [10:13]Li adds that China will also make big moves to improve the environment for foreign investors, including making service industries, manufacturing, and mining more open to foreign investment, encouraging foreign-invested firms to be listed and issue bonds in China, and allowing them to take part in national science and technology projects.
[10:12]Li says that China will push ahead with the Belt and Road Initiative by accelerating the building of overland economic corridors and maritime cooperation hubs, and deepening international industrial-capacity cooperation.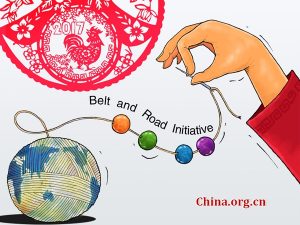 [10:07]China will also accelerate the development of emerging industries, says Li.
We will accelerate R&D on and commercialization of new materials, artificial intelligence, integrated circuits, bio-pharmacy, 5G mobile communications, and other technologies, and develop industrial clusters in these fields.
[10:05]China will strengthen its capability for making technological innovations, by improving mechanisms for providing continued long-term support for fundamental research and original research, building major national infrastructure projects for science and technology and setting up technological innovation hubs, and establishing platforms for sharing R&D resources, among other measures.
[10:02]Li says China plans to invest 800 billion yuan in railway construction and 1.8 trillion yuan in highway and waterway projects, and begin construction on another 15 major water conservation projects.
[10:04]China will make greater efforts this year to implement innovation-driven development strategy, upgrade the structure of the real economy, and improve its performance and competitiveness, vows Li.
The real economy has always been the foundation of China's development; the task we now face is to speed up its transformation and upgrading.
[9:52]The premier says China aims to reduce the number of rural residents living in poverty by over 10 million, including 3.4 million to be relocated from inhospitable areas.
To this end, central government funding for poverty alleviation will be increased by over 30 percent.
[9:49]The government will place tighter constraints on companies' leveraging, especially state-owned enterprises, to gradually bring down corporate debt to an acceptable level, vows the premier.
[9:48]Li notes that:
We need to be clear that housing is for people to live in, and local governments should take primary responsibility in this respect.
[9:47]China will take targeted policies to cut excessive real estate inventory in the third- and fourth-tier cities and support residents to buy homes for personal use, says the premier.
[9:44]The premier pledges to make more use of market- and law-based methods to effectively deal with "zombie enterprises."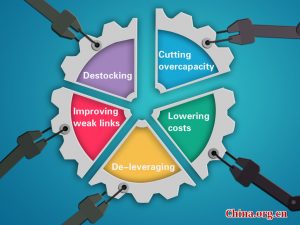 [9:43]China will push its drive to cut overcapacity in bloated sectors, with targets to slash steel production capacity by around 50 million tonnes and coal by at least 150 million tonnes this year, reports Li.
[9:36]China will pursue a prudent and neutral monetary policy in 2017, with the M2 money supply to grow by around 12 percent, says the premier.
[9:35]China sets its government fiscal deficit this year at 2.38 trillion yuan (about 345 billion U.S. dollars), or 3 percent of its GDP, announces Li.
[9:34]China aims to create more than 11 million jobs this year, with registered urban unemployment rate kept within 4.5 percent.
The government aims to keep consumer inflation at around 3 percent in 2017.
[9:33]Premier Li Keqiang says China has set its GDP growth target at around 6.5 percent for 2017.
[9:05]

chalks@weibo.com:
The annual two sessions is the occasion when the voices of billions can be heard. The delegates are taking on their responsibilities with their commitments to steering the ship of China – a mission concerning the happiness of millions of households. We expect the NPC deputies and CPPCC members to continue to speak for people and renew the stories of China, recording this year's event like a new ring which grew inside a tree.
[9:03] China's GDP expanded by 6.7 percent last year to 74.4 trillion yuan. China's economic growth in 2016 outpaced most other economies and accounted for more than 30 percent of global growth, says Li.
[9:01]Premier Li Keqiang is delivering the annual government work report to nearly 3,000 legislators in the Great Hall of the People.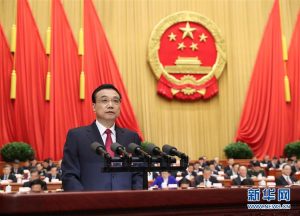 [9:00]Zhang Dejiang announces the opening of the fifth session of China's 12th National People's Congress.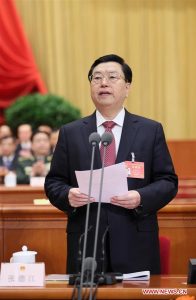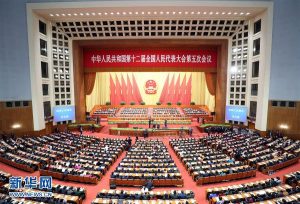 [8:50]

Longrunjiao Jialiang@weibo.com:
Highlight forecasts of "two sessions" in 2017: supply-side reform, judicial reform, the improvement of people's living conditions, shared interests generated from reform and development, innovation–new growth engines for economic and social development, environmental protection and making good use of land. Meanwhile, the government is committed to building a clean administrative landscape to strengthen the drive of reform and development.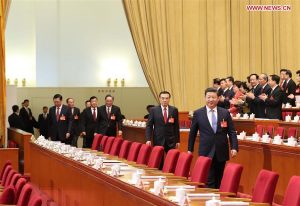 March 5 [08:45] The fifth session of the 12th NPC is to open at 9:00 a.m. in Beijing.
[16:02]Dubbed the "two sessions," the dual gathering is significant in China's political calendar as it sets the national agenda for the year and beyond.
[15:52]This year the meetings carry extra weight as they are the fifth and last sessions of the 12th NPC and the 12th CPPCC National Committee.
[15:43]The two sessions are also the first high-profile national political events held since President Xi Jinping was endorsed as the core of the Communist Party of China (CPC) Central Committee at a key CPC meeting last October.
[15:36]Pledges to conform to the CPC Central Committee with Xi as the core are expected to feature significantly.
[15:25]Xin Ming, a professor with the Party School of the CPC Central Committee, said:
Through the meetings, greater consensus will be gathered to build a moderately prosperous society and Xi's thoughts on state governance will be more clear-cut.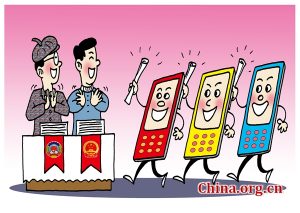 [15:10]Wen Yang, a researcher with the Institute of China Studies at Fudan University, noted:
New ideas, thoughts and strategies of state governance under the leadership of the CPC Central Committee with Xi as the core have solid foundation of public opinion. Proven successful by experience, they have won the people's support. They will become an important theme of the 'two sessions' and the CPC's 19th National Congress.
[14:58]Infographic: Sixth Plenary Session of the 18th CPC Central Committee

[14:44]The NPC is the highest body of state power, enabling the Chinese people to exercise their power as "the master of state." New state leaders will be elected at the NPC session in March 2018 after the 19th Communist Party of China (CPC) National Congress elects a new Party leadership later this year.
Infographic: What do you need to know about the NPC?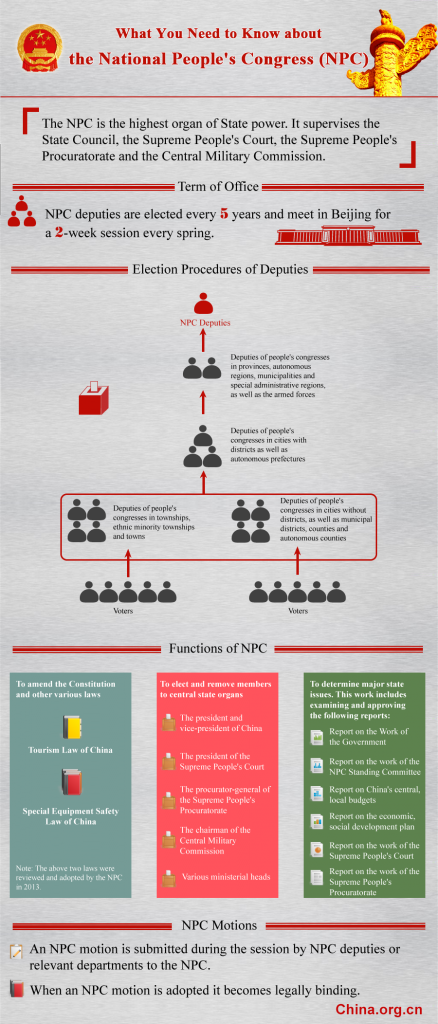 [14:39]China's economy is expected to remain the strongest engine for world economic growth in 2017. According to data from the World Bank, China's 2016 growth would account for about a third of world growth, larger than the contribution from any other country.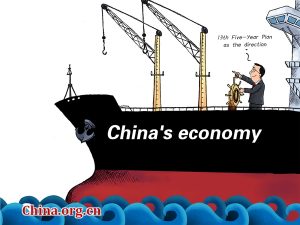 [14:30]China's 'No. 1 Central Document' focuses on agriculture for 14th consecutive year. When carrying forward supply-side structural reform for the sector, national grain security must be guaranteed, according to the document.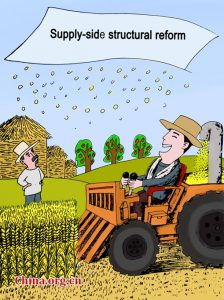 [14:24]China is intensifying efforts to fight pollution and environmental degradation after decades of growth left the country saddled with problems such as smog and contaminated soil.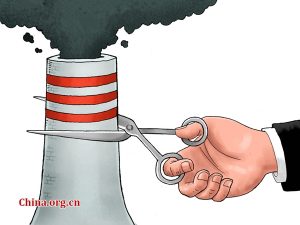 [14:20]The Belt and Road Initiative is advancing steadily, bringing investment and jobs to participating countries.
[14:19]More than 100 countries and international organizations have joined the initiative and over 40 of them have cooperation agreements with China.
[14:15]Chinese businesses have helped build 56 economic and trade cooperation zones in 20 countries along the Belt and Road, with total investment exceeding 18 billion U.S. dollars, helping generate over 1 billion U.S. dollars in tax revenue and more than 160,000 jobs.

[14:08]To build a clean and advanced ruling party, President Xi Jinping has carried out a sweeping campaign against corruption, which he warned could lead to the collapse of the Party and the downfall of the state.
[14:02]Since Xi took the helm of the Party, the anti-corruption fight has gained "crushing momentum" and earned popular support.