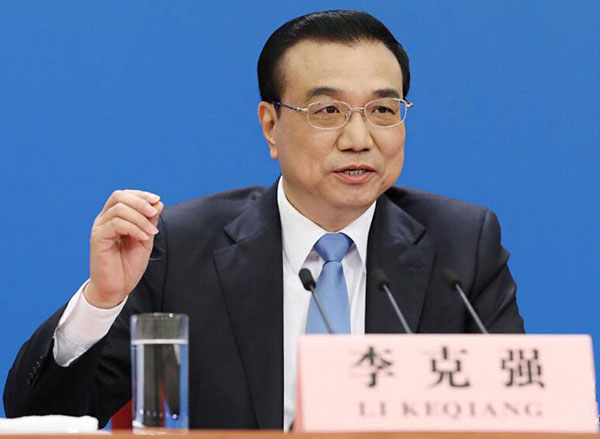 Editor's note:
China.org.cn presents you with live coverage of the press conference held by Chinese Premier Li Keqiang on March 15, 2017, immediately after this year's NPC session concludes.
Please stay tuned for our live updates on this event.
————————————————–
All time is Beijing Time (GMT+0800).
[12:47] That's it for the live blog. Thanks for following along with us.
[12:46] Fu Ying: That's the end of today's press conference. Thank you, Premier Li. Thank you everyone.
[12:45] Premier Li Keqiang: We are all consumers and our rights need to be protected. We should give a thumbs-up to quality products and block those bad traders. With joint efforts, we will enjoy more quality products and a better life year by year. Thank you.
[12:44] 19. China Consumer News: Premier, today marks the International Day for Protecting Consumers' Rights. Can you say a few words to consumers?
[12:43] Premier Li Keqiang: It's beyond human power to control nature, but we can control our behaviors and change our development methods. I share your concern. We need to call an end to smog so that a clear sky won't be a luxury in the future. Thank you.
[12:42] Premier Li Keqiang: When treating smog, we used to focus on coal burning, exhaust emissions and wind-borne dust. But during this year's Two Sessions, a scientist told me that there are other causes and that we are still not quite clear about how the smog came into being. He said that the smog troubling north China in winter is quite unique in the world. It's a pity that I can't tell you more now, because the scientists are still working to prove this theory. But I need to assure you that the government will set up a special fund and invite top scientists to find out all the unknown causes to help us solve the problem more efficiently.
[12:41] Premier Li Keqiang: The smog issue is indeed a pain spot of common concern. We are all privileged when we enjoy clear skies and clean air and we all hope to have more days with clear skies. However, in the process of development, we are faced with the challenge of environmental protection, especially the smog issue. I mentioned five measures in the government work report to win the "battle of safeguarding the clear sky." Practically speaking, it needs time.
[12:40] 18. The Beijing News: I'll ask a question concerning air quality. Over the past years, smog has become an anxiety for common people and has impacted our daily lives to a great extent. However, clear skies can be seen when important events are held and people will excitedly take photos and post them on social media. Premier, how can we make clear skies no longer a luxury?
[12:38] Premier Li Keqiang: We hope to receive a positive response from the EU concerning the speeding up of the BIT negotiation. A high-level BIT will surely help the two sides open further to each other. Despite the lack of such a treaty for the time being, China will offer EU enterprises wider market access. Businesses invested by EU companies and registered in China will be treated as Chinese businesses. There are trade frictions between China and the EU, but we have gained good experience in properly handling them. Here I want to emphasize that China has always and will always support a united, prosperous and stable EU, a strong Euro and the European integration process, because it will be boon to economic globalization, the development of a multi-polar world and the diversification of civilizations. We are optimistic about the EU and the future of China-EU relations. Thank you.
[12:37] Premier Li Keqiang: As you said, the issue of the EU-China trade deficit is based on statistics from the EU. China has no intention to deliberately pursue a trade surplus and hopes to see a trade balance. In my opinion, the European enterprises in China have not only earned money but have also taken a better part of the profits, because they are situated at the high end of the value chains. If the EU could ease its high-tech export restrictions on China, I believe that would make a big difference in our trade imbalance.
[12:36] 17. Radio France: The European Union (EU) is China's second largest trade partner. According to statistics from the EU, the trade deficit of EU to China is as high as 137 billion euros. A lot of European companies complain about that. How will the Chinese government further improve market access for EU companies and provide foreign investment with more equitable treatment?
[12:32] Premier Li Keqiang: The peaceful development on both sides has brought many new opportunities to the people on both sides. Preliminary statistics show that each year some five million Taiwan compatriots commute between the mainland and the island. We will unveil more policies to facilitate the employment, start-up entrepreneurship, and residency in the mainland, making them feel that they are in the same family. We also welcome businessmen from Taiwan to invest in the mainland. I recall that last year in the press conference, someone hoped that we would retain the favorable policies for investment from Taiwan. Now I'd like to reiterate that we will continue with such favorable policies to allow Taiwan businessmen and compatriots to enjoy development opportunities. After all, we are family. Thank you!
[12:31] Premier Li Keqiang: Our policies regarding Taiwan affairs have been consistent and clear in that we must adhere to the 1992 Consensus, a political consensus which agrees on the One China principle, resolutely opposes Taiwan separatism, resolutely preserves the peace of the Taiwan Strait, the peaceful development of cross-Strait ties, and increases the benefits of the people on both sides.
[12:30] Premier Li Keqiang: People on both sides of the Taiwan Strait are brothers and sisters. There's a saying that blood is thicker than water. Despite the changing situation in Taiwan, the fraternal bond between the two sides will never be cut off. The historical fact that the two sides across the Taiwan Strait belong to only one China will not change. Our resolution and sincerity to preserve the peaceful development of cross-Strait ties will not change, either.
[12:29] 16. Taiwan United Daily News: Hello Premier. Last year, the tensions across the Taiwan Strait were on the rise. Many worried about the prospect of the relations between the two sides. How will the mainland preserve the peaceful development of cross-Strait relations, and how will you preserve the common interest of the people on both sides? Thank you.
[12:28] Premier Li Keqiang: For the high-quality foreign products which we urgently need, yet are in short supply, we will consider lowering the tariffs on them. To sum up, we will give more choices to our consumers so that they will have more benefits. More importantly, we should encourage enterprises to uphold craftsmanship and make their products popular with consumers. Thank you!
[12:27] Premier Li Keqiang: The reason we put forward the "Made in China 2025" initiative was to raise the quality of products. There are reports in the international community that as we are doing so, we are reducing imports and retreating from opening-up. This is a sheer misunderstanding. Raising the quality of domestically made products and promoting them to the middle and high-end market will certainly require us to open our doors wider and introduce more advanced foreign technologies and foreign products. In this course, we will strictly protect intellectual property rights to ensure win-win results on the corporate front.  
 Infographic: Made in China 2025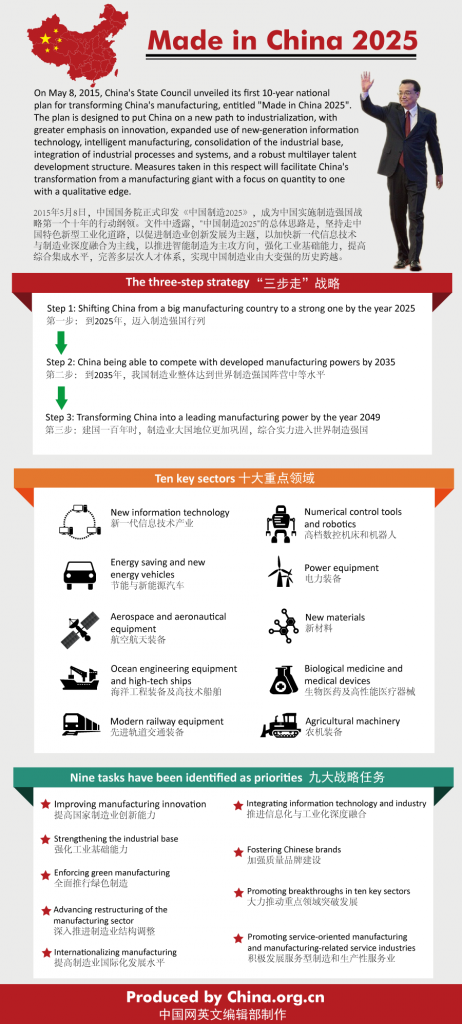 [12:26] Premier Li Keqiang: Concerning consumers' complaints on the poor quality of Chinese products, it shows that domestically made products should be "quality oriented." This is an important part of the structural reform of supply-side.
[12:25] Premier Li Keqiang:  This year, we will try our best to lower the fees of the internet, use of electricity and logistics. Our goal is to cut taxes and fees by some 1 trillion yuan. All in all, what's important is to reduce government transaction costs.
[12:24] Premier Li Keqiang: In my discussions with local officials, they said this is what they need to do, too. As a government, we need to take on the pain to achieve higher competitiveness for enterprises in the market.
[12:23] Premier Li Keqiang: In my government work report, quite a large portion said that this year we will increase efforts to cut taxes and fees, especially on those myriad of items that crush enterprises. These fees are for certain purposes; some are for the payrolls of government personnel. In cutting fees, the government needs to tighten its belt. I made it clear that the central government should take the lead and universally cut fees on daily regular spending by more than five percent.
[12:22] 15. Xinhua: In our research, we discovered that an increasing number of enterprises are complaining that taxes and fees are too heavy. Despite working extremely hard, they can't make much money. At the same time Chinese consumers are also complaining that high-quality products are not domestically made. What are your measures to resolve these issues?
[12:20] Premier Li Keqiang: China and the U.S. have been working together in the Asia-Pacific region for many years and we have a lot in common with regards to our cooperation. Many American multinational companies set up their Asia-Pacific sales headquarters in China. We hope that the common interest of China and the U.S. keeps expanding to benefit ASEAN countries instead of getting in the way. Thank you.
[12:18] Premier Li Keqiang: China and the ASEAN are discussing the Code of Conduct for the South China Sea and have made concrete achievements. We will continue working on that. We hope to maintain peace and stability in the South China Sea, let the related sides resolve disagreements through dialogue and for every side to work together to safeguard the peace, stability and development of the region.
[12:16] Premier Li Keqiang: The Asia Pacific region is a common homeland for countries in the region. We don't want to see things like "picking sides" based on a cold war mentality. Things need to be decided by facts. And the fundamental principle should be maintaining peace and stability in the region. We think of the ASEAN as the priority of our neighboring diplomacy and support the construction of the ASEAN community and their central role in regional cooperation. We want the region to be a stable and orderly region that can reach consensus through negotiations, manage conflicts and have the wisdom to resolve its conflicts.
[12:15] 14. Manager Daily: The former U.S. President Obama put forward the "pivot to Asia" strategy during his term, and now President Trump is formulating his Asian policies. Thailand and other southeastern Asian countries hope for peace and stability in the region and do not want to see conflicts between China and the U.S. in the region, let alone to have to pick sides. What do you think of China's role in the Asia Pacific region? What's China's view on an ideal order and rules in the region? How are China and the U.S. going to continue with a peaceful coexistence in the region?
[12:14] Premier Li Keqiang: As an old Chinese saying goes, "One shall have his peace of mind when he has a piece of land." We understand people's concern about the land-use rights. The State Council has asked the relevant departments to respond to the public's concern. The answer is that the time limit can be renewed without applications or preconditions, while transactions will not be affected. The State Council has instructed relevant departments to carry out studies on the protection of immovable property rights and make legislative proposals. Thank you.
[12:13] The Paper: No. 1.
[12:12] Premier Li Keqiang: I would like to know the ranking of the question on the list.
[12:11] 13. The Paper: Before the Two Sessions, the Chinese central government's official web portal (http://english.gov.cn) and 27 other network media jointly launched a proposal solicitation activity with the headline of "Share Your Thoughts with Premier Li." A total of 21.31 million netizens have shared their thoughts on the topic of "what shall we do when the housing property rights expire after 70 years?" Mr. Premier, how is the government going to deal with the problem? Thank you.
[12:10] Premier Li Keqiang: All in all, to provide effective assistance to these laid-off workers will continue to be our top priority in reducing overcapacity and pursuing the supply-side structural reform. Thank you.
[12:09] Premier Li Keqiang: If you are a coal miner and your mine has to be closed or production suspended, and if you have a strong capability to get employed flexibly, I would encourage you to find a job in the sectors which are the new drivers of growth or the new jobs that have been generated in those traditional drivers of growth industries. In China, many enterprises have strong corporate culture, with a strong attachment to their old loyal employees. They may even continue to provide some subsidies to their loyal employees to give them a leg-up for what they are going to do next.
[12:07] Premier Li Keqiang: This year, the effort of reducing overcapacity will be extended to the coal-fired power plants. It's expected that there will be an accumulated one million employees waiting for resettlement, plus those who weren't rearranged properly last year. Our solution will still be to create new jobs, since we are promoting the strategy of cultivating new drivers of growth. Just now, I mentioned that we have generated many new job opportunities through mass entrepreneurship and innovation. In fact, some people were transferred from the sectors of traditional drivers. The process of shifting to new growth drivers has injected vitality to the traditional industries and created new job opportunities. But we will not slacken our efforts and will continue to make full use of the special fund and require the local governments to fulfill their duties in this regard. Moreover, the enterprises should also shoulder their due social responsibilities.
[12:04] Premier Li Keqiang: You have given the issue of employment a human face. Last year, one of our major tasks in pushing forward supply-side structural reforms was to cut overcapacity and phase out outdated production capacities in the steel and coal sectors. And what we are most concerned is how to take care of the affected employees. The central government allocated a special fund of 100 billion yuan for resettling and rearrangement of those employees. And we also asked the local governments to provide supportive services. Last year, we properly resettled and rearranged a total of 720,000 employees during the process of reducing overcapacity. Of course, there are still some employees who haven't find a new job due to various reasons; for example, some employees have a deep affection for their old factories and wanted to stay for a longer time. But their lives have been well taken care of.
[12:03] 12. Reuters: My question is about employment. This year, the Chinese government is going to further reduce inefficient supply while increasing efficient supply. During this process, the government needs to ensure that the laid-off workers will be able to find new jobs. If I were a miner or a worker in a steel factory, what kind of new jobs would I be able to get in my province? And which sectors are expected to take on the newly-added jobs this year?
[12:02] Premier Li Keqiang: With regard to the examination of the use of foreign currencies, related laws and regulations have been in place for a long time. I'd like to take this opportunity to make one thing clear: Normal use of foreign currencies by enterprises and residents for business and private reasons won't be affected. The yuan is an important currency in the global monetary system, and its rate will remain basically stable. Thank you.
[12:01] Premier Li Keqiang: With regard to the foreign exchange reserve, China holds the largest foreign exchange reserve in the world. How do you determine how much foreign currency we should have? We are still working on a calculation method. But it should be noted that China's foreign exchange reserve is sufficient and is much higher than the international standard. We are fully capable of paying for imported goods and paying off short-term debts.
[11:58] Premier Li Keqiang: First, I'd like to talk about the foreign exchange rate. Last year, due to the fluctuations of the international foreign exchange market, especially the rise of the U.S. dollar, many currencies, particularly major international currencies, depreciated greatly against the U.S. dollar. Among them, the yuan depreciated relatively little. We don't want to use the yuan's depreciation as a way to boost exports, because it will be harmful to the transformation and upgrading of Chinese enterprises. We also don't want to start a trade war, because it would be no good for the global trade and monetary system. We stick to the reform of the yuan's exchange rate formation system and have adopted a market-based, managed floating regime. As a result, the yuan's exchange rate is able to float more freely but remains at an appropriate and balanced level. Of course, it should also be attributed to the growth of the Chinese economy. The stability of the yuan is important to the global monetary system.
[11:57] Premier Li Keqiang: You asked me to make a choice, but I'd like to talk about the three issues separately.
[11:56] 11. Caixin.com: My question is about the foreign exchange rate. Currently, the yuan is under the pressure from depreciation. To keep it stable, we have no other options than reducing the foreign exchange reserve or tightening foreign exchange control. What's your view on the possible depreciation, the reduction and the control? What option will you choose? Thank you.
[11:53] Premier Li Keqiang: Against the backdrop of a sluggish world economy and weak trade growth in recent years, China-Russia economic and trade ties are indeed affected by the decline of energy prices and other factors. During last year's press conference, I mentioned that China-Russia trade relations would experience a transitional change within the year. Now I can say my prediction has become true, and of course it's an achievement made by our joint efforts. In the first two months of this year, the surge in China-Russia trade volume is a testimony to the great potential and complementarity of bilateral economic and trade cooperation. The target of economic and trade cooperation set by both countries will come true. Thank you.
[11:52] Premier Li Keqiang: As for the China-Russia relationship, it's a comprehensive strategic partnership as we are the largest neighbors to each other. The sound development of bilateral relations will benefit both the region and the whole world. The several meetings between the heads of our two states last year brought about many consensuses. Meetings between Chinese Premier and Russian Prime Minister have been held regularly, which shows the stability of China-Russia relations.
[11:51] 10. ITAR-TASS: Premier Li, what's your opinion of the China-Russia relationship? Can the two countries make progress in economic and trade ties against the backdrop of world economic instability and energy price fluctuations?
[11:47] Premier Li Keqiang: We should understand and implement the principle of "one country, two systems" comprehensively. I mentioned in the government work report that in the practice of the principle, we will never waver and never make any changes. The central government will introduce more measures that are in favor of the development of Hong Kong and cooperation between the mainland and Hong Kong. For example, we have introduced the program of Shenzhen-Hong Kong Stock Connect. We plan to have a trial of Bond Market Connect between Hong Kong and the mainland this year, which allows overseas funds purchasing bonds on the Chinese mainland. This is the first measure of its kind. It will help Hong Kong maintain its position of international financial center, endow Hong Kong residents with more investment channels and ensure the long-term stability of Hong Kong. Thank you.
[11:46] 9. Phoenix TV, Ifeng: Mr. Premier, my question is related to Hong Kong. For the first time, you mentioned the Hong Kong independence issue in this year's government work report, indicating that "there is no way out for Hong Kong independence." Does this mean any change in government policies? For example, when implementing the basic principle of "one country, two systems," will the government focus more on "one country" instead of "two systems?" Or will support for Hong Kong from the central government be reduced?
[11:45] Premier Li Keqiang: Chinese people are intelligent, hardworking, and have a determined mind to seek for a better life. The Chinese government should create the environment to preserve the people's enthusiasm. Of course, there will be setbacks, but the direction remains correct. Thank you.
[11:44] Premier Li Keqiang: I believe that China has 170 million people that have received either a higher education or vocational skills. They, in combination with 800 million people in the labor force, are capable of creating an amount of wealth and energy beyond calculation. They will also bring countless opportunities to the market, including the international market.
[11:43] Premier Li Keqiang: I believe that as for new things, people will have different ideas. We as a government should assume an open and inclusive attitude and supervise them prudently so that they can enjoy a healthy development.
[11:42] Premier Li Keqiang: By adopting new technologies, traditional engines of growth have been injected with new life in this process. This initiative was greeted by our customer demand. But of course, reversely, it gave the government pressure to upgrade its functions.
[11:41] Premier Li Keqiang: This initiative brings many job opportunities. It is itself a reform, too, because it connects the people, the most important factor in productivity. It gives people equal opportunities for a fair shot to change their life and move upward in their career.
[11:40] Premier Li Keqiang: Mass entrepreneurship and innovation is not only for micro, small and medium-sized enterprises but also for big ones, as there are line workers in big enterprises producing innovative ideas on a daily basis. Covering the entire three industries and all enterprises, mass entrepreneurship and innovation has strong vitality.
[11:38] Premier Li Keqiang: Mass entrepreneurship and innovation came right on time following on globalization and the Internet Plus. We have also pushed reforms to facilitate mass entrepreneurship and innovation. Over the three years, more than 40,000 market entities have been registered each day. That means a growth of over 10 million each year. I talked about it with leaders of other countries. They were very surprised because that number almost equaled the total number of micro, small and medium-sized enterprises in their countries.
[11:37] 8. Shenzhen Special Zone Daily: Last year in October, you went to Shenzhen to participate in the 2016 National Mass Innovation and Entrepreneurship Week. Statistics showed that over one week, more than 500,000 people participated in the activity. Mass entrepreneurship and innovation as well as the shared economy have boomed over the past year, but others may have different opinions. Do you think the public enthusiasm for entrepreneurship and innovation will continue? Thank you.
[11:34] Premier Li Keqiang: I saw in some places that 108 official seals were replaced with just one seal during the process of streamlining administration and delegating power. Similar cases can be seen in other places across China. Some of you probably remember that a graph of the process of project approval, dubbed the "10,000 li of Long March," was shown during the Two Sessions in previous years. The 10,000 li has been reduced to 100 li, but that is still a long way to go and needs to be worked out. As I said just now, we need the tenacity to further promote reforms no matter what resistance we may encounter. To reform is to liberate and develop productivity, motivate people's enthusiasm and bring benefits to ordinary people. The key of governance is to focus on the greater good and meet people's wishes at the expense of nonessential cost. Thank you.
[11:32] Premier Li Keqiang: Of course, this does not mean that we don't have problems or challenges. We need to promote reform. The most difficult part lies in deepening reform, for instance, streamlining administration and delegating power, strengthening regulation and improving government services. This not only impacts the invested interests, but also people's souls. In order to prevent the abuse of power, we need to take away power that shouldn't be there in the first place. Some may be related to the interests of some departments, so we need to reduce the space for rent-seeking. This is not an easy process; it goes from the central government to the local and grassroots governments, so we need to work to the "last mile."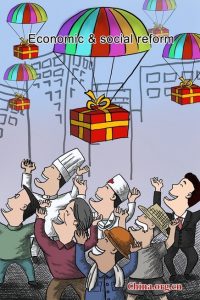 [11:31] Premier Li Keqiang: Over the years, almost every year, I have heard a prediction that the Chinese economy will have a hard landing, but I believe that our economic performance over the past several years should suffice to put such hard-landing prophecies to a stop. In particular, we sustained a medium-high growth rate last year in spite of the fact that both the world economy and global trade hit a 7-year low. I believe that the Chinese economy will continue to enjoy medium-high growth and be upgraded to a medium-high level.
[11:28] Premier Li Keqiang: Talking about the most important achievement made in the past four years, it is that under the leadership of the CPC Central Committee with Comrade Xi Jinping as the core and thanks to the joint efforts of the people across the country, we have successfully developed new approaches to exercise macro-economic regulation and this has helped us ensure that the Chinese economy has continued to perform within an appropriate range while sustaining a medium-high growth rate. There has been a steady growth. We have achieved this without massive stimulus measures, which would have had a big impact. Rather, we have been boosting the upgrading of Chinese industries and consumption patterns which has contributed to optimizing of the economic structure. We have encouraged and enhanced the growth of new drivers for economic development and renovated the traditional drivers of growth. Moreover, we have generated more than 50 million new jobs in urban areas.
[11:27] 7. Lianhe Zaobao of Singapore: This year is the last year of the current term of the government. What has been the most important achievement made in the past four years and what has been the most difficult challenge?
[11:26] Premier Li Keqiang: We are fully capable of expanding employment and will not allow mass unemployment. As for people who cannot be employed instantly or who have difficulties with their livelihood, the government will take responsibility to ensure their basic living conditions. Thank you.
[11:24] Premier Li Keqiang: We want to create an environment conducive to entrepreneurship and employment, not one dependent on the government's "iron rice bowl." The people need to create a "golden rice bowl" with their hard work and wisdom. Over the past few years we have achieved relatively full employment by creating jobs. Here I would like to ask reporters, including foreign journalists, to focus more on the fact that China's jobs are created on its own.
[11:23] Premier Li Keqiang: In the past few years we have been at a peak for new labor force growth. This year, employment pressure is still relatively high, as we have 7.95 million college graduates, a record high, 5 million vocational graduates and hundreds of thousands of transferred workers from the excessive industrial capacity.
[11:21] Premier Li Keqiang: A little attention to the government work report will help you find out that among major economic and social development indexes in the report, one is: we will add 11 million new urban jobs this year, an increase of one million over last year's target. We have to keep the economic growth rate at 6.5 percent, because employment is the biggest issue for a country with a population of more than 1.3 billion. Employment is the foundation of economic development, the source of wealth growth and the main channel of people's income. We have been implementing the active employment policy in recent years and have created more than 13 million new urban jobs for four consecutive years. Employment is still of high priority this year. We will strive to achieve relatively full employment and keep the unemployment rate at a low level.
[11:19] 6. CCTV: Premier, my question is about employment. As you often mention, employment has a vital bearing on people's livelihood. Reports say that you keep a close eye on monthly employment changes when you read economic indexes. You specifically pointed out increasing employment pressure in this year's government work report. So my question is: will there be mass lay-offs this year?
[11:15] Premier Li Keqiang: China maintains a clear-cut stance on this issue. To achieve denuclearization of the peninsula and maintain peace and stability there, we need to sit down and talk. China supports all resolutions of the United Nations and firmly upholds the non-proliferation of nuclear weapons. Tensions may lead to conflicts and will harm all sides. We hope that through the efforts of all the parties concerned, the tensions can be eased, and negotiations can resume. Anyway, no one wants to see chaos on his doorstep. Thank you.
[11:14] 5. Nikkei: U.S. Secretary of State Tillerson is visiting Japan starting from today and will visit China and South Korea later. It's widely believed that one of his major goals is to discuss the situation on the Korean Peninsula. The DPRK has conducted several missile tests and continues to push forward its nuclear weapon programs, resulting in tensions in Northeast Asia. What will China do with the other parties concerned to solve the problem?
[11:11] Premier Li Keqiang: Premier Li Keqiang: So what the government should do is to send a message of "Yes" to all law-abiding market entities, to flash the green "go ahead" light to all hard-working entrepreneurs and innovators and to seriously deal with all violations of laws and regulations, showing them resolutely a yellow card, and even red card, to send them out of the market. Thank you.
[11:08] Premier Li Keqiang: Streamlining administration and delegating power, strengthening regulation and improving government services form an integral whole. The government needs to improve its oversight during and after the process and provide better services for the businesses and people. When market access is widened, the government needs to ensure a fair playing field for all market entities, and violations of laws and regulations will be seriously dealt with, such as making and selling fake foods and goods, cheating the market place and violations of intellectual property rights. All these areas are of high concern to our general public, involving food, drug safety and environment, etc. The government also needs to use the internet and other technologies to ensure that government administrative services will be more easily accessible to our people. The government also needs to focus more on areas like poverty alleviation, rebuilding of shanty towns, providing compulsory education and meeting people's basic health care needs, all of which concern people's livelihood.
[11:06] Premier Li Keqiang: The core of this reform is to transform government functions and balance the relations between the government and the market. This reform cannot be accomplished overnight. The goal of cutting the number of items that require government review has been met, but in this process we have actually discovered a whole variety of other problems involved. In addition to the requirement of government review and approval, there are also various requirements for administrative permits, certification of qualification and administrative fees for our businesses. So these will be the areas of focus for this government reform. Essentially, this reform will help the government focus on things that it should focus on, because some issues we used to be focused on in the past may tie down our businesses, cut government efficiency and even the government's public credibility. So this is a self-targeted reform for the government, and we are fully determined to pushing it forward until our job is done no matter what obstacles or even resistance we may encounter.
[11:05] 4. People's Daily: Mr. Premier, for the past four years, we have seen that you have been highly focused on streamlining administration and delegating power. We've also seen in this year's government work report that the goal of the current administration to cut the number of items that require government review by one third has been fulfilled ahead of schedule. So what about the remaining two thirds? Will this reform be pushed forward, and if so, what specific steps will be taken?
[11:03] Premier Li Keqiang: With regard to the arrangement on regional free trade, as long as China is involved and has the conditions to participate, we will assume an open attitude to promote it. We won't meddle in others' affairs. We won't go beyond China's regional scope to do things we shouldn't. Thank you.
[11:01] Premier Li Keqiang: As for preserving global trade liberalization, it requires the joint effort of every country because the world belongs to everyone who lives in it. We always assume an open attitude to regional trade arrangements, including those established and those that are under discussion. We would also love to see progress in this regard. We will participate in and promote whatever facilitates trade liberalization. We Chinese understand that we have to seize with an open attitude the opportunities of globalization and not miss them, no matter what challenges we face.
[10:58] Premier Li Keqiang: Premier Li Keqiang: Last year, China was still the largest recipient of FDI among all developing countries, with the figure reaching US$126 billion. According to the evaluation on business environment in China made by the World Bank, China jumped 18 places last year compared with 2013. We advanced the construction of Shanghai FTZ, expanded the coverage scale to 11 provinces, autonomous regions and municipalities, and will promote this across the whole country. We will hold the Belt and Road Forum for International Cooperation this year to put forward more opening-up measures. We proposed to establish a Free Trade Zone or make negotiations on investment and trade treaties with many other countries. These are all two-way opening-up measures. We need to know that wider and deeper opening-up will bring about friction, but, it will ease. We are confident about the process. We will build up opening-up and attract more investment to share development opportunities with the whole world.
[10:57] Premier Li Keqiang: Like many other countries, China is the beneficiary of globalization as China is consistently advancing its opening-up. China's priority is to realize its own development, but closing doors cannot realize that. We will continue to step up opening-up, which is a gradual process. In retrospect, we have been moving forward with the process over the past decades.
[10:55] Premier Li Keqiang: First, in a process of globalization that is faced with controversy and has suffered setbacks in some respects, China regularly advocates economic globalization and free trade. It shows clearly that China will promote opening-up. Actually, globalization benefits each country, even though some problems arise in the process, such as in the sector of distribution. We need to tackle these problems rather than reject globalization. China is willing to cooperate with other countries to enhance the global governance system. Globalization is inseparable from the development of world peace. The closed door and beggar-thy-neighbor policies cannot resolve problems.
[10:54] 3. Bloomberg: My Chinese is not good, sorry. The United States is shrinking its role in the global trade system, such as its withdrawal from the TPP. China seems to be poised to play a leadership role in global trade. You and President Xi Jinping both advocate free trade, an open economy and globalization. At the same time, China received criticism for unfair trade practices and measures for curbing opening speed. In the coming year, what will China do to make others believe that China is committed to free trade and open economy?
[10:50] Premier Li Keqiang: As for risks, there are many uncertainties in the global economy and politics, and this can be a huge external risk. For China, lack of development will be the greatest risk. As long as we maintain a medium to high growth rate, we will be making a contribution to the global economy. Of course, we have some risks that we cannot neglect, for instance, financial risks as you mentioned. We are watching these risks closely and we will deal with them in time and with focused measures and won't let them run rampant. Of course, I'll point out that China's financial industry is overall safe and does not have systematic risks. This is because we have a lot of tools at our hands. Our fiscal deficit is less than 3 percent, the capital adequacy ratio of commercial banks stands at 13 percent and the provision coverage ratio is 176 percent — all of these are better than many other countries, especially by the standards set by the international community. Therefore, we are able to avoid and prevent risks. We will buckle up during our medium- to high-speed ride, so as not to have a sudden risk, or a regional or systematic risk. Thank you.
[10:48] Premier Li Keqiang: We set this year's economic growth at 6.5 percent. I've read foreign media that described it as China's "moderate downward adjustment." As a matter of fact, I should point out that 6.5 percent is not a low rate and won't be easy to achieve. I once visited the Shaolin Temple with some foreign friends for a martial arts performance. I saw that the young monks can do a dozen of somersaults at one go very easily, but it would be quite a feat for adult monks to do even several – this is because of their different sizes. If we are able to achieve the 6.5 percent target this year, that will generate more economic output than last year, because this is achieved on the basis of 74 trillion yuan, or about US$11 trillion. This can generate 11 million jobs. It is in accordance with economic rules and this way we can focus more on the quality of China's growth. I believe China will continue to be a strong driving force for the global economic growth.
[10:47] 2. China National Radio: The growth rate of the Chinese economy has slowed in recent years. This year, China has set its GDP growth target at around 6.5 percent. Will this adversely affect the global economy? Moreover, some people think that there are some risks in the Chinese economy, especially in the financial sector. Do you think that the Chinese economy can still remain the global economic engine driving the global economy while global economic growth is sluggish?
[10:44] Premier Li Keqiang: We may have different statistical methodologies, but we can continue talking to reach a consensus. Even if we cannot reach a consensus at once, we can temporarily shelve our differences. Recently I read a report by a reputable foreign think tank. It said that if trade wars broke out between China and the United States, those suffering first would be foreign-funded enterprises in China, particularly those funded by the U.S. Our hope on the Chinese side is that trade relations will move forward in positive directions. Chinese people and Americans are both great peoples. We have the wisdom to control our differences, and also have the need and conditions to enlarge our common interests. Thank you.
[10:43] Premier Li Keqiang: In terms of trade issues, although China currently has a surplus, more than 90 percent of Chinese companies' profits were taken by the United States. We have statistics showing that last year China-U.S. trade and investment created more than one million jobs in the United States.
[10:42] Premier Li Keqiang: Facing these differences, we should continue our exchanges and sit down to talk calmly to enhance communication. China-U.S. relations not only affect the interests of the two countries but also regional and global peace and stability; this is why we need to  keep our ties moving forward.
[10:41] Premier Li Keqiang: We are optimistic about the China-U.S. relations, because we have had broad common interests over the many decades since China and the U.S. established diplomatic ties. Of course, we also have disagreements on some issues which you mentioned just now, such as employment and exchange rate.
[10:40] Premier Li Keqiang: The one-China principle is the political foundation for the China-U.S. relations. It is not negotiable. With this political foundation, the two countries will have a broad future in cooperation.
[10:39] Premier Li Keqiang: Soon after Trump became the U.S. president, he and President Xi Jinping talked on the phone. The two leaders said they would jointly keep China-U.S. relations moving forward. Trump and senior U.S. officials also said they will uphold the one-China principle.
[10:37] Premier Li Keqiang: Your question reminded me of my speech last year in New York, when the U.S. presidential campaign was white hot. I was asked how the China-U.S. relations would develop when a new U.S. president takes office. My answer was that whoever becomes the new U.S. president, China-U.S. relations will keep moving forward despite the changing circumstances.
[10:35] 1. CNN: Good morning, Mr. Premier. President Trump has been consistently critical of China, claiming that it is stealing US jobs, manipulating its currency and not doing enough for regional security. Now we are hearing that the US-China talks at the highest level may take place as early as next month. We have a good idea of what the U.S. wants from China, but what does China want from the U.S.? What is China's bottom line for a healthy and sustainable Sino-US relationship? Are you confident that you can achieve that or would it be a difficult process?
[10:34] Premier Li Keqiang:
Just now, I heard the spokesperson say that today we have many journalists here. I heard that many of you arrived here 2 or 3 hours in advance. I thank you for your attention. Since we have limited time, I invite you to be direct with your questions.
[10:33] The Premier is making a few opening remarks before answering questions from journalists. He thanks journalists for their hard work during the two sessions.
[10:31] Fu Ying, spokesperson for the National People's Congress:
Everyone, the fifth session of the 12th NPC has just concluded. We are very pleased to have Premier Li Keqiang with us and to respond to your questions. We have a full house today, so please refrain from asking more than one question. Now let's welcome Premier Li to give us some opening remarks.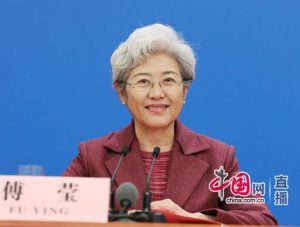 [10:29] Premier Li enters the press conference hall and greets journalists.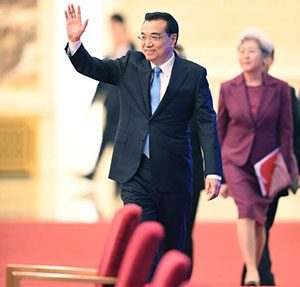 [10:23] 

@Ewanyang:
I hope that the Two Sessions can help better address the problems in people's lives.
[10:09] The press conference to be given by Premier Li Keqiang will begin at about 10:30 a.m. (02:30 GMT) today.
[10:04] 

@commander Christensen:
What will the central government's policy onthe real estate market be in 2017 and whether the market in major cities willpick up or not – I'm looking forward to it.
[10:00] The premier's press conference, which follows the NPC closing ceremony each year, started in 1991, when Premier Li Peng accepted the invitation from Zhou Jue, spokesperson for the Fourth Session of the Seventh NPC, to meet the press. In the press conference, media from Hong Kong, Macao, Taiwan, and international agencies were granted with one question each.
[09:57] 

@user3592397282:
One of the major topics at the Two Sessions is of people'swell-being. And one of the problems is the medical treatment of disabledveterans. Their medical bills have piled up since the reform of the medicalsystem. They find it difficult to afford their medical expenses. I hope the Party and the government can continue to help them!
[09:55] The Great Hall of the People in Beijing is filled to capacity with journalists vying to raise questions to Chinese Premier Li Keqiang on Wednesday in a media war.
[09:50] Zhang Dejiang announced the conclusion of the fifth session of the 12th National People's Congress (NPC).
[09:46] 

@zhangkou comment:
I think that the Two Sessions should be held twice a year. CPPCC members and NPC deputies should open Weibo accounts to listen to what the ordinary people have to say.
[09:40] The NPC deputies approved a number of important documents, including the government work report, the national economic and social development plan and the central budget. .
 Infographic: China's major areas of work for 2017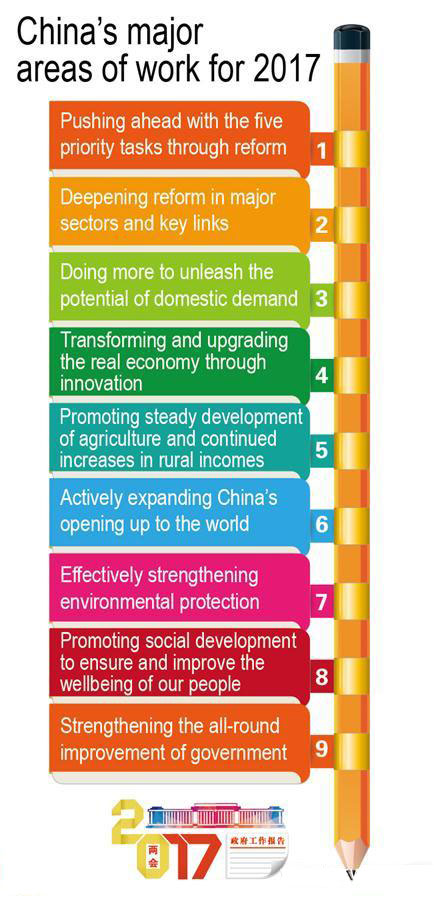 [09:35]

@all of a sudden:
I hope that the NPC deputies can propose to draft specific laws dealing with the abduction of women and children, school bullying and crimes committed by minors!
[09:33] The lawmakers endorsed the work reports of the NPC Standing Committee, the Supreme People's Court and the Supreme People's Procuratorate.
[09:17] 

@Sina Weibo Huixiaohui_sufe:
The draft of the General Principles of the Civil Code proposes to lower the age limit of minors with limited capacity for civil conduct from 10 to 8 years. I think it is reasonable to do so.
[09:10] Zhang Dejiang, chairman of the NPC Standing Committee, presided over the meeting.
[09:07] The National People's Congress, China's top legislature, is holding the closing meeting of its annual session.
[March 15, 08:23]  The closing meeting of the fifth session of the 12th National People's Congress (NPC) will be convened at the Great Hall of the People in Beijing at 9 a.m.
————————————————–————————————————–
[16:00] The fifth session of the 12th National Committee of the Chinese People's Political Consultative Conference (CPPCC), the country's top political advisory body, concluded on March 13 in Beijing.
[15:49] The Supreme People's Procuratorate (SPP) has prosecuted a total of 19,345 suspects and supervised the handling of 62 major fraud cases, said the procurator-general Cao Jianming during his work report on March 12.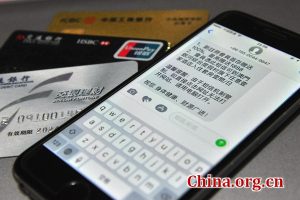 [15:33] China's Supreme People's Court and Supreme People's Procuratorate delivered their work reports to lawmakers and political advisors at the Great Hall of the People on March 12, 2017.
[15:02] Among 90 million eligible couples nation-wide, only 28 percent of them are willing to bear a second child due to various reasons, said Wang Pei'an, vice head of the National Health and Family Planning Commission (NHFPC), citing that women's career prospects, a shortage of facilities for child care as well as economic pressure are topping the list of their worries.
[14:50] Officials from the National Health and Family Planning Commission addressed concerns from the public at a press conference on March 11.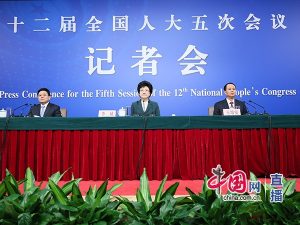 [14:38] Chinese Foreign Minister Wang Yi said Wednesday that China will continue to be an anchor of international stability, an engine of global growth, a champion of peace and development and a contributor to global governance.
[14:25] China's National People's Congress (NPC) reviewed a draft of the General Principles of the Civil Law. According to the Legislative Affairs Commission of the NPC Standing Committee, there will be two steps in compiling the Civil Code. The first is to stipulate the code's general principles, and the second is to comprehensively integrate civil laws.
[14:12] Reporters covering the annual NPC sessions are delighted to have a platform to engage with China's political elite. With the platform, dubbed the "ministers aisle," they are now able to get easier access to China's big political decision-makers. During this year's session, Chinese ministers are invited to speak to media personally here — in what is seen as a step forward in information openness.
[13:59] The National People's Congress (NPC) is the highest organ of State power. It supervises the State Council, the Supreme People's Court, the Supreme People's Procuratorate and the Central Military Commission. 
 Infographic: What you need to know about the NPC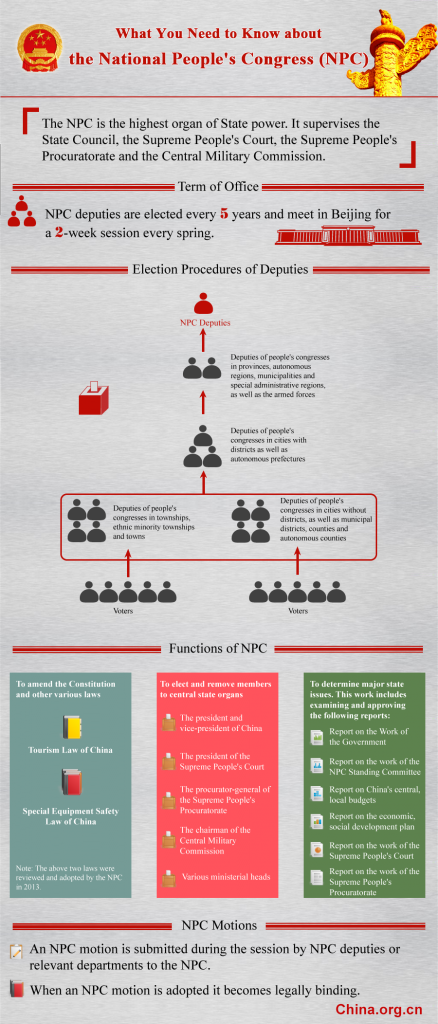 [13:47] At the opening meeting of the fifth session of the 12th National People's Congress(NPC) on March 5, Premier Li Keqiang delivered the government work report to nearly 3,000 legislators in the Great Hall of the People. 
 Webcast in review: Li delivers gov't work report
[13:23] Chinese Premier Li Keqiang will host a press conference immediately after this year's NPC session concludes.
[13:08]
 Infographic: Premier Li's press conference 2016 in quotes

[March 14, 13:00] The fifth session of the 12th National People's Congress (NPC), China's top legislature, will hold its closing meeting on March 15, according to the agenda.