Editor's note:
China.org.cn presents a live coverage of the opening ceremony of the first session of China's 13th National People's Congress (NPC) on the morning of March 5, 2018. Chinese Premier Li Keqiang delivers the government work report at the meeting.
——————————————————————
No need to reload page, content updates automatically every two minutes. All time is Beijing Time (GMT+0800).
[10:50]

Premier Li concludes his work report. Thank you for staying with us.
[10:49] China will continue to play its part as a responsible major country in resolving international and regional hotspot issues, Li says.
[10:48] The Chinese mainland will support Hong Kong and Macao in integrating their own development into overall national development. It will also continue to promote peaceful development of cross-Strait relations on the basis of the 1992 Consensus, and advance China's peaceful reunification.
[10:46] China will continue to reform national defense and armed forces.
[10:45] Li says: We will fully implement the Party's basic policy on religious affairs. We will fully implement policies related to overseas Chinese nationals.
[10:41] All governance will be exercised in accordance with the Constitution and the law. All initiatives to improve Party conduct and ensure clean government will be strengthened. All aspects of government performance will be improved.
[10:40] The government's work in the new year must bring new steps and make new advances, Li says.
[10:36] 
Apusmelba:
The deputies represent the fundamental interests of the people.
[10:35] China will launch a new three-year renovation plan to address housing in rundown urban areas, starting with construction of 5.8 million units this year. "People's housing needs will be better addressed this year," says the premier.
[10:29] China will completely open up its general manufacturing sector to foreign investors this year. Access to sectors like telecommunications, medical services, education, elderly care and new energy vehicles will also be expanded for foreign investment.
[10:26] China will strengthen the fundamental role of consumption in driving economic growth while promoting effective investment in 2018. The country will promote consumption upgrading and develop new forms and models of consumption, extend preferential policies on purchase tax on new-energy vehicles by another three years, and rescind all local policies that restrict sales of non-local second-hand vehicles.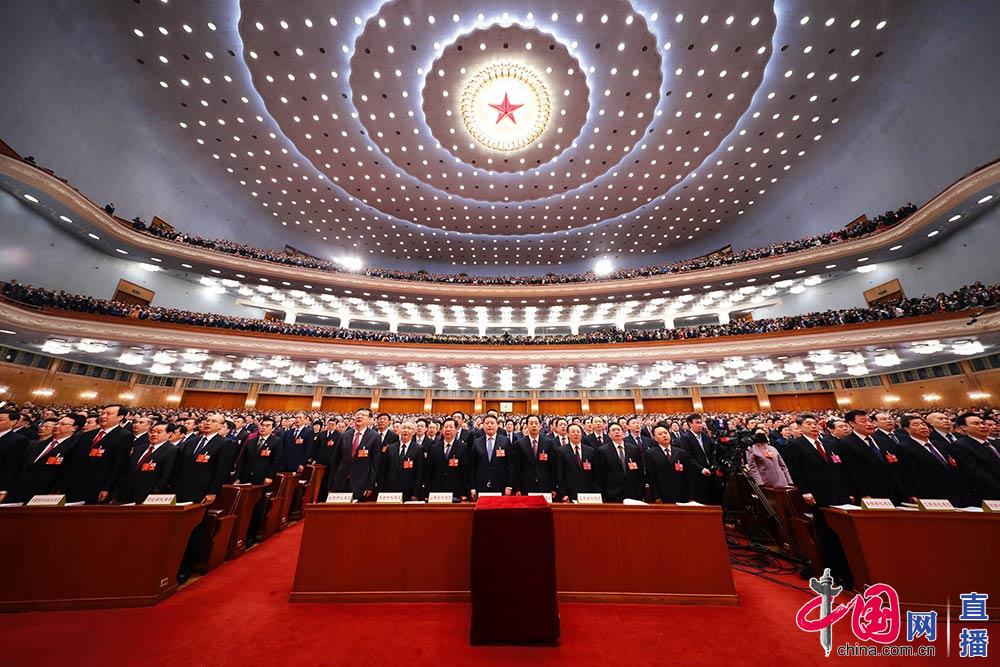 [10:24] China will unveil and implement the development plan for the Guangdong-Hong Kong-Macao Greater Bay Area, among other moves to promote coordinated regional development of the country this year.
[10:22] China will promote infrastructure construction, one of the measures for rural revitalization. The country will improve the infrastructure for supplying water and power, for information, and build or upgrade 200,000 kilometers of rural roads.
[10:18] China will cut sulfur dioxide and nitrogen oxide emissions by 3 percent and achieve a continuous decline in PM2.5 density in key areas, Premier Li Keqiang says.
[10:17] China will further reduce the poor rural population by over 10 million, including 2.8 million people who are to be relocated from inhospitable areas.
[10:15] China pledges more measures to stimulate innovation. The country will empower innovation teams and leaders by seeing that they have more human, financial, and material resources at their disposal and more power to make decisions related to technology roadmaps.
[10:10] China will reduce taxes on businesses and individuals by more than 800 billion yuan (about 126 billion U.S. dollars) in 2018.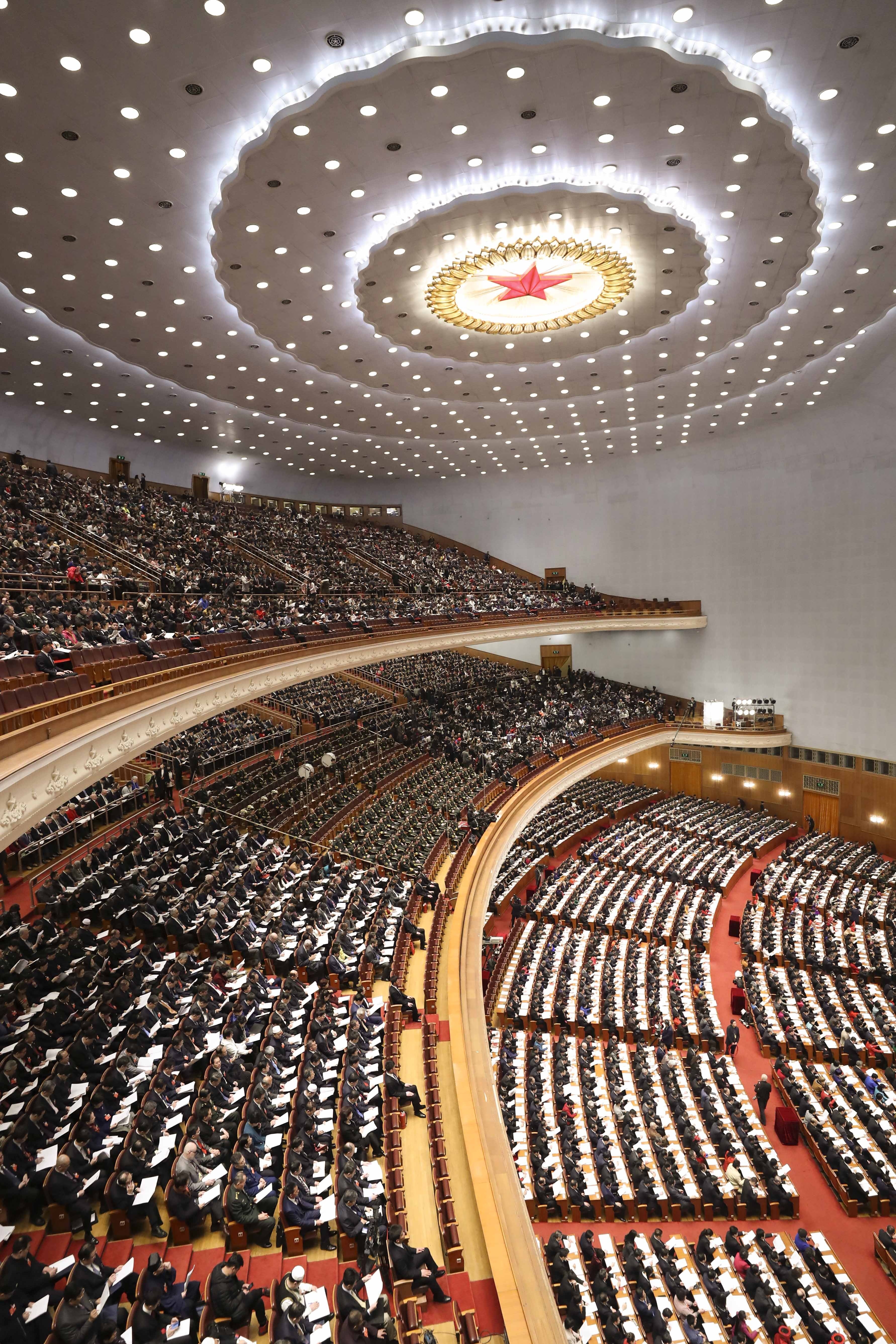 [10:05] China will cut steel production capacity by around 30 million metric tons and coal production capacity by approximately 150 million metric tons this year.
[10:02] China will abolish domestic data roaming fees to cut cost for increasingly digital Chinese consumers.
[10:00] China's prudent monetary policy will remain neutral this year, with easing or tightening only as appropriate. China lowered its fiscal deficit target to 2.6 percent of GDP for 2018, down by 0.4 percentage points compared with 2017. The government deficit is projected to be 2.38 trillion yuan (about 375 billion U.S. dollars), with a central government deficit of 1.55 trillion yuan and local government deficit of 0.83 trillion yuan.
[09:59] 
 Harvey Dzodin: Research fellow for the think tank Center for China and Globalization, senior adviser to Tsinghua University and former director and vice president of ABC Television in New York.
Beginning on March 5, attention in China, and, indeed, the rest of the world, will be focused on Beijing and the annual so-called "Two Sessions," involving the meetings of the 13th National People's Congress and the 13th National Committee of the Chinese People's Political Consultative Conference. As has been the case in recent years, "innovation" will be both a major theme and preoccupation, given even more importance this year after pronouncements from Party General Secretary Xi Jinping in his work report at last fall's 19th National Congress of the Communist Party of China, regarding the shape of the new era and the new principal contradiction, both inextricably linked to accelerated advance of innovation in numerous fields.
[09:58] Major targets for 2018:
— GDP growth of around 6.5 percent
— CPI increase of around 3 percent
— Over 11 million new urban jobs, the surveyed urban unemployment rate within 5.5 percent, and the registered urban jobless rate within 4.5 percent
— Basic parity in personal income growth and economic growth
— A steady rise in import and export volumes, and a basic equilibrium in the balance of payments
— A drop of at least 3 percent in energy consumption per unit of GDP, and continued reductions in the release of major pollutants
— Substantive progress in supply-side structural reform, basically stable macro leverage, and systematic and effective prevention and control of risk
[09:55] "We enjoy composite advantages, and all this means that we have the ability and the conditions to achieve higher quality, more efficient, fairer, and more sustainable development," Li says.
[09:53] Today, China's material and technological foundations are much stronger; its industrial system is complete, its market is vast, its human resources are abundant, and its entrepreneurs and innovators are dynamic, the premier points out.
[09:44] The premier vows no tolerance of "Taiwan independence".
[09:35] The composition of Chinese foreign trade and foreign investment in China improved, and volumes ranked among the largest in the world.
[09:30] The Belt and Road Initiative made major progress.
[09:25] 
 Richard de Grijs:A Dutch professor of astrophysics and Associate Dean at Macquarie University in Sydney (Australia).
This year's "two sessions," the annual meetings respectively of China's top legislators and political advisers in Beijing, should serve as a moment to take stock of the country's successes and failures, especially those in the scientific and environmental domains.
[09:24] The debt-to-GDP ratio has remained unchanged at 3 percent, says the premier.
[09:20] Li reports: More than 68 million people have been lifted out of poverty. Tourist departures have grown from 83 million to over 130 million. Both energy and water consumption per unit of GDP have fallen more than 20 percent, the release of major pollutants has been consistently declining, and the number of days of heavy air pollution in key cities has fallen 50 percent.

[09:15] China's contribution to global growth exceeded 30 percent. Government revenue increased from 11.7 trillion yuan to 17.3 trillion yuan. Over 66 million new urban jobs were added. Consumption's contribution to growth increased from 54.9 percent to 58.8 percent. The share of the service sector rose from 45.3 percent to 51.6 percent of the economy. China's urbanization rate rose from 52.6 percent to 58.5 percent.
[09:10]China's gross domestic product (GDP) has risen from 54 trillion to 82.7 trillion yuan, registering average annual growth of 7.1 percent, Li says.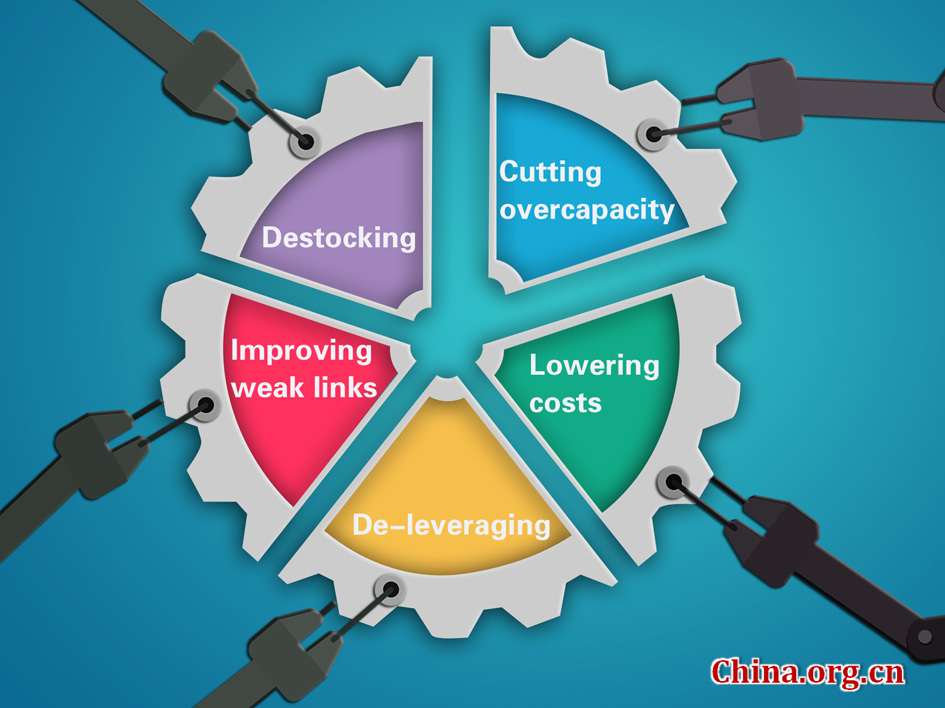 [09:06] At its 19th National Congress, the Communist Party of China established the position in history of Xi Jinping Thought on Socialism with Chinese Characteristics for a New Era, and mapped out an inspiring blueprint and a program of action for securing a decisive victory in building a moderately prosperous society in all respects and for striving for the success of socialism with Chinese characteristics for a new era. This is of great immediate significance and far-reaching historical significance, says the premier.
[09:05]

Premier Li Keqiang is delivering the annual government work report to nearly 3,000 legislators in the Great Hall of the People.
[09:03] 
Dr. professor of the world:
All the people are looking forward to the upcoming "two sessions."
[09:00] Li Zhanshu announces the opening of the first session of China's 13th National People's Congress.
[08:52] A decision by the Communist Party of China (CPC) Central Committee on deepening reform of Party and state institutions was made public Sunday.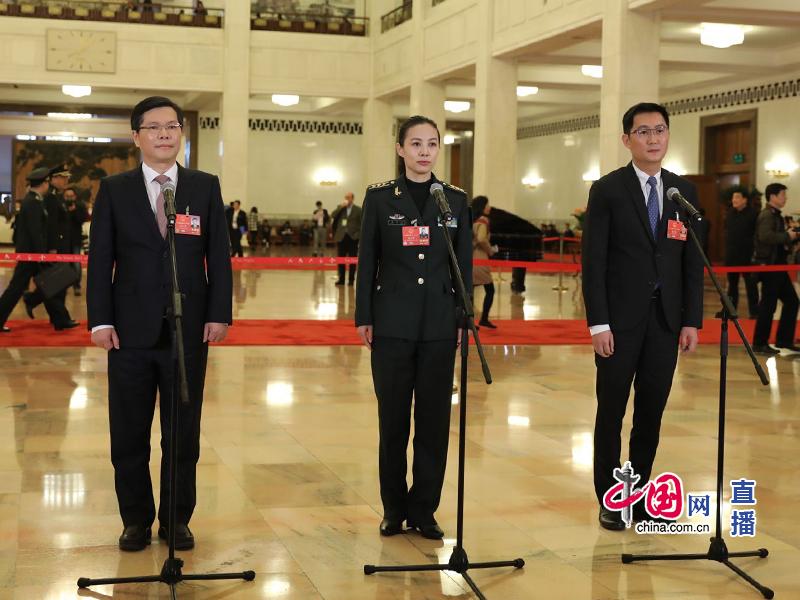 [08:36] NPC deputies will also deliberate a draft revision to the Constitution, a draft law on supervision, and the work reports of the NPC Standing Committee, the Supreme People's Court and the Supreme People's Procuratorate.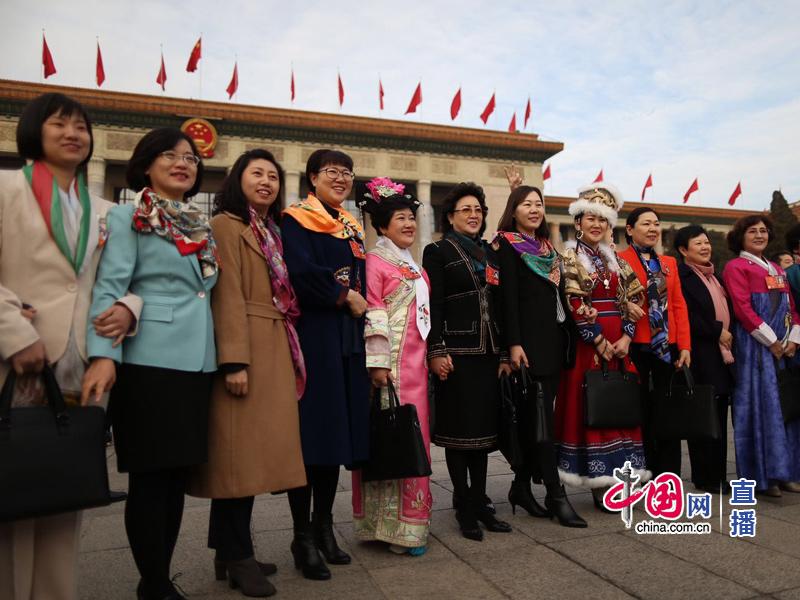 [08:35] The agenda of the session this year includes reviewing the government work report, examining reports on the implementation of the annual plan on national economic and social development in 2017 and the draft plan on national economic and social development in 2018, and examining reports on the implementation of the central and local budgets in 2017 and the draft central and local budgets in 2018.
[08:20] 

 Earl Bousquet: Editor-at-large of The Diplomatic Courier and author of an online regional newspaper column entitled Chronicles of a Chronic Caribbean Chronicler.
Like it does every year, China today starts to look back and ahead, reviewing the past year to plan for the nation's immediate and distant future.
The Two Sessions of the National People's Congress (NPC) and the Chinese People's Political Consultative Conference (CPPCC) will bring together the nation's top legislators for the 13th time, to trace the steps of the past 12 months and outline the strategic goals for the coming years and decades.
Ahead of the 2018 two sessions, the Communist Party of China (CPC), the CPPCC and other related national bodies have met to fine-tune their presentations.
The world also joins China in paying attention to the Two Sessions, as there's also global interest in their decisions. The focus will again be on Beijing, where different bells will toll as the Two Sessions signal China's positions on the issues topping the global political, economic and development agendas.
Expectations will be heavy on issues ranging from projections for more stable economic growth in China to creating an even bigger market and destination for world goods and investments, while increasing the nation's contribution to global trade and growth.
Reporters and correspondents, analysts and experts from everywhere will also be scouring the Beijing skies for signals flagging China's plans, positions and principles on everything — from world peace and development to the pace of progress on the Korean Peninsula and the accelerated progress of the Belt & Road Initiative (BRI).
China's plans in its transition — from a period of rapid economic growth to high quality development along the road of socialist construction and modernization — will also continue to draw attention from across the seas and skies, borders and boundaries.
Once more, many the world over will be patiently watching and impatiently waiting – and once again, China's Two Sessions will deliver!
[08:16] 
SnuggleMan:
This (The system of the people's congress) is the best proof that the people are running the country!
[March 5, 08:04]

The first session of the 13th National People's Congress is to open at 9:00 a.m. in Beijing.
——————————————————————
[11:23] The first session of the 13th National People's Congress (NPC), China's national legislature, is set to open Monday and last 15 and a half days, a spokesperson said Sunday.
Apart from the reviewing of reports including a government work report, NPC deputies will deliberate on a draft revision to China's Constitution, a draft supervision law, and a reform plan for State Council institutions, Zhang Yesui, spokesperson for the first session of the 13th NPC, said at a news conference in Beijing.
The deputies will also elect and decide on members of state organs, Zhang said.
The session will conclude on the morning of March 20.
[11:18] The two sessions this year will be the first annual sessions opened under the guidance of Xi Jinping Thought on Socialism with Chinese Characteristics for a New Era.
A number of topics are of interest to the public:
— New thought
The proposal of writing Xi Jinping Thought on Socialism with Chinese Characteristics for a New Era into the country's fundamental law will get much attention during the two sessions. The thought, which was set at the 19th National Congress of the Communist Party of China (CPC) last October, has become the guideline for China's new development.
— New state leadership
One of the most important issues of the first session of the 13th National People's Congress will be the election of state leadership, including the Chinese president. China's current president Xi Jinping was elected to the post at the first session of the 12th NPC five years ago.
— New anti-corruption model
A new national supervisory platform is expected to be introduced, as China is spearheading a pilot reform of supervisory systems, with supervisory commissions being established at provincial, city, and county levels. Sharing offices and staff with CPC discipline inspectors, the new commissions will incorporate existing supervisory, corruption prevention and control agencies within government and procuratorates. With a complete supervisory network over all state functionaries under the Party's leadership, China can create a new anti-corruption model.
— New growth target
Analysts believe the economic growth target this year will be somewhat on par with that of last year. But the growth, among the fastest in the world, can not change the fact that China is still a developing country, given that its per capita GDP lags far behind that of developed countries. China's economic growth will bring opportunities for the rest of the world, but what exactly? The answer will be found in the two sessions.
— Poverty alleviation
China aims to eliminate absolute poverty by 2020 before becoming a moderately prosperous society. China has lifted 68.53 million people out of poverty over the past five years, which is equivalent to an annual reduction of at least 13 million. The country's poverty rate dropped from 10.2 percent in 2012 to 3.1 percent in 2017. Despite this progress, there were around 30 million Chinese living below the national poverty line at the end of last year.
— Role of the Constitution
Major theoretical achievements, principles, and policies adopted at the 19th CPC National Congress are to be incorporated into the upcoming revision to the Constitution, so as to keep pace with the times and improve the Constitution while maintaining its consistency, stability and authority since it was last amended in 2004.
— 40 years of reform and opening up
After decades of reform and opening up, Chinese people's lives are getting better. The country is expected to make new historical strides in 2018 as the country marks 40 years of reform and opening up to the world.
— People's livelihood
A stronger social security system will not only improve the well-being of Chinese people, but also boost individual consumption and reduce the dependence of China's economic growth on exports. President Xi said recently the issues that concern the people most — education, jobs, health care, social security and order — should be properly dealt with to let the people feel richer, happier, and safer. New policies concerning the people's livelihood may be released.
— National defense
China has started a national defense and military reform in an effort to have a stronger military to better safeguard peace. China's defense budget and new reform measures concerning army building are to receive attention.
— A community with shared future for humanity
China champions the development of a community with a shared future for humanity, and has encouraged the evolution of the global governance system. The Belt and Road Initiative, part of China's efforts to boost the development of such a community, may continue to be a hot topic at the annual sessions and new measures may be formed.
[11:13] 

 Rabi Sankar Bosu: Secretary of New Horizon Radio Listeners' Club, West Bengal, India
The "two sessions" of the 13th CPPCC and NPC will be the first national assembly following the 19th National Congress of the Communist Party of China in October last year, at which "Xi Jinping Thought on Socialism with Chinese Characteristics for a New Era" was enshrined in CPC Constitution. It is hoped that the participating Chinese leaders in the annual two sessions will unveil the policies on high-quality development, the environment, risk prevention, sufficient employment and the fight against corruption as well as reinforcing rural vitalization for beautiful China. It is also an opportunity for the world to watch how China being a world leader will continue to open up and push globalization with Chinese wisdom at a time when certain Western powers are retreating from globalization to populism, from liberalism to conservatism. It is anticipated, these Two Sessions will make history by prioritizing global governance issues for the first time in the history of P. R. China.
[11:09] 
shoes: The deputies are elected by the people! They care about the people!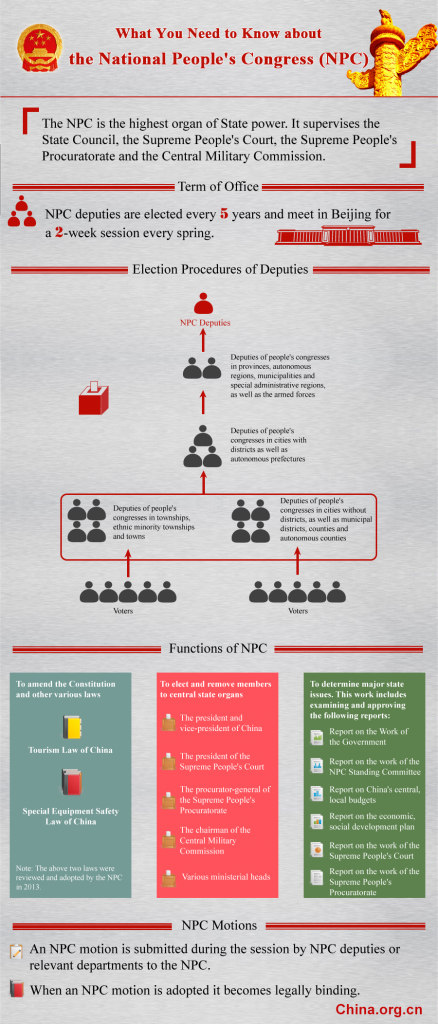 [March 4, 11:00] The NPC is the highest institution through which the Chinese people exercise their state power. Elected for a term of five years, it normally meets at an annual session and is convened by its Standing Committee. The first NPC was convened in 1954, marking the establishment of the people's congress system in China.