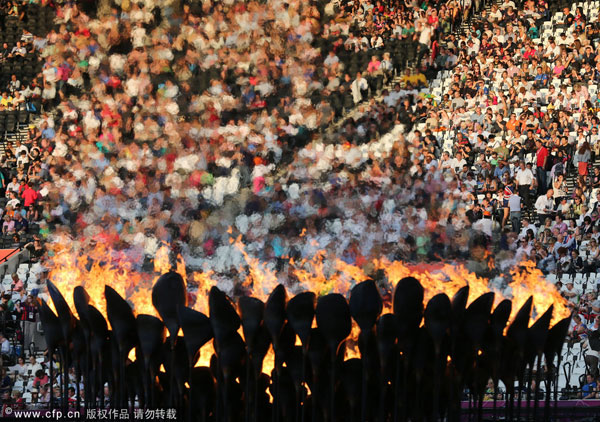 Editor's note:
China.org.cn provides a live webcast and minute-by-minute coverage of the London Olympic closing ceremony.
Stay tuned here for live coverage on this event.
Join us to discuss about the ceremony in our

forum

.
———————————————————————————-
No need to reload page,content updates automatically every two minutes. All time is Beijing Time (GMT+0800).
[07:10:00]
The closing ceremony ends with The Who's rocking performance! Goodbye London and see you in Rio 2006!
[07:03:00]

futurecastle-Jianzhen said:
Tonight's closing ceremony was a musical feast which gave us a taste of Britain's cultural charm. During one 8-minute segment, we got to see Pele and were able to look forward to the Rio Olympics. Finally, the 16-day Olympic journey is over and it has left us with so many memories, given us moments of joy, despair, controversy and
unforgettable performances which will echo in history…  Who do you think was the outstanding athlete of these Games? Goodbye, London, Hello Rio!
[07:00:00]
The Olympic flame is extinguished.

..

[06:58:00]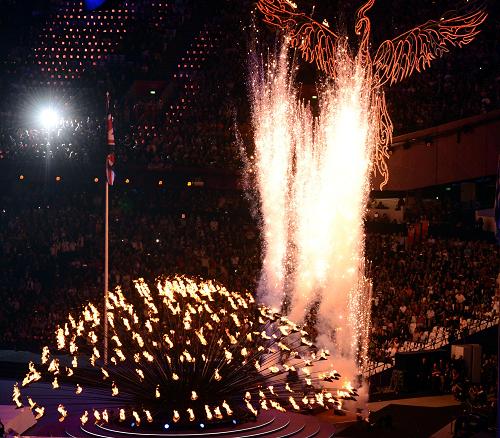 [06:56:00] Take That appear on stage to sing their hit Rule the World.

[06:47:00] London 2012 chair Sebastian Coe and IOC chief Jacques Rogge address the ceremony.
[06:42:00]

Li Hongbing from People.com.cn said:
Even if the London Olympic Games had its fair share of controversy, it still impacted us with its Olympic spirit. It took us beyond sports, gold medals and even the Olympic Games itself. It made us consider the true meaning of justice, patriotism and happiness.
[06:40:00] This is an eight minute segment celebrating Rio's mix of cultures, music and dance.
[06:31:00]
Boris Johnson, Mayor of London hands the Olympic Flag to IOC President Jacques Rogge, who presents it to Eduardo Paeds, Mayor of Rio de Janero. Following tradition, each man waves the flag four times.
[06:26:00] The Olympic flag is lowered, followed by the Olympic anthem sung by the London Welsh Male Voice Choir and the London Welsh Rugby Club Choir.
[06:24:00] Queen members Brian May and Roger Taylor perform We'll rock you, joined by Jessie J.
[06:05:00]

 Verschwinden-D said:
Why didn't they provide chairs for the athletes? It must be very tiring to stand for such a long time. Lol.
[06:12:00] Here comes British band Muse, performing the official song of the London 2012 Games – Survival.
[06:08:00]

Daofengzhanshi_Gudujiaozhi said:
Eight super models performed in the ceremony. Guys, let's rush to buy the next Vogue magazine with their Olympic photos in it.
[06:01:00] They reformed for one night only to perform 'Wannabe' and 'Spice up your life'.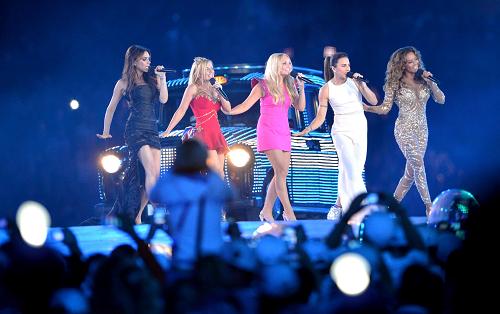 [05:59:00]

The five black cabs each carry a member of the Spice Girls!
[05:53:00]

Chuyufannaozhongyangwangxingfu said:
London Olympic opening and closing ceremonies make me feel that everyone is equal. During the opening ceremony, all workers who participated in the construction joined in. In the closing ceremony, all volunteers joined in with the exception of the athletes. It does of  job of showing the idea that everyone is equal.
[05:51:00]

Spectacular view of closing ceremony

Gallery>>
[05:45:00]

No_2 image Mao Zhe said:
There are so many classic songs, of which Freedom is my mom's favorite. To be frank, I think the lighting effects of the opening and closing ceremonies at the London Olympics is much better than the Beijing Olympic Games. Is it because the BBC better?
[05:30:00] Here comes Annie Lennox on a dark skeletal ship. She performs her 1993 hit Little Bird.
[05:25:00] The head of the Chinese Olympic delegation, Liu Peng, has praised the London Olympics as a great platform for sports, culture and friendship, at a closing news conference in the final hours of the London Games.

Source: CCTV
[05:15:00]

Here come footage of Imaging by John lennon and Freedom by George Michael.
[05:10:00] The 70,000 Games Maker volunteers are publicly thanked in the stadium for all their hard work.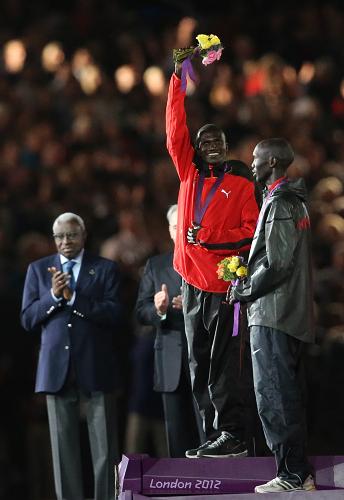 [05:00:00] Now is the victory ceremony for men's marathon...
[04:57:00]

Han Qiaosheng, CCTV Sports commentator, said:
I'm watching the closing ceremony of the London Olympics, and I can't help but feel that it is the perfect combination of tradition and modern culture. Over the past 16 days, elite athletes from five continents gave a fantastic performance in London, a city full of amazing art and music.  But every time I see another Olympics, I have this indescribable feeling in my heart. How time flies! The London Games, something that I have been looking forward to for long time, have already come to pass. But, Rio is just in front of us!
[04:48:00]

Performance at the Closing Ceremony

Gallery>>
[04:40:00] Xu Lijia, the sailing gold medalist, is carrying Chinese flag.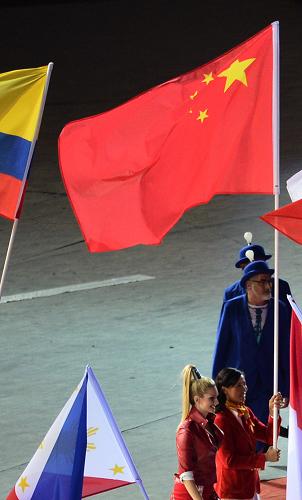 [04:35:00] Chinese athletes borke 6 world records and 6 Olympic records in London!
[04:30:00]

Delegation flags, Olympic athletes are entering the stadium. Some of them come down from the audience stands.
[04:28:00] Emeli Sande, again, on the stage to end the first part with "Read All About It".
[04:25:00] Ray Davies is perform his acclaimed song "Waterloo Sunset".
[04:24:00]

The scence changes from dawn to dusk with Beatles' classic "A Day in the Life ".
[04:15:00] The Pet Shop Boys are performing 'West End Girls' ....
[04:12:00]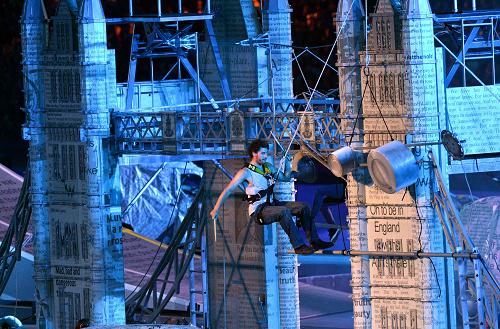 [04:07:00]

 Xi Zhihao George:
The London Olympics will be over on the morning of August 13, Beijing time, and will close with a musical finale that has been two years in the making. The next Olympics will be held in Rio de Janeiro, Brazil. I hope China can do even better at the next Games, and am looking forward to the Paralympic Games.   I hope everybody supports the upcoming games, as there are many disabled people among us!
 [04:05:00] 

The show begins...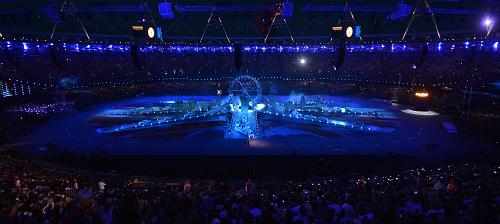 [03:30:00]

 Luoshuiqingbo said:
The London Olympic Games are about to close. The most memorable Olympic moment for me was Liu Xiang hopping down the track on one leg and kissing the final hurdle. I could honestly see his deep love of the sport. I hope he can recover as soon as possible. Despite the controversy surrounding the London Games,I want to say that I respect the athletes and believe in their spirit, and will refrain from doubt.
[03:05:00] Less than one hour to go until the start of the closing ceremoy!
[02:15:00]

Hunshuimojiaguwen's comment regarding Xu Lijia, China's flag-bearer at the London Olympic closing ceremony:
Xu Lijia, aged 25, won the women's Laser Radial at the 2012 London Games despite being almost blind and deaf from birth. In addition to her physical disabilities, Xu also missed the 2004 Athens Olympics due to a malignant tumor. Without a doubt, Xu Lijia is tangible example of what it means to be an athlete and perfectly encapsulates the Olympic spirit.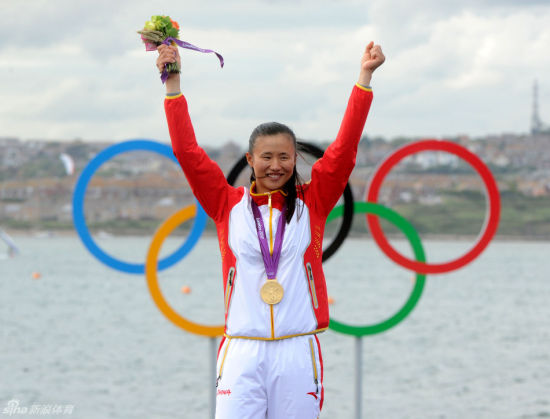 [01:03:00]

Changshayouyishangdian says:
If the Olympic opening ceremony can be described as a wedding, then the closing ceremony will be the after party. Adele, the Spice Girls, Elton John, George Michael, Paul McCartney, Pink Floyd, Muse and Queen ... Music fans and sports fans, are you ready? Four O'clock in tomorrow morning, remember to wake up in time!
[00:07:00] London 2012: Closing ceremony preview
 Source: CCTV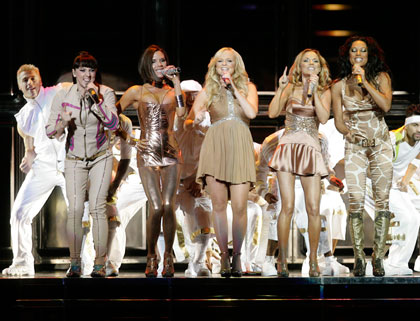 [23:26:00]

British stars set to appear include George Michael, The Who, Annie Lennox, and Fatboy Slim, as well as the Spice Girls.
[23:24:00] The closing ceremony begins at 9pm London time. It will feature music as a tribute to one of Britain's strongest cultural exports in the past five decades.
[23:17:00] As the London Games were about to close on Sunday night, International Olympic Committee president Jacques Rogge said he is "very happy" with the Games and "very grateful" to London.