Li Na ousted No.2 seed Maria Sharapova in straight sets on Jan. 24, 2013 to reach the Aussie Open final.
China.org.cn provides a minute-by-minute coverage of the game.
All time is Beijng time. [GMT+0800]
———————————————————————

[12:16pm:]

Li Na 6-2,6-2 Maria Sharapova
Match point for Li Na.
Long serve first up.
Then she goes for a big forehand winner down the line, and just misses. Deuce.
Li Na follows up with a swinging wide ACE!
Second match point.
Fault.
Sharapova nets the backhand return, and Li Na is through to the final of the Australian Open.
Li Na is into her second Australian Open final.
She thanks the crowd, who clearly have taken her to heart, saying she always plays well in Melbourne.
Discussing her tough preparation in the off-season, she says "I know I have a very tough coach… you don't need to push me any harder!"
[12:09pm:]

Li Na 6-2, 5-2 Maria Sharapova
Sharapova is on the ropes, 0-30 down and at Li Na's mercy during a rally, bu she pokes a forehand she should have slammed, and the Russian recovers the point and fights back to 40-30.
But the Chinese woman tenaciously chases and chases on game point, and lasts long enough for the mistake to come from Sharapova, who hits a simple forehand wide. Deuce, almost a given on Sharapova's service in this match.
Once again, Li Na outlasts Sharapova, who hits wide on her backhand, and the end is nigh, with Li Na two breaks up and serving for the match.

[12:04pm:]

Li Na 6-2,4-2 Maria Sharapova
No time to waste for Sharapova, down a set and a break, and she gives up any pretence of nuance and goes for it, slamming her groundstrokes with more vigour than ever. It gets a her a break-back point, but she misses an ambitious drive down the line.
A big, wide first serve helps Li Na closer to safety. Then another, down the middle, helps her escape a tough game.
[11:57am:]

Li Na 6-2,3-2 Maria Sharapova
A double-fault delivers a second opportunity for Li Na, and she is soon up a set and a break when Sharapova hits a backhand long. Any rally over four shots is death for the Russian in this match.
[11:50am:]

Li Na 6-2, 2-2 Maria Sharapova
Li Na resists the challenge from Sharapova for another game, her service standing up to the Rusian's change of pace on her returns.
[11:45am:]

Li Na 6-2, 1-2 Maria Sharapova
Sharapova might be coming to grips with some of Li Na's strengths. That was her second comfortable service game in a row, after all but one were tests of stamina in the first set.
[11:42am:]

Li Na 6-2, 1-1 Maria Sharapova
Sharapova re-doubles her attack on he Li Na service, improving her response to second serves, and creates two break points. But her groundstrokes let her down on the big points, and Li fights back to hold her serve. 
[11:35am:]

Li Na 6-2, 0-1 Maria Sharapova
Finally, another comfortable game for Sharapova on service, after Li Na muffed an easy put-away on the first point of the second set. The Russian mixed her serve up more, sending it to the backhand a little more after being predictable in the first set.
[11:31am:]

Li Na 6-2 Maria Sharapova
A comfortable service game for Li Na, who is not dependent on her first serve – she has won 77% of points on her second serve.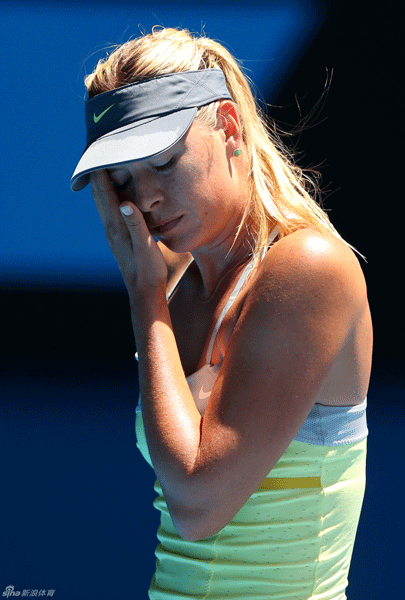 [11:21am:]

Li Na 4-2 Sharapova
Sharapova, still a break down, has pushed the Li's serve to deuce twice, and broken once – there isn't much in this game. The Russian is being forced well behind the baseline for most of her groundtsrokes. Li Na's power, accuracy and depth dictating rallies.
[11:06am]

Li Na 4-1 Maria Sharapova
Li Na runs Sharapova around off a weak second serve, and belts a double-fisted backhand down the backhand line for a clean winner. Two breaks, and a dominant start, for the Chinese star.
Li Na, 30, the sixth seed, is 13-1 in 2013, and has won seven career titles. She is 4-8 against Sharapova, who beat her at all three of their meetings in 2012.
[11:01am:]

Li Na 3-1 Maria Sharapova
Convincing love service game now from Li. Both teams have had a shaky game and a dominating game on service, but Li managed to convert her break point opportunity, and she has been the more impressive of the two players so far. Her groundstrokes are feeding off Sharapova's slamming style.
Sharapova, 25, the second seed, is 5-0 in 2013, having missed lead-up tournaments because of injury. She has won 27 carer titles, over $25 million, and could be world number one depending on the results of these semi-finals.
[10:53am:]

Li Na 2-1 Maria Sharapova
Li Na faces a break point in her opening service game, but fights it off to get to deuce. These two are approaching this match with due gravity, as if expecting a long battle.
[10:43am:]

Li Na 2-1 Maria Sharapova
Shaky start from the always intense Sharapova, a double-fault leaving her at 0-30 in the opening game. She fights back to 40-30, but Li Na's deep return wins her a point and we're at deuce. Li Na keeps the pressure on, and a mishit gives her a break point. She out-rallies Sharapova to take the opening game.
[10:32am:]
The combatants are making the ritualistic march along the corridors snaking beneath centre court, the introductions from the announcer becoming audible as they move past the large pictures of former champions.
Down the steps, into the bright light, and out on to centre court, to loud, startling voiceovers and applause.
There are handshakes with officials and ball boys, the coin toss, the umpire asks if they have any questions and the warm-up begins.